List of Poultry
Poultry Articles
About Poultry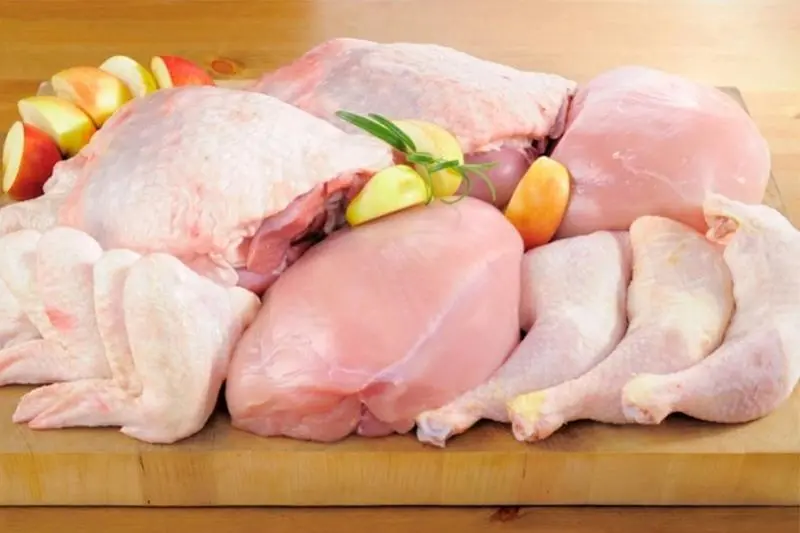 Poultry meat is considered healthy and dietary (not all types and not all parts of poultry). In addition to protein, it contains fats, collagen. Vitamins A, B, C, D, E, PP, as well as iron and zinc are also present in the product. Depending on the place of residence of the birds, such meat is divided into 2 categories: domestic and game. The latter is rarely present in the daily diet, as it refers to delicacies.
At present, poultry meat is more often prevalent in the consumer basket compared to beef, horse meat and lamb, due to its price value and taste and useful properties. It is customary to refer to poultry products as products from poultry meat or mainly from it and meat products, the recipe of which includes poultry meat, even if it is not the main ingredient. For the production of such products, the meat of chickens, ducks, geese, turkeys, quails is used, as well as other food raw materials obtained during the processing of poultry and farm animals and distinguished by their chemical composition.
The most valuable thing in chicken meat is protein. In chicken and turkey meat, it is about 20%, in goose and duck – slightly less. In addition, it contains polyunsaturated fatty acids to a greater extent than other types of meat, due to which it is not only well absorbed by the body, but also helps to prevent ischemia, myocardial infarction, stroke, hypertension, and also maintain a normal metabolic rate and increase immunity.
Chicken meat contains more protein than any other type of meat, while its fat content does not exceed 10%. For comparison: chicken meat contains 22.5% protein, while turkey meat – 21.2%, ducks – 17%, geese – 15%. There is even less protein in the so-called "red" meat: beef -18.4%, pork -13.8%, lamb -14.5%. But it should be emphasized that the protein of chicken meat contains 92% of the amino acids necessary for humans (in the protein of pork, lamb, beef – 88.73% and 72%, respectively).
In terms of the minimum cholesterol content, chicken breast meat, the so-called "white meat", is second only to fish. In the meat of waterfowl birds (geese – 28-30%, ducks – 24-27%), as a rule, there is more fat, while in young chickens there is only 10-15%. Poultry meat contains a large amount of vitamin B2, B6, B9, B12, from minerals – phosphorus, sulfur, selenium, calcium, magnesium and copper.
Chicken meat is almost universal: it will help with stomach diseases with high acidity and if it is low. Soft, tender meat fibers act as a buffer that attracts excess acid in gastritis, irritable stomach syndrome, and duodenal ulcer.
The special properties of chicken meat are irreplaceable in the form of a broth containing extractives – with reduced secretion, they make the "lazy" stomach work. Chicken meat is one of the easiest to digest. It is easier to digest: chicken meat has less connective tissue – collagen than, for example, beef. It is chicken meat that is an important component of dietary nutrition for diseases of the gastrointestinal tract, diabetes mellitus, obesity, as well as for the prevention and treatment of cardiovascular ailments. In addition, chicken meat, despite the highest protein content, is the lowest in calories.
Poultry meat is boiled, stewed, fried, baked, cutlets and many other tasty and healthy dishes are made. However, it should be borne in mind that about half of the vitamins are lost during heat treatment, so all kinds of salads, greens and fresh vegetables are an excellent addition to poultry dishes. Sauerkraut with goose or duck is also good.