Description
Grouse is a representative of the species of chickens. In nature, there are about 14 subspecies of these birds. There is a common hazel grouse (Bonasa bonasia) for hunting; meat of this type is widely used in cooking.
An adult hazel grouse reaches a size of 37–40 cm. The bird weighs 300–400 g. The wings are short and rounded. The color of females and males practically does not differ: reddish-gray, variegated (on the feathers – black or gray transverse ripples). The color of the plumage depends on the area in which the bird lives and using which it disguises itself.
Grouse lives in dense damp coniferous forests, in black forest (where there are alder, birch, aspen). It can be found in the northern, western, central parts of Europe (from Scandinavia to the Pyrenees), the Siberian taiga, in the north of Mongolia and eastern Altai, in the Urals, in southern Buryatia; this bird is found along the Okhotsk coast, Sakhalin, Korea, North Japan.
It is allowed to hunt hazel grouses in autumn and winter. Being sedentary, these birds do not leave the forest for the sake of warm lands.
Grouse meat composition and calorie content
The nutritional value of hazel grouse is high in protein and fat. The vitamin composition of meat is very rich, especially in group B vitamins. The meat of hazel grouse contains in large quantities potassium, phosphorus and sodium. Since hazel grouses live in ecologically clean places, their meat is considered a more useful substitute for poultry meat.
Proteins 19.96 g
Fat 18.62 g
Carbohydrates 0.92 g
Caloric content 250.98 kcal (1050 kJ)
The benefits of hazel grouse meat
The nutritive value of hazel grouse meat is very high, as it contains a lot of protein and fat. Grouse meat is exceptionally rich in vitamins, especially group B, as well as mineral elements (potassium, magnesium, phosphorus, sulfur, iron, zinc, copper, molybdenum, etc.).
The value of the meat of this bird is increasing due to the fact that the hazel grouse lives only in ecologically clean areas.
Dangerous properties of hazel grouse meat
Grouse meat is absolutely safe for humans. Allergic reactions are possible due to individual intolerance.
Taste qualities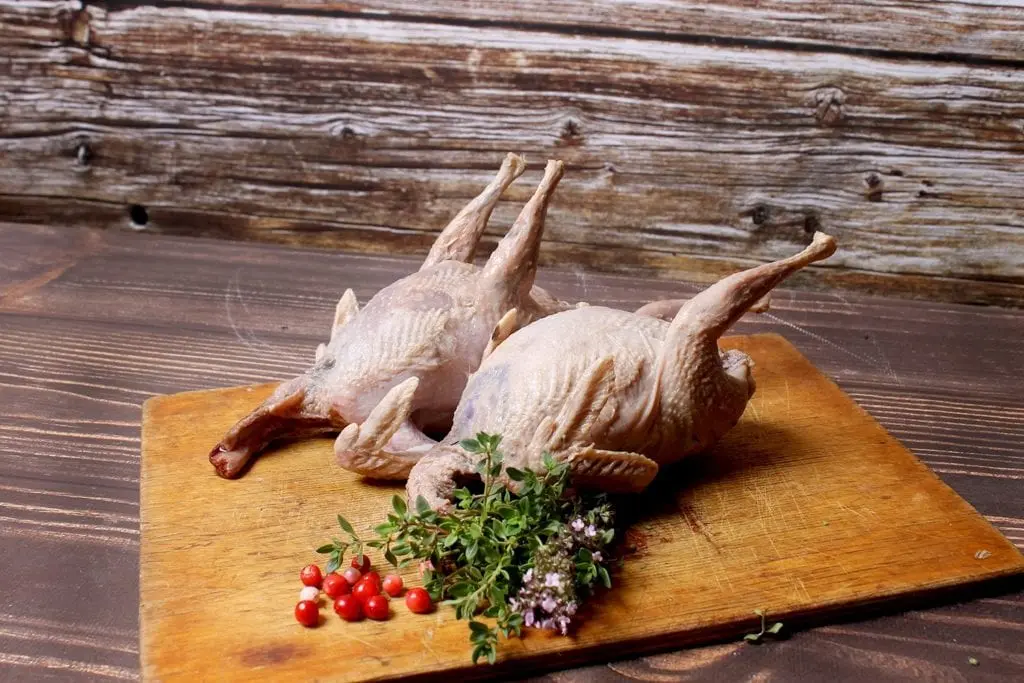 Grouse meat is very tender. Despite its high nutritional value, it is non-fatty. Possesses a pleasant aftertaste of needles, which is associated with the nutrition of this bird. Some gourmets notice a nutty flavor and a slight bitterness in meat. It is the taste nuances that give the hazel grouse dishes a special piquancy. The extraordinary taste of the product, as well as the short period of hunting, make the hazel grouse a delicacy desired on every table.
Raw hazel grouse meat has a pleasant white color with a pinkish tint. If the meat has darkened, you should not eat it – this indicates its improper storage.
Cooking applications
In cooking, hazel grouse meat can be cooked in the field or at home. In this case, the taste of the dishes will differ significantly. Hunters methods of cooking involve simpler dishes. In domestic use, hazel grouse meat is prepared in exquisite ways to emphasize its original taste.
The most common ways of cooking hazel grouse "in the field" are baking it in clay, roasting carcasses on a spit, or making a stew. In any of these cases, the bird is not butchered, but cooked whole. It is believed that until the hazel grouse is fully prepared, it is necessary to keep it on fire for only 20 minutes. The meat can be perfectly combined with other gifts of the forest: berries and mushrooms.
At home, it is advised to pre-soak the product in water so that the meat is more tender. Another pretreatment method involves the use of milk. Grouse carcasses are put in a saucepan with milk and put on fire. As soon as the milk boils, the hazel grouses are taken out – they are ready to use. This method makes the dish more juicy.
There is another trick that is used to make the hazel grouse more juicy. Immediately before cooking it is rubbed with salt and stuffed with pork lard, cut into large pieces. It is not recommended to marinate meat; it must be cooked fresh.
There are many ways to cook hazel grouse meat: stewing, frying, cooking, baking. Fry hazel grouses over high heat in a deep frying pan in a large amount of oil or on the grill. If you add cream or sour cream to the butter after frying the hazel grouse, thicken it with flour, you get a wonderful sauce with which you can pour the hazel grouse before serving.
Watch cooking of grouse on the video below:
Whole grouse carcasses are baked. The main thing here is not to overdry the dish, otherwise it will be tough and tasteless. Cook baked hazel grouse at the highest possible temperature. Larger carcasses can be stuffed. Pottery is considered ideal for roasting poultry.
Poultry is also suitable for making soup. Mushroom soup with hazel grouse is especially good. Boiled fillet is a component for salads and appetizers. Signature French dish – tartlets stuffed with hazel grouse meat.
Hazel grouse in the oven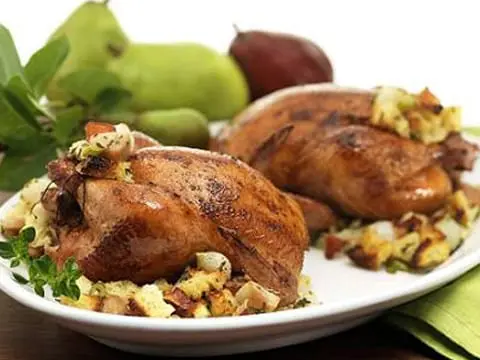 Ingredients:
Grouse – 3 Pieces
Red wine – 150-200 Milliliters (dry or semi-dry)
Ginger – 1 Piece (2-3 cm)
Garlic – 2 Cloves
Salt – 2/3 Teaspoons
Ground black pepper – 2 Pinches
Spicy dry tarvas – 1 Teaspoon (mixture of Provencal herbs)
Vegetable oil – 1 tbsp. the spoon
Cooking
We need few ingredients for cooking.
Rinse the hazel grouses thoroughly and soak in cold water for about one hour.
Rub the ginger root on a fine grater.
Add oil, salt, pepper, herbs and a little wine to it.
Mix into a paste.
We coat, rub with the resulting mixture of birds.
We put them back up in a small baking dish.
Add wine and put in an oven preheated to 200 degrees for 30 minutes.
2020-09-22