One of the basic foods found in the daily diet of most people is carrots. It is loved for its pleasant sweetish taste, versatility and many beneficial properties for the body.
Carrot (Latin Daúcus) is a genus of plants in the Umbrella family.
Carrots are a biennial plant (rarely one or perennial), in the first year of life it forms a rosette of leaves and a root crop, in the second year of life – a seed bush and seeds.
We offer you information on the beneficial properties of carrots.
Carrot composition:
carotene is a substance that, when it enters the human body, is transformed into vitamin A.
vitamins B, E, PP, K, ascorbic acid.
minerals – potassium, phosphorus, iron, copper, iodine, zinc, chromium, nickel and fluorine.
The essential oil in carrot seeds is unique in its useful properties.
Carrot history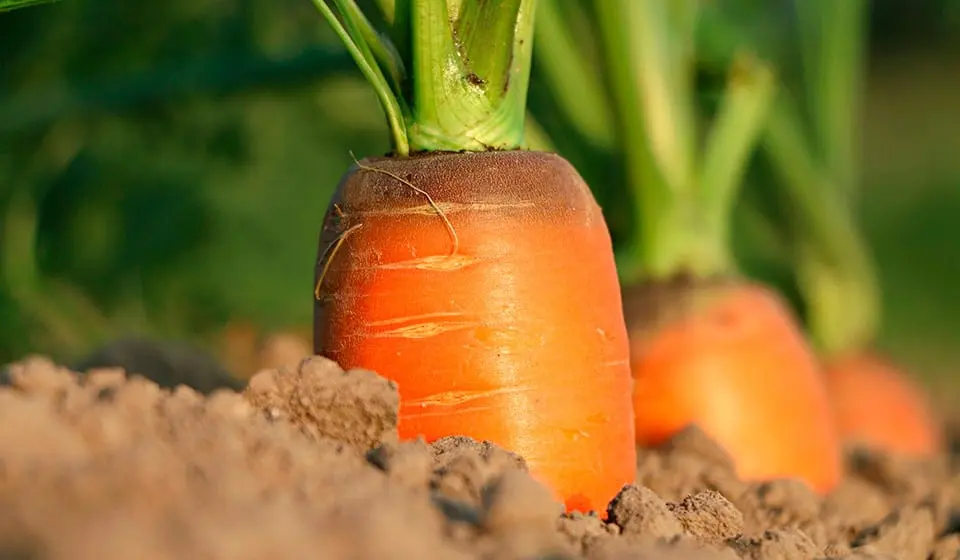 The carrots that we all love and know have not always been like this. The homeland of carrots is Afghanistan and Iran. In those days, it was purple in color and did not have such a pronounced taste.
It is known that the existence of carrots was discovered more than 4000 years ago. An interesting fact is that earlier carrots were grown not for the sake of root crops, but for the sake of juicy tops and seeds. The first mentions of the use of carrots for food and as a medicine date back to the 1st century AD.
In Europe, carrots appeared only in the 9-13th century. Then it spread to China, Japan and India. Then she came to America in 1607.
And in the 17th century, carrots appeared in our usual form. This was the result of selection, obtained through the long scientific work of hardworking Dutch breeders.
The benefits of carrots
Carrots contain useful substances such as carotenoids and various trace elements. Due to their high content, carrots have the following beneficial properties:
Relieves inflammation;
Increases the body's immunity and improves its resistance;
It has a positive effect on a person's mood and mental activity;
Promotes the elimination of excess fluid and toxins from the body;
Improves vision;
Accelerates recovery from illness;
Stimulates good appetite;
Improves digestion;
Regenerates and rejuvenates skin cells, slows down the aging process;
Strengthens hair and nails;
Strengthens blood vessels and heart.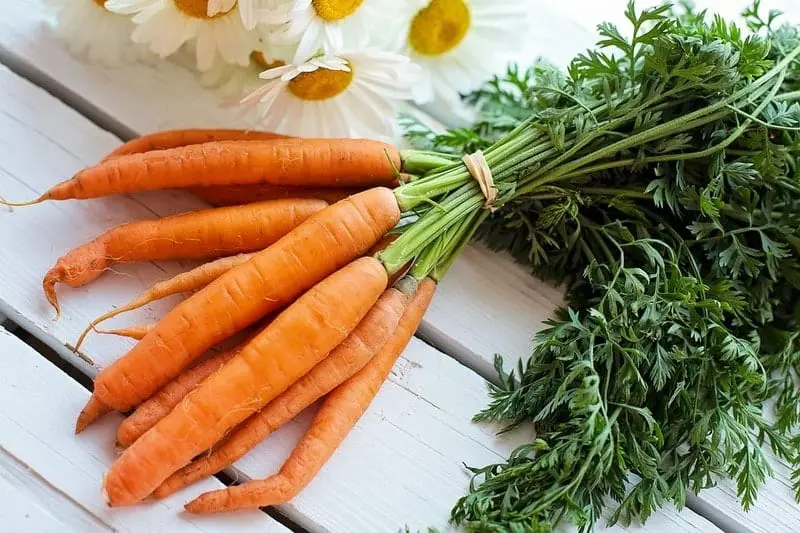 Many nutritionists completely exclude carrots from the diet while losing weight. Someone, on the contrary, speaks of its benefits and boldly adds it to the list of permitted products. Let's figure it out.
The composition contains fiber, which has a positive effect on digestion, and also saturates us for a while. Also, carrots are rich in carotene, which has a positive effect on our skin and complexion. Antioxidants increase hemoglobin levels.
An important plus – carrots are combined with many products, complementing them with their fresh and sweet taste and appetizing crunch, which means they can become part of a healthy snack.
But be careful with boiled carrots. Its high glycemic index causes spikes in blood sugar and only further whets the appetite.
Harm of carrots
When consuming any product, it is important to adhere to the recommended daily allowance. Excessive consumption of carrots can lead to upset stomach and intestines, cause allergic reactions, and an overdose of essential vitamins can cause a painful state of the body.
The use of carrots in medicine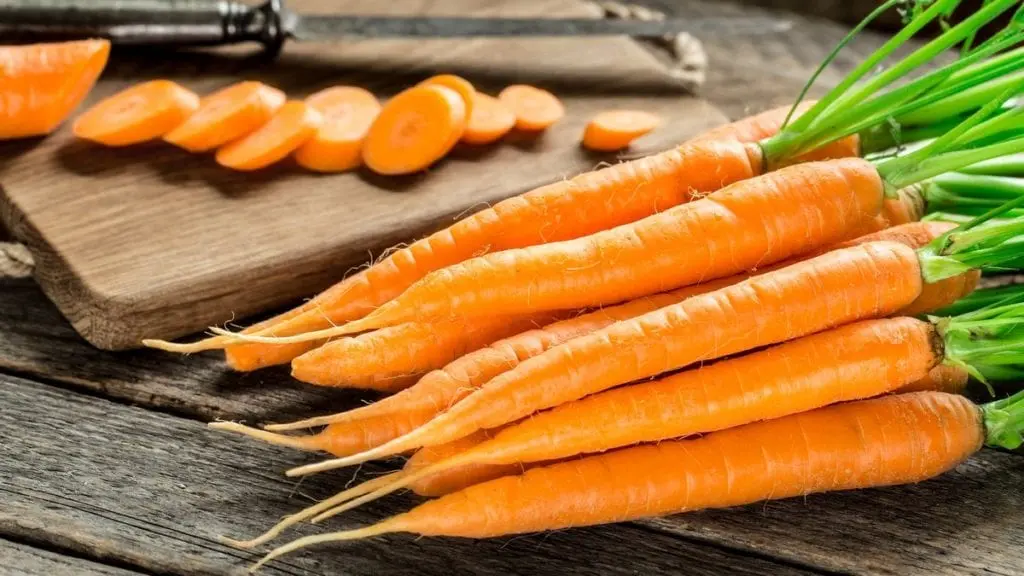 All parts of this vegetable are very healthy, due to which there are many recipes for traditional medicine associated with it.
Because of their nutritional value and beneficial properties, carrots are most often eaten, which helps to easily get healing elements. But there are other ways as well.
For example, a medicinal powder is prepared from carrot seeds, which helps with kidney failure and stone formation. An unusual carrot tea is prepared to support the immune system. And for diseases of the respiratory tract, carrot fresh is used.
Carrots are no less popular in cosmetology, because it is part of numerous nourishing masks for the face, body and hair.
The use of carrots in cooking
Carrots are a versatile root vegetable from which soups, gravies, main dishes, salads, desserts are prepared and eaten just like that.
Creamy red lentil soup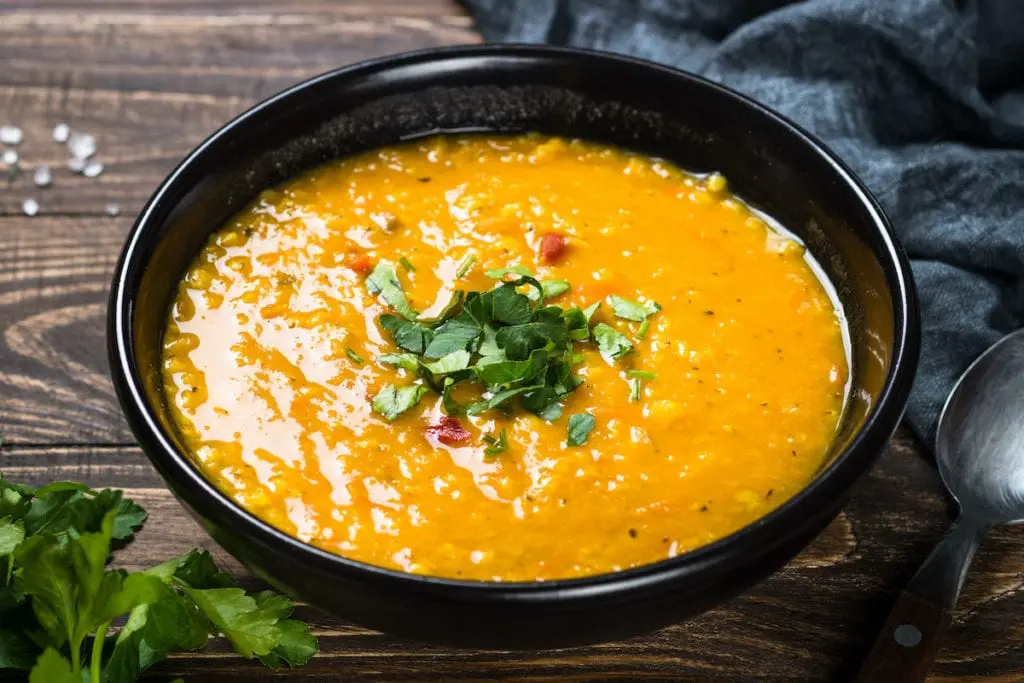 Lentils (red) – 200 gr;
Carrots – 1 pc
Onion – 1 piece
Tomato – 1 piece (large)
2-3 cloves of garlic;
Lemon – a couple of slices for decoration
Coconut oil for frying;
Water – 4 glasses
Salt, pepper – to taste
Chop the onion and grate the carrots. The tomato should be cut into medium cubes.
Lubricate the pan with a drop of coconut oil and spread the onion. We pass it until it becomes soft and transparent. Then add the carrots, fry together with the onion for 3 minutes. After the tomato and garlic. All this mixture is stewed for 5 minutes under a lid over medium heat.
In the meantime, wash the lentils and put them in the pan. Then add frying, a little salt and 4 glasses of water. As it begins to boil, put on a small fire, close the lid and cook for 30 minutes.
After the soup is cooked, blend it. When serving, add lemon juice and herbs to the soup.
How to choose and store carrots
When choosing, give preference to externally attractive fruits: they must be clean, dry, and not have any signs of damage.
Good carrots will always be sold with tails to help keep them from drying out at the base. If you want sweeter carrots, go for a carrot with a rounded nose. Carrots triangular in cross-section are more sour and sometimes tasteless.
It is better to store carrots in a cool dry place. Well suited for this
2020-09-17