Luffa, or Luffa (Luffa) is a genus of herbaceous vines of the family Pumpkin (Cucurbitaceae). The total number of types of luffa is more than fifty. But only two species became widespread as cultivated plants – they are Luffa cylindrica and Luffa acutangula. In other species, the fruits are so small that growing them as industrial plants is impractical.
The center of origin of the luffa is Northwest India. In the VII century. n. e. Luffa was already known in China.
Currently, cylindrical loofah is cultivated in most of the tropical countries of the Old and New World; Luffa spiny-ribbed is less common, mainly in India, Indonesia, Malaysia, the Philippines, and also in the Caribbean.
Luffa leaves are alternate with five or seven lobes, sometimes whole. The flowers are large, unisexual, yellow or white. Stamen flowers are collected in racemose inflorescences, pistillate are located singly. Fruits are elongated, cylindrical, dry and fibrous inside, with many seeds.
Growing Luffa
Luffa grows well in places protected from the wind. Prefers warm, loose, nutrient-rich soils, mostly well-cultivated and fertilized sandy loam. In the absence of sufficient manure, luffa seeds should be sown in pits 40 × 40 cm in size and 25-30 cm deep, half filled with manure.
Luffa has a very long growing season and needs to be grown in seedlings. Luffa seeds are sown in early April and are pots like cucumber seeds. They are very hard, covered with a thick shell and require warming up for a whole week at a temperature of about 40 degrees before sowing. Seedlings appear in 5-6 days. Seedlings are planted in early May in rows of 1.5 mx 1 m on low ridges or ridges.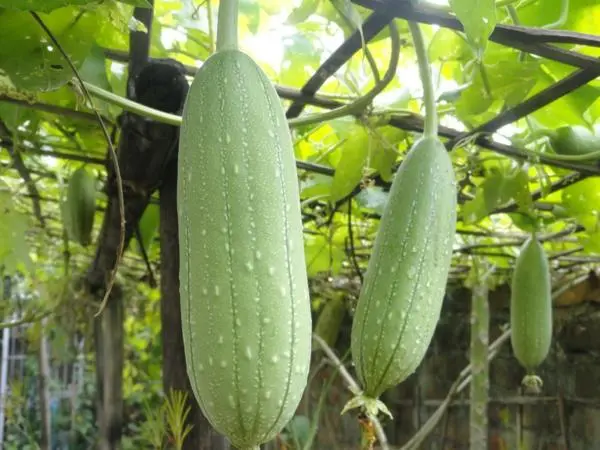 Luffa forms a large leaf mass and bears a lot of fruits, so it needs more fertilizer. At the rate of 1 ha, 50-60 tons of manure, 500 kg of superphosphate, 400 kg of ammonium nitrate and 200 kg of potassium sulfate are applied. Ammonium nitrate is applied in three steps: when planting seedlings, during the second and third loosening.
Luffa's root system is relatively weak and is located in the surface layer of the soil, and the leaves evaporate a lot of moisture, so it needs to be watered frequently. In May, when the plants are still poorly developed, it is enough to water once a week, in June-August and until mid-September – once or twice a week. After that, water less often to shorten the growing season and speed up the ripening of the fruits.
Using a loofah
Luffa acutangula (Luffa acutangula) is cultivated for young, unripe fruits used for food like cucumbers, soups and curries. Ripe fruits are inedible, as they taste very bitter. Leaves, shoots, buds and flowers of the sharp-ribbed luffa are eaten – after slightly stewing, they are seasoned with oil and served as a side dish.
Luffa cylindrica, or loofah (Luffa cylindrica) is used in food in much the same way. It is important to note that its leaves are extremely rich in carotene: its content is about 1.5 times higher than that of carrots or sweet peppers. Iron in the leaves contains 11 mg / 100 g, vitamin C – 95 mg / 100 g, protein – up to 5%.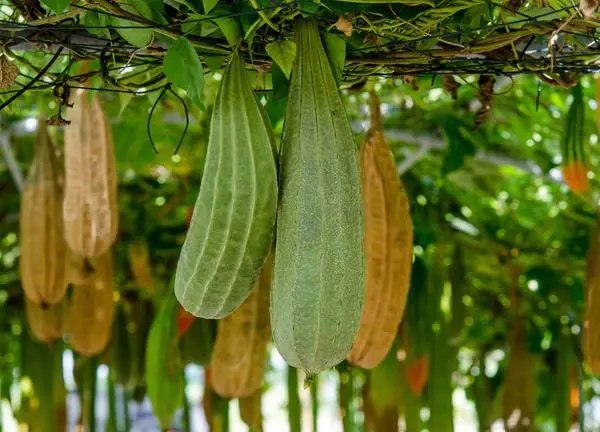 The fibrous tissue produced by the ripening of the luffa fruit is used to make sponge-like sponges (which, like the plant itself, are called luffa). This vegetable sponge provides a good massage at the same time as the washing procedure. Portuguese navigators were the first to find a similar application to the plant.
To obtain a washcloth, the fruits of the luffa are harvested green (then the final product is softer – "bath" quality) or brown, i.e. mature when they are easier to peel (in which case the product will be relatively tough). The fruits are dried (usually several weeks), then, as a rule, soaked in water (from several hours to a week) to soften the skin; then the peel is peeled off, and the inner fibers are peeled from the pulp with a stiff brush. The resulting washcloth is washed several times in soapy water, rinsed, dried in the sun, and then cut into pieces of the desired size.
Before World War II, up to 60% of the luffa imported into the United States was used in the manufacture of filters for diesel and steam engines. Due to its sound-absorbing and anti-shock effect, luffa was used in the manufacture of steel soldier helmets and in armored personnel carriers of the US Army. Luffa seeds contain up to 46% edible oil and up to 40% protein.
In the cylindrical luffa, both vegetable varieties and special technical varieties for making bast are known. In Japan, luffa stem juice is used in cosmetics, in particular in the manufacture of high-quality lipstick.
Environmentally friendly loofah scrubber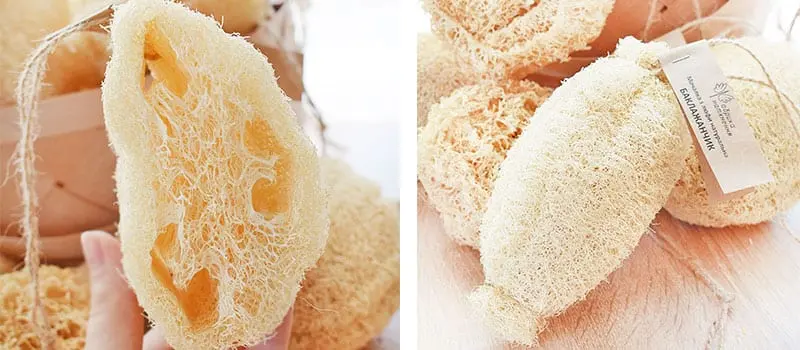 A loofah scrubber is a good alternative to an artificial plastic scrubber and at the same time is cheaper than a sponge scrubber. Luffa washcloth decomposes in the usual way and therefore does not harm the environment. Despite the moderate price and the fact that it works no worse than a regular washcloth, you should definitely choose a loofah.
Gentle and thorough exfoliation
The outer layer of your skin, the epidermis, is covered in dead cells. Some of these cells disappear by themselves, but the rest remain in place and thus give the skin color a grayish tint. Luffa peeling helps the natural rejuvenation process by gently removing dead cells. Removing dead skin cells not only improves the appearance of the skin, but also removes the areas where bacteria are growing.
Improving blood circulation
Any friction on the skin increases local blood flow. The capillaries, tiny blood vessels closest to the skin, dilate when massaged. That is why we intensively rub our palms together to keep warm. Luffa has a similar effect. It stimulates increased blood flow to the areas you are scrubbing. Unlike dry abrasive scrubs and plastic sponges, the hard but elastic fibers of the loofah do not scratch the skin.
Cellulite efficacy is a myth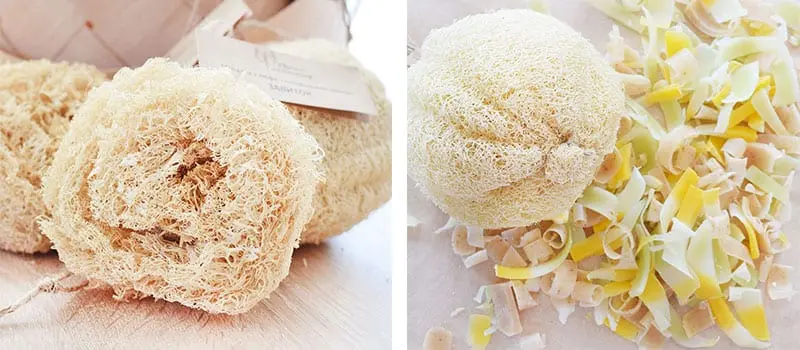 Luffa was at one time actively advertised as a remedy that breaks down cellulite deposits. However, rubbing any object on the surface of the skin cannot change the structure of the lower layers of the skin. Cellulite, which is fatty deposits that usually appear on the thighs, is no different from subcutaneous fat elsewhere on the body. As with other types of fat, no amount of surface tension will change its volume or appearance, although loofah, by stimulating blood circulation, can improve the condition of the skin over subcutaneous fat.
Loofah Loofah Care
Luffa helps to keep the skin in good shape, but for this you need to carefully care for the loofah itself. Luffa is very porous, and numerous bacteria can hide in its tiny holes. Like any plant matter, Luffa is also susceptible to decay if it is constantly wet. Therefore, it must be thoroughly dried between uses. To extend the shelf life of the loofah scrubber, it is enough to boil it once a month for 10 minutes or dry it in the oven. However, if any unpleasant odor from the washcloth becomes noticeable, it must be replaced.
2020-09-17