Description
Rosehip and Rosehip oil are known primarily for the high content of vitamin C, due to which its berries are actively used for brewing very healthy vitamin tea. But the wild rose fruit, unique in its nutrient content, is also a source of one of the best nutritious base oils.
However, the "talents" of rosehips are not limited to exclusively nutritional properties, because this base is ranked among the most active regenerative agents.
The roseship oil, which is extracted from dried rose hips thanks to unusual extraction technologies, has been known as a medicinal and cosmetic product even before our era. At the same time, the second, popular name of the oil – "liquid sun" – is largely due to its stunningly rich luminous color.
Despite the prevalence of the most wild rose, rosehip oil remains one of the most valuable vegetable oils, because it is very difficult to obtain a unique and valuable base, the production process requires not only preliminary drying of the fruits, but also their complex processing.
How to choose rosehip oil
Despite the fact that the thorny shrub with simple pink flowers has many subspecies, the composition and properties of the fruits of all plants representing the genus of rose hips are strikingly uniform. Actually, this is why the origin and type of plant from which the red berries are harvested does not really matter for aromatherapy techniques.
Traditionally, the Latin marking of rosehip oil is designated as oleum rosae, but the designations of species plants are also acceptable – rosa mosqueta, rosa rubiginosa, rosa canina.
The regions of origin of raw materials for obtaining this base oil are usually limited to South America – Chilean, Peruvian oils are considered the best of the rosehip oils palette, but European analogues, albeit inferior in aroma intensity, are also ranked among high-quality oils.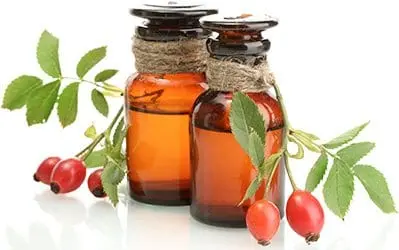 Rosehip oil is often counterfeited to increase production productivity by mixing neutral vegetable bases with high-quality oil to dilute and increase oil yield and tint the mixture with artificial colors and extracts. Rosehip oil is rarely replaced with completely chemical counterfeits.
In order for rosehip oil to fully justify its price and to show its unique regenerating and nutritional abilities, it is necessary to purchase a base from trusted manufacturers and study information about the method of obtaining, the materials used and the composition of the oil itself.
Rosehip oil Production method
Rosehip base oil is obtained exclusively from the seeds of the plant, the mass of which is more than half of the volume of the fruit. In order to reduce the proportion of the succulent shell in the oil and to obtain a higher yield, before extracting the oil, rose hips are most often dried for a long period and then thoroughly crushed.
The highest quality oils are considered to be extracted by cold pressing, which fully preserve all the vitamin characteristics of the berries. But the production of cold-pressed oil involves high production costs, so this method is often replaced by extraction with alkali or hexane fraction.
The extracted oils are much less balanced in their composition, unique vitamins and amino acids are partially lost in them and cannot be fully considered an analogue of cold-pressed rosehip seed oil.
When buying, be sure to check the method of obtaining: it is not worth paying for the oil obtained by extraction with organic solvents as much as for a higher quality oil produced using the cold pressing method.
Since rosehip oil is rapidly oxidized and is stored only for six months, it is permissible to add liquid vitamin E to the composition of a preservative additive (but not more than 0.5%).
Composition of Rosehip oil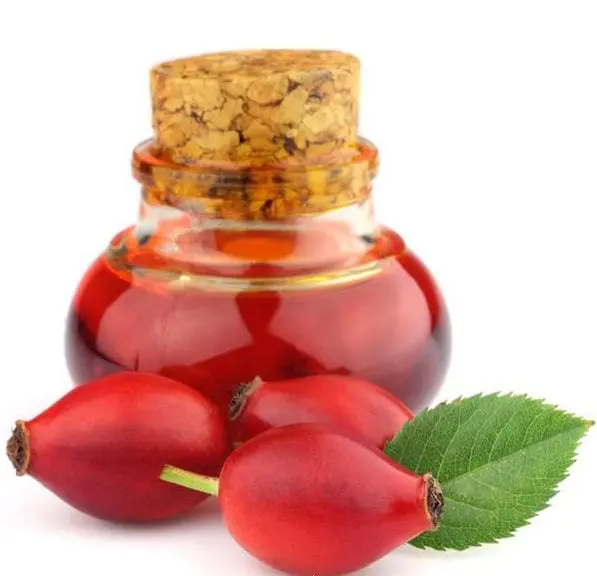 The composition of rosehip oil is distinguished by a combination of vitamins and amino acids: this oil has a very high percentage of ascorbic acid, vitamin A is represented by trans-retinoic acid, and vitamin E is a unique form of tocopherol.
The composition of rosehip oil is dominated by mono- and polyunsaturated fatty acids (oleic, linolenic and linoleic cover about 95% of the mass), and the content of saturated fatty acids, mainly stearic and palmitic, is equal to the proportion of organic glycerin.
In addition, rosehip oil contains small admixtures of trace elements and beta-carotene.
Color taste and aroma
Outwardly, rosehip oil really resembles a bright sun: a rich, iridescent orange-yellow color with a possible variation of golden shades or slightly reddish tint looks energetic, bright and optimistic.
This is a liquid and light oil without viscosity and tendency to thicken, which, however, is capable of completely solidifying at negative temperatures (about minus 15 degrees).
The aroma of rosehip oil resembles a subtle and very specific smell of the berries themselves: it is bitter, fresh, slightly sour and cloyingly woody.
The taste characteristics of rosehip oil are low-saturated, but with a clear bitter overtone at the base. Both the smell and taste of this oil are light and unobtrusive.
Rosehip oil Action on skin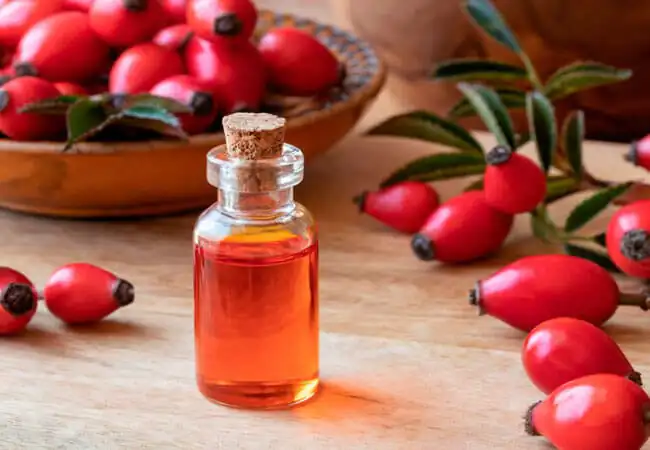 Rosehip oil can be used neat or diluted and works best with hazelnut oil.
Despite the rather liquid consistency and ease of distribution over the skin, the specific effect of the oil on the epidermis requires its careful use – pure rosehip oil contributes to the contamination of pores and creates a film that interferes with the free access of air into the cells, therefore it is considered a comedogenic base.
In its pure form, it should not be applied to skin prone to acne, excessive oiliness or rashes, because it will provoke an increase in negative phenomena.
In order for the blocking properties of rosehip oil to be fully compensated and do not carry the risk of complicating problems with the epidermis, it is necessary to use an oil mixed with nut vegetable oils.
It is also impossible to apply pure oil to open cuts, wounds, abrasions and other skin lesions, because its active resorption and regenerating abilities on damaged tissues can cause inflammation and irritation.
For external use, rosehip seed oil should be regarded not as a base, but as an active additive.
Rosehip oil Healing properties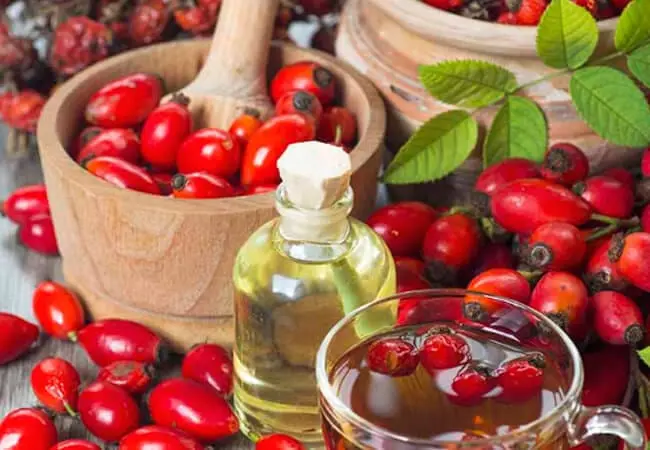 Rosehip oil is considered to be the most powerful regenerative oil and is mainly used for skin problems.
Thanks to the combination of nutrients and active vitamins in an easily digestible form, it stimulates tissue renewal and restoration, reduction of scars and stretch marks, improvement and leveling of skin color and texture, restoration of diaper rash and abrasions, treatment of neurodermatitis, the effects of X-ray therapy, and is effective in psoriasis and eczema.
It is the main oil for the treatment and prevention of scars and scars of all types – keloid, hyperchromic and hypertrophic, including very old lesions.
Rosehip oil is also used to eliminate bedsores, cracks in the nipples and feet, to recover from burns of various etymologies, with cracking of the skin, external and specific ulcers, dermatoses and trophic ulcers.
Rosehip is an excellent remedy for treating injuries of the oral mucosa.
The oil stimulates local and general immunity and body resistance, has a general strengthening and restorative effect, enhances tissue regeneration, stimulates the production of hormones by the glands, activates carbon metabolism and active assimilation of vitamins, exhibits the properties of an immunostimulant and vascular strengthening agent.
Usу in cosmetology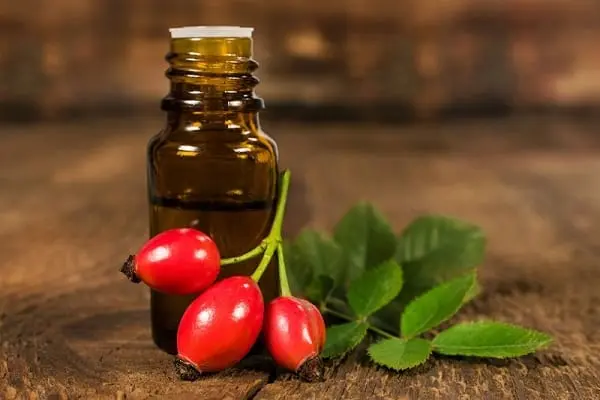 In the cosmetic field, rosehip oil is one of the best active additives for the constant care of problematic, dry, oily, sensitive skin and skin prone to enlarged pores, irritation and flaking.
It is an actively nourishing oil, saturating with vitamins and minerals, contributing to the activation of metabolism at the cellular level, but to no lesser extent, rose hips can be called a moisturizing base, however, the latter property manifests itself only on dry skin, where due to its barrier nature, the oil helps to retain moisture inside cells.
This is one of the most effective oils for the care of the skin around the lips and eyes, which promotes quality renewal and tightening, smoothing of wrinkles and returning turgor.
The regenerating talents of the oil are fully manifested in slowing down the aging process, restoring skin elasticity and color, renewing its texture, preventing the development and deepening of wrinkles, preventing sagging and photoaging.
Rosehip oil is excellent for combating age spots, for reducing blemishes, including post-acne, and for reducing the visibility of stretch marks.
Due to the creation of a film on the surface of the skin, rosehip oil actively protects it from the effects of sunlight and climatic factors.
Rosehip oil also demonstrates irreplaceable characteristics in the field of hair care. It is non-greasy, lightweight, but effectively protects the surface of the hair, it improves its structure and general condition, promotes the regeneration of damage after bleaching, perming, dyeing, burnout, effectively restores hair during the winter.
Externally, the effect of the oil appears after the first procedure: the hair becomes softer and shinier.
You can also use this base as a nourishing and strengthening base for nail care.
Rosehip oil Application and dosage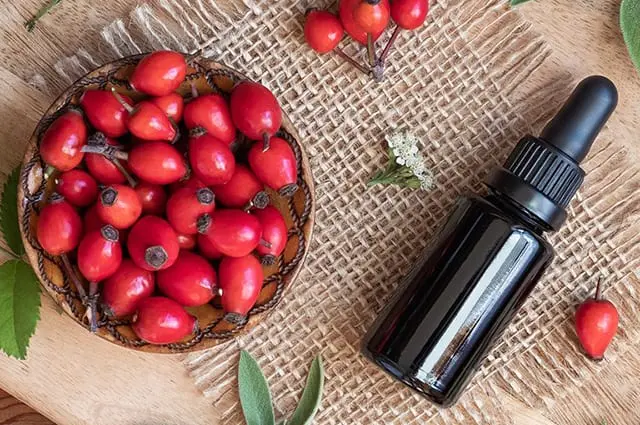 The use is limited only for undiluted, concentrated oil, which should not be applied to open and fresh wounds and lesions and oily problem skin.
Diluted, the oil can be used without restriction on all skin types at any age. It is considered optimal to use rose hips as a 10% additive to other base oils and esters.
Rosehip oil is used both for external methods and for internal use.
The following methods and dosages for rosehip oil are recommended:
for inflammations, on the affected areas of the skin and to improve the texture of the skin and the tightening effect around the eyes and lips, the method of applications and lotions applied to skin areas is used (in pure form or a mixture in a ratio of 1 to 10 with hazelnuts);
for eczema, applications and compresses are made from a mixture of 10 ml of rosehip oil with 5 drops of lavender essential oil;
for a regenerating and rejuvenating effect, a mixture with hazelnut oil is used as a basis for facial massage;
Rosehip oil is also used in massage to combat stretch marks and scars, increasing the concentration up to 20% and replacing hazelnuts with Tamanu, Argan oil or using in pure form (adding 2-3 drops of immortelle, mandarin or incense essential oils per 30 ml)
as an anti-aging supplement in a ratio of 1 to 10 to a cosmetic product or as a lotion after washing, a few drops of rose hips are distributed with a light massage over the wet skin of the face, with a possible addition of a standard dose of essential oils of rose, geranium, rosewood (3-4 drops per 30 ml);
as an additive that reduces the fat content of oil compositions, in an amount of 10%;
for other cosmetic purposes, the oil is applied in pure or diluted form to the lesions and the affected area;
for medicinal purposes and for prevention, rosehip oil is taken twice a day, on an empty stomach, 1 teaspoon each.
2020-10-06