Description
Duck eggs are a healthy food that is popular both in cooking and cosmetology. A duck egg differs from a chicken egg in size – it is slightly larger, and its weight can vary from 85 to 90 grams.
The duck egg shell can have a different color – from white with bluish, to light green.
Duck eggs are usually sold in specialized retail outlets or farms. The appearance of these eggs is not as attractive as that of chicken eggs – they are always dirtier, so it is better to rinse them thoroughly before cooking.
Moreover, you cannot store this type of eggs in the refrigerator for a long time; after purchasing the eggs, it is best to consume them as soon as possible. The optimum temperature for storing the eggs is 15 -17 ° C.
Waterfowl birds' eggs have an unpleasant aroma and special taste, which not all people like. At the same time, duck eggs are more elastic after boiling than chicken eggs.
Duck egg composition and calorie content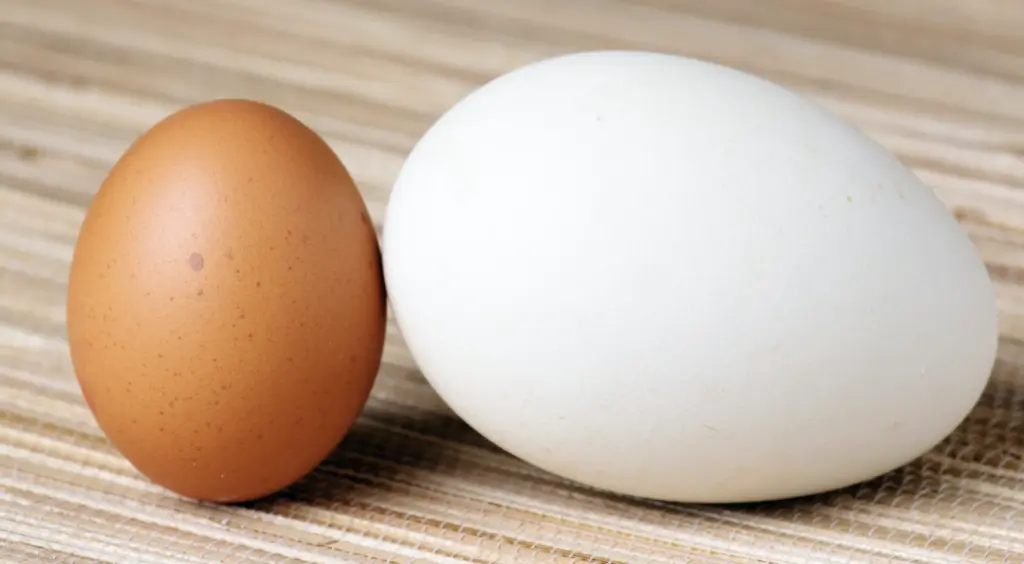 The calorie content of a duck egg is 185 kcal per 100 grams.
The duck egg contains calcium, iron, magnesium, phosphorus, and other minerals. They also include vitamins A (good for the eyes and skin), B6 ​​(helps with neuroses), B12 (useful for anemia, sclerosis, psoriasis). Duck eggs are also high in folate.
Composition
This food is not really dietary due to the high content of fats and proteins, so it is not the best idea to eat duck eggs more often than 1-2 times a week.
Calories, kcal: 185
Proteins, g: 13.3
Fat, g: 14.5
Carbohydrates, g: 0.1
The benefits of duck eggs
Duck eggs are as hearty and healthy as chicken eggs. However, there are differences between these two foods – they are high in fat and protein. This indicator casts doubt on foods' dietary value for weight loss, but we can safely recommend using these eggs to replenish the body's energy costs.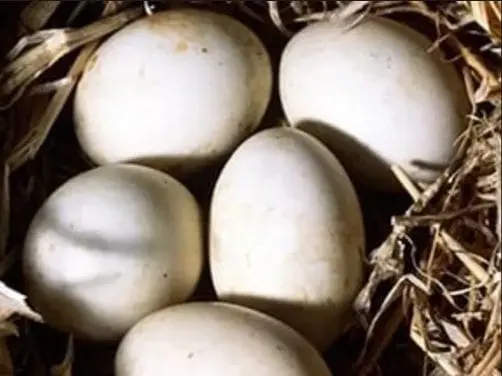 Raw duck eggs are not suitable for human consumption; it is even dangerous to health. A raw egg can cause serious intestinal infections and salmonellosis infections. For whatever purpose you use eggs – for adding to a salad or other dishes, you should boil them for 10-15 minutes, but if the recipe for making duck eggs involves frying – you should do this thoroughly.
A cooked duck egg brings invaluable benefits to the body since it contains a lot of nutrients, a large number of fats and proteins, while it is worth knowing that fats in the egg are accompanied by Vitamin A, indispensable for the organs of vision; Vitamin E, necessary for the beauty of hair, nails, skin health; Folic acid, which is important in the diet of expectant mothers; Vitamin B, which has a positive effect on the state of the nervous system; Potassium – for the normal functioning of the heart and blood vessels; Phosphorus and calcium – for bone tissue; Sodium is responsible for water balance.
Harms of duck eggs
Despite the many advantages, these eggs can be harmful to health. You must thoroughly cook a duck egg before use! Besides, you should not eat the eggs of this bird if you are seeking to lose excess weight – these eggs will not contribute to weight loss!
You should also bear in mind that duck eggs – a rather heavy product, so are not good for children under seven years old and people with chronic or inflammatory diseases of the digestive system.
Uses in cosmetology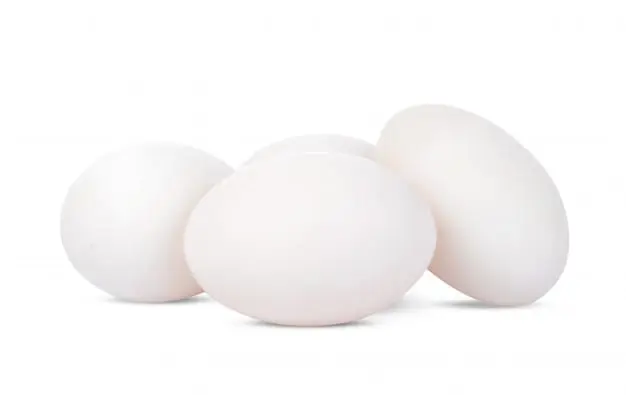 Duck eggs make effective, healing hair masks. For example, mix two egg yolks with a tablespoon of olive oil. Apply the resulting composition to the hair and leave for a quarter of an hour, then rinse. If you add a little lemon juice, yogurt, and honey to the composition, you get an excellent hair loss remedy.
Also, from such eggs, you can prepare a good remedy for oily skin. Add some white clay to the egg. Apply the resulting composition to the face's skin and soak for 15 minutes, after which you should wash the mask off with warm water.
Taste qualities
Duck eggs are a valuable and nutritious product for humans. They contain a large number of fatty acids, which give them a specific taste and concentrated smell.
Due to its high-fat content, duck egg white acquires a dense, viscous, and rather elastic consistency. The yolk of the product is oily and has a rich taste. It is brightly colored, so it is added to baked goods to give it a beautiful golden hue.
Cooking applications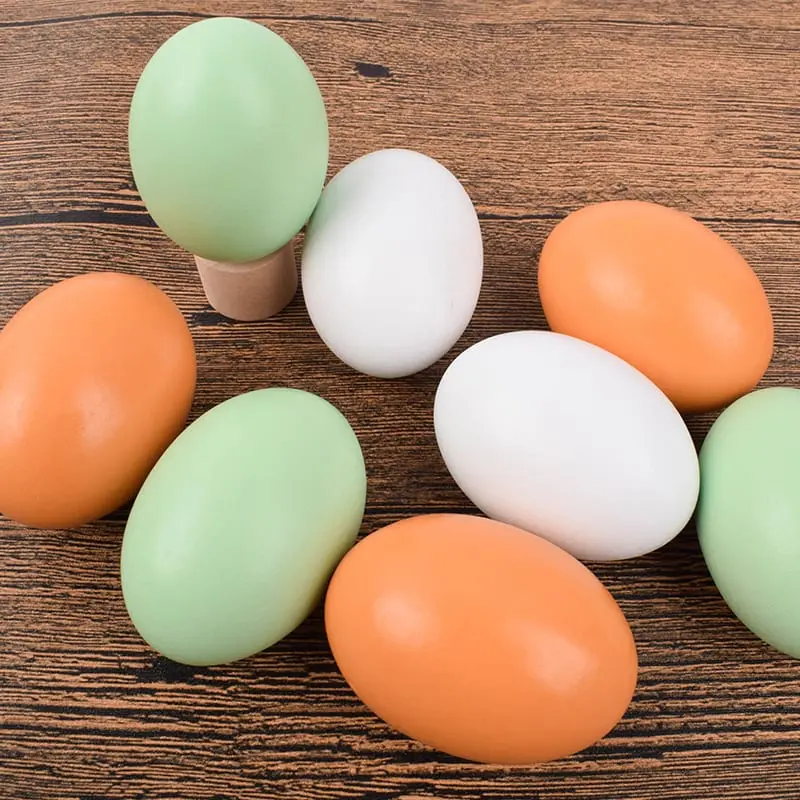 These eggs, along with chicken and goose eggs, are widely used in cooking. They are used raw, boiled, fried, baked, and in some countries even canned.
Duck eggs are excellent for baking baked goods, biscuits, cakes, and cookies. They are used for food as an independent product or as part of various dishes: salads, soups, side dishes, and sauces. Boiled eggs are a good addition to vegetable and meat dishes. They go well with herbs, meat, vegetables, and rice. Food companies use duck egg yolks to prepare various types of mayonnaise.
In the states of Asia, these eggs occupy a special place. The Asian people use them to prepare the national dish – noodles. The yolks, due to their fat content, give homemade noodles high nutritional quality.
People in China even canned duck eggs by coating them with a mixture of mineral and plant ingredients and keeping them in earthenware for about 3 months. Eggs prepared in such an unusual way are eaten with the addition of soy sauce and various spices.
In the Philippines, a special delicacy called "balut" is prepared from this type of eggs with a matured fruit, which local people eat almost every day. This dish is prevalent among men, as it is believed that it improves potency.
2020-09-23