Description
Calendula is an annual herbaceous plant 20–50 cm high. The stem is erect, branched; flowers are collected in large baskets with orange-red or yellow flowers; fruits – achenes.
SELF-TREATMENT MAY BE HAZARDOUS TO YOUR HEALTH. BEFORE USING ANY HERBS – GET CONSULTATION FROM A DOCTOR!
Composition
Calendula flowers contain about 3% carotenoids (carotene, lycopene, violaxanthin, citraxanthin, rubixanthin, flavochrome), flavonoids (narcisin, rhamnetin, isoramnetin-3-triglucoside, isoquercitrin and others), essential oil (about 0.02%), saponins, Calenden is a bitter substance, resinous substances (up to 3.44%), tannins, mucus (up to 2.5%), inulin, organic acids (malic, salicylic, pentadecyl), phytosterol, enzymes, vitamin C, alkaloids.
Pharmachologic effect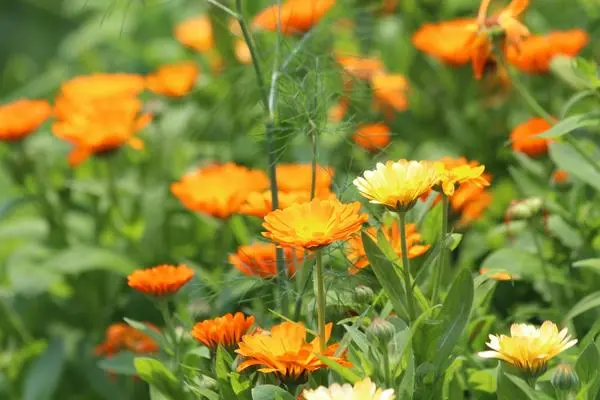 They have anti-inflammatory, wound-healing, bactericidal, antispasmodic and choleretic effects, accelerate tissue regeneration processes. When used internally, it promotes the regeneration of the mucous membranes of the stomach and intestines, accelerates the healing of ulcers and erosions, exhibits a sedative, mild hypotensive effect, and helps to normalize cardiac activity.
Calendula GENERAL INFORMATION
Calendula begins to bloom in June. With regular collection of inflorescences, flowering continues until frost, the ovary does not form. The external signs of flowers may differ slightly from the standard description, because garden species, high-yield marigolds and terry varieties have been bred. Basically, the plant is cultivated, but because of self-sowing of seeds, wild marigolds are found. Calendula prefers sufficiently moist soil, requires a lot of light.
PRODUCTION OF RAW MATERIALS
The medicinal properties of calendula are concentrated in flowers: it is for the sake of obtaining them that the plant is cultivated as a medicinal one. Collect inflorescences during the flowering period, tearing off the baskets with blossoming flowers. The buds are left until the next harvest. Dried indoors or in a well-shaded place. Spread out in a thin layer, gently mix as it dries. Raw materials are considered ready if the flower breaks up when pressed. Calendula flowers retain all their benefits for up to a year if kept in a dark, dry place.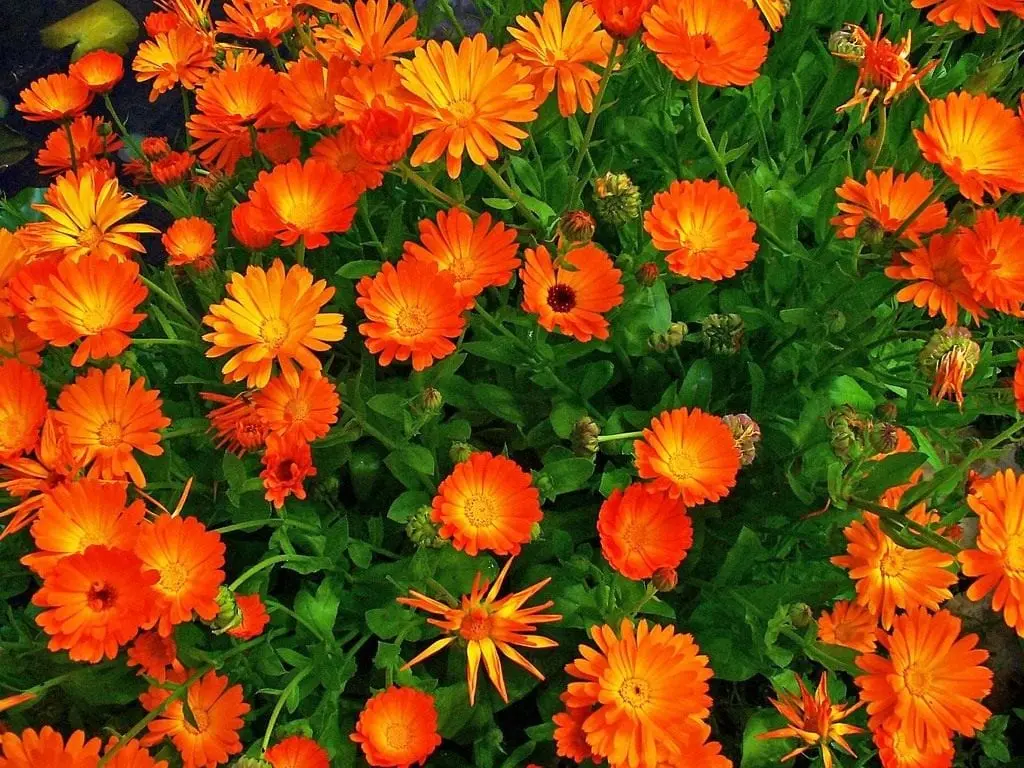 Calendula MEDICAL PROPERTIES
Calendula has anti-inflammatory, wound healing and antimicrobial properties. Shows antiviral activity, accelerates regeneration, protects against the appearance of a coarse colloid at the site of injury, stimulates the secretory activity of the liver and biliary system, relieves spasm, lowers blood pressure.
Internal intake of calendula infusion is prescribed as part of the complex treatment of erosive gastritis, enterocolitis, colitis, peptic ulcer disease. In diseases of the liver and biliary tract, calendula officinalis serves as a choleretic agent.
Gargles from calendula flowers (marigolds) are effective against cough and inflammatory diseases of the upper respiratory tract. They are used for sore throat, laryngitis, acute respiratory infections and diseases of the oral cavity: for stomatitis, gingivitis, periodontal disease.
Marigold flowers are in demand in proctology. They are included in the therapeutic treatment of proctitis and paraproctitis as a natural antiseptic and anti-inflammatory agent, for which the infusion is added to medicinal enemas.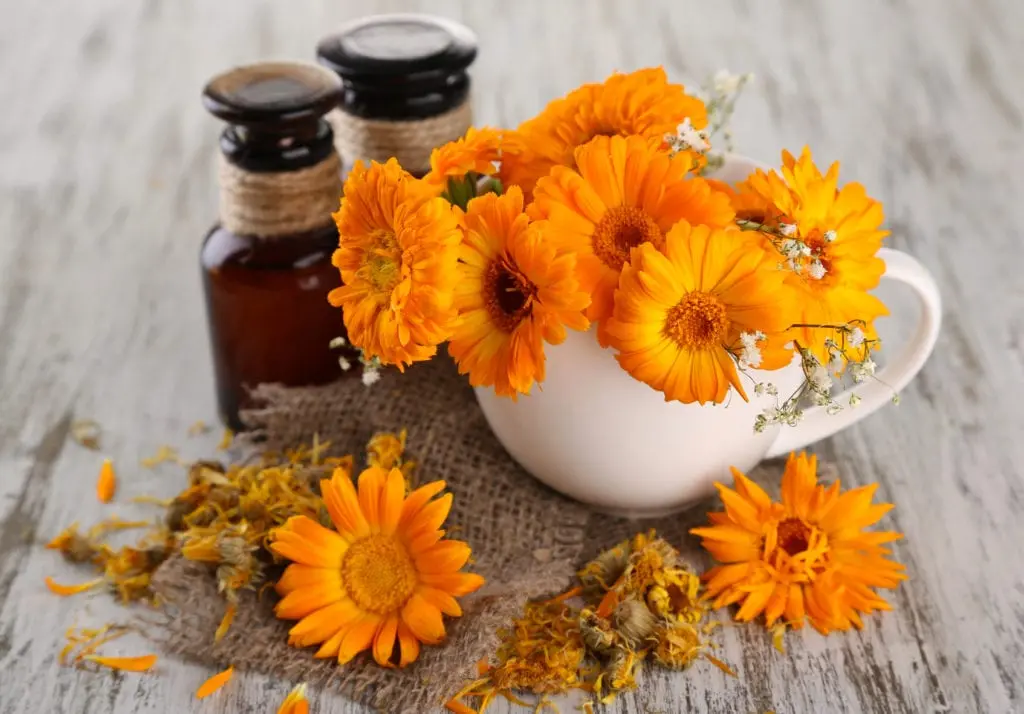 In gynecology, a course of douching with calendula flowers is carried out for thrush (in children and adults), erosions, Trichomonas colpitis, and delayed menstruation.
In folk medicine for children's rickets and scrofula, infusion of calendula is given to children instead of tea. They also drink it for heartburn. Flowers and leaves of calendula are part of the remedy for festering eyes (compresses or lotions are applied at night; with blepharitis, lubricate the affected areas).
In folk medicine, marigold flowers are considered almost a universal remedy. They are credited with antineoplastic properties in breast and female genital cancer. Calendula flowers are used to treat diseases of the cardiovascular system, spleen, liver, gallbladder, gastrointestinal tract and atrial fibrillation. They are indispensable in the treatment of wounds, burns, bruises, cracked lips and nipples, eczema, thrombophlebitis. In case of exacerbation of venous inflammation of the legs, first aid is a bath with calendula.
CALENDULA IN COSMETOLOGY AND DIETOLOGY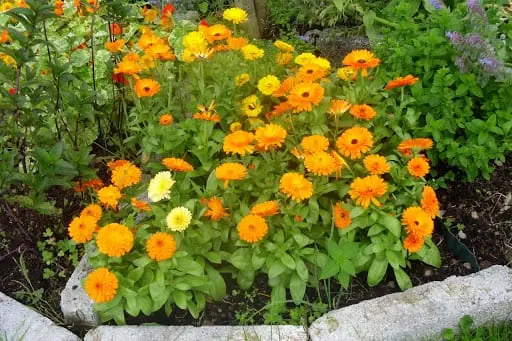 Marigold flowers – an irreplaceable remedy for acne, acne, skin inflammation. The rejuvenating effect of the plant is also noticed, which is achieved by nourishing, toning and improving skin turgor.
For hair, the infusion serves as an effective strengthening and growth stimulating agent.
In dietetics, calendula flowers are used as an additional means for losing weight; they are included in drainage drinks, cleansing teas and in preparations that improve metabolism.
SELF-TREATMENT MAY BE HAZARDOUS TO YOUR HEALTH. BEFORE USING ANY HERBS – GET CONSULTATION FROM A DOCTOR!
2020-09-30