The ancient Egyptians, Greeks and Romans knew about leeks, who considered it to be the food of the rich.
Leeks, or pearl onions, are classified as biennial herbaceous plants of the Onion subfamily. The native land of leeks is considered to be Western Asia, from where it later came to the Mediterranean. Nowadays, pearl onions are grown both in North America and in Europe – France supplies most of the leeks.
The most interesting and unique property of leeks is the ability to increase the amount of ascorbic acid in the bleached part by more than 1.5 times during storage. No other vegetable crop has this feature.
Leeks – benefits and contraindications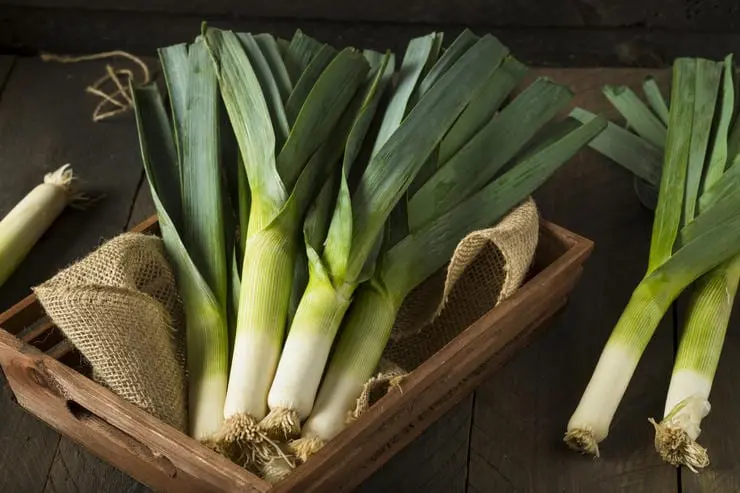 Leeks belong to the onion family, however, unlike the onions we are used to, their taste is less harsh and sweeter. In cooking, green stems and white leeks are used, the top stems are not used.
Leeks, like most vegetables, contain many useful substances: B vitamins, vitamin C, a large amount of potassium, as well as phosphorus, calcium, magnesium, sodium.
Leeks are useful for digestive disorders, high blood pressure, eye diseases, arthritis and gout. This product has practically no contraindications, but eating leeks raw is not recommended for people who have diseases of the stomach and duodenum.
Leeks are low-calorie foods (33 calories per 100 grams of product), therefore it is recommended for those who follow their figure and adhere to a diet.
Pearl onions are high in calcium, phosphorus, iron, magnesium and sulfur. In addition, due to the huge amount of potassium salts, leeks have a diuretic effect and are also useful for scurvy, obesity, rheumatism and gout.
Pearl onions are recommended to be consumed in case of severe mental or physical fatigue. Leek can increase appetite, improve liver function and have a positive effect on the digestive tract.
However, raw leeks are not recommended for inflammatory diseases of the stomach and duodenum.
Leeks: how to cook?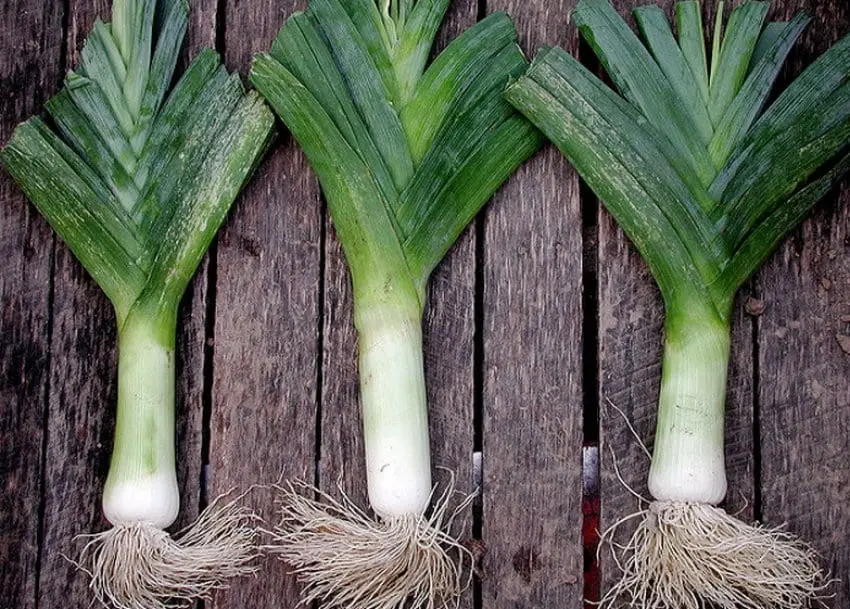 Raw leeks are crispy and firm enough. Leek is used both raw and cooked – fried, boiled, stewed. Dried leeks are also used as food.
Leeks can be used as a side dish for meat or fish, they are used as a seasoning for broth, soup, added to salads, sauces and canned food. The leek is added to the French quiche pie by frying the onions in butter and olive oil.
Leek is featured in many cuisines around the world. For example, in France, where leeks are called asparagus for the poor, they are served boiled with a vinaigrette sauce.
In America, leeks are served with the so-called mimosa – boiled yolks passed through a sieve, which further enhances the delicate taste of leek.
In Turkish cuisine, leeks are cut into thick slices, boiled, cut into leaves and stuffed with rice, parsley, dill and black pepper.
In Britain, leeks are often used in dishes, as the plant is one of the national symbols of Wales. There is even a Leek Society in the country, where leek recipes and the intricacies of growing are discussed.
Chicken with leeks and mushrooms baked under a puff pastry blanket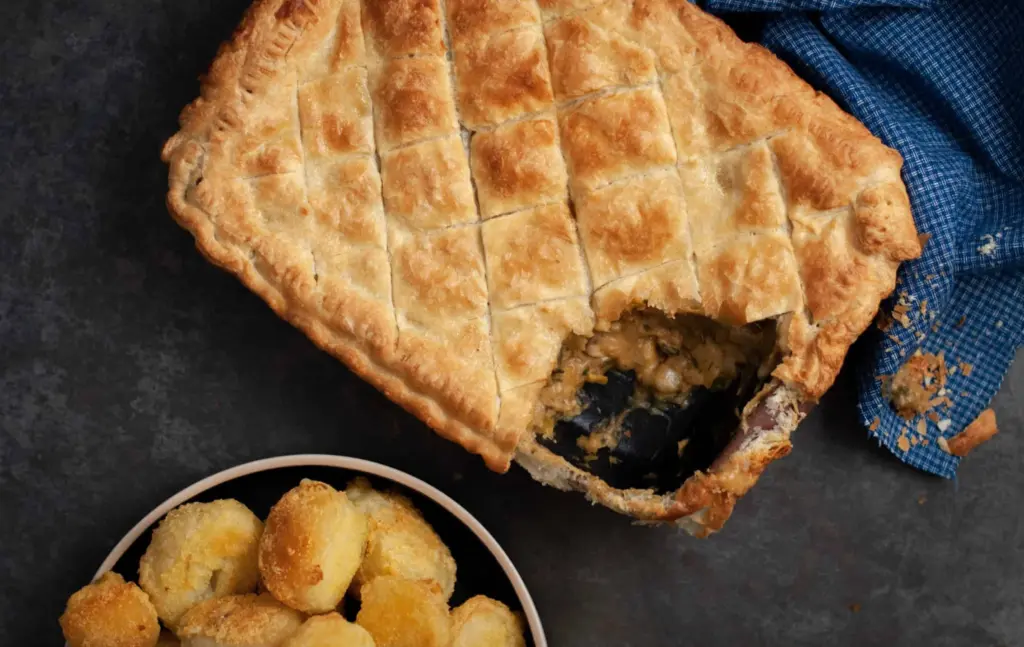 INGREDIENTS
3 cups cooked chicken, coarsely chopped (480g)
1 leek, thinly sliced ​​(white portion)
2 thin slices of skinless bacon (130g) – I used smoked bacon
200 g chopped mushrooms
1 tablespoon flour
a cup of chicken stock (250 ml)
1/3 cup cream, I used 20%
1 tablespoon Dijon mustard
1 sheet of puff pastry, divided into 4 parts
Step 1
Cooking chicken with leeks and mushrooms
Heat some oil in a skillet. Saute the leeks, diced bacon and mushrooms. Add a tablespoon of flour, fry, stirring occasionally, for 2-3 minutes. Pour in broth gradually, stirring constantly. Add mustard, cream and chicken.
Step 2
Chicken with leeks and mushrooms baked under a puff pastry blanket, ready
Arrange everything in 4 ramekins (or cocotte) baking tins, cover the top with dough, lightly pressing the edges of the tins. Place in an oven preheated to 180-200 ° C and bake for about 20 minutes.
Young leek gratin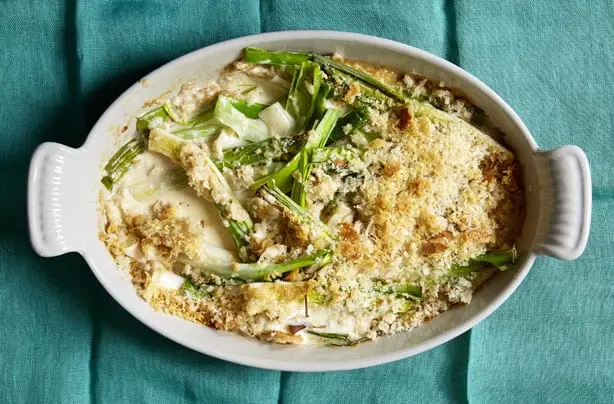 INGREDIENTS
6 medium stalks of young leeks
120 g manchego or other hard sheep cheese
500 ml milk
4 tbsp. l. butter plus more for lubrication
3 tbsp. l. flour
3 large pieces of white bread
olive oil
a pinch of freshly grated nutmeg
salt, freshly ground black pepper
Step 1
Recipe preparation photo: Young leek gratin, step # 1
Cut off the white part of the leek from 3–4 cm of the green part (you don't need the rest). Cut in half lengthways, rinse out of sand, cut across into pieces 3-4 cm long, preventing them from falling apart, and place in a greased form.
Step 2
Recipe preparation photo: Young leek gratin, step # 2
Grate the cheese on a fine grater. Tear the bread (with or without crust) into small (1 cm) pieces. Drizzle with olive oil, stir.
Step 3
Photo of the recipe: Young leek gratin, step # 3
In a thick-bottomed saucepan, melt 4 tbsp. l. butter. When it starts to brown, add flour, stir and fry over medium heat for 2-3 minutes.
Step 4
Photo of the recipe: Young leek gratin, step # 4
Remove from heat, pour in milk and stir with a whisk to avoid lumps. Return to low heat, cook, stirring continuously, 4 minutes. Season with salt, pepper and nutmeg.
Step 5
Recipe preparation photo: Young leek gratin, step # 5
Remove sauce from heat, add cheese and stir thoroughly. Pour the cheese sauce over the leeks evenly.
Step 6
Recipe preparation photo: Young leek gratin, step # 6
Sprinkle bread slices over the surface of the gratin. Cover the dish with foil and place in an oven preheated to 180 ° C for 25 minutes. Remove the foil and bake until golden brown, another 8-10 minutes.
2020-09-17