The taste of the radish is quite specific and many do not like it, but the root crop has undeniable benefits, especially in winter.
The radish grows wild in Europe and in the temperate zone of Asia. The plant belongs to the cabbage family. Root crops of cultivated and some wild-growing types of radish are eaten. In supermarkets, you can increasingly find salad mixes with radish sprouts, which are rich in enzymes, antioxidants and vitamins.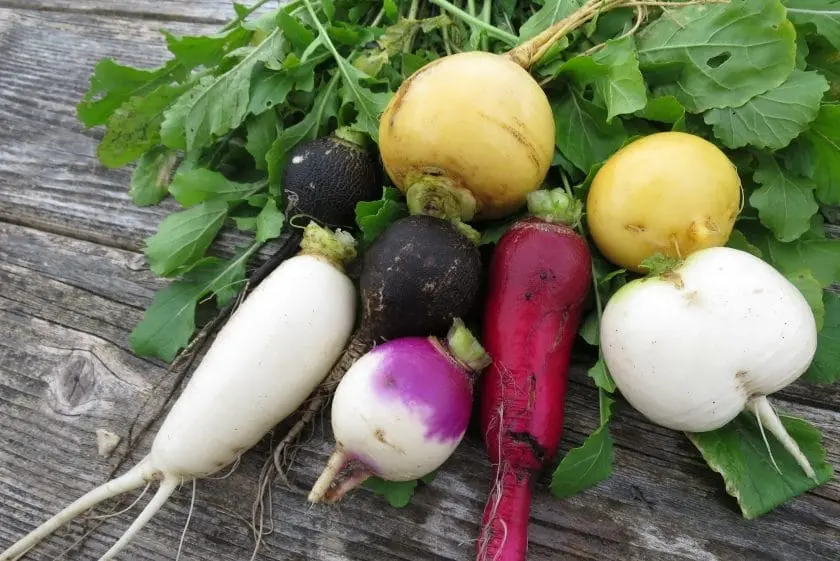 The most famous types of radish that can be found in markets and shops: Black radish; Chinese radish, which includes white, red, purple and green radish; Sowing radish or simply Radish, Daikon radish is a Japanese variety of radish. The color of the pulp depends on the type of radish and can range from white to red.
Radish is eaten fresh, in the form of juices, and is also used in various salads. Many restaurants use radish as a decorative element to their main course.
Radish: benefits and harms
During the winter-spring period, when many vegetables are unavailable or unhealthy, radish is one of the best sources of vitamins and minerals. In addition, radish with honey is a well-known folk remedy for cold.
Radish, beet and carrot salad or juice is great for anemia.
Radish helps to stimulate digestion, flush excess water from the body to avoid swelling, and also cleanses the bile ducts.
But it is worth remembering that in case of problems with the stomach and intestines, as well as diseases of the pancreas, kidneys and cardiovascular system, you need to use radish with great care, as this can lead to pain.
Radish recipes: salads, carpaccio, toast
The taste of a radish depends on the type of vegetable and can be either sweet or quite bitter. Heat-treated radishes lose their bitterness and taste more palatable, but fresh root vegetables certainly retain more of the health benefits.