The taste of the radish is quite specific and many people do not like it. Thus, the root crop has undeniable benefits, especially in winter.
It grows wild in Europe and in the temperate zone of Asia. The plant belongs to the cabbage family. People prefer to eat root crops of cultivated and some wild-growing types of the plant. In supermarkets, you can increasingly find salad mixes with radish sprouts, which are rich in enzymes, antioxidants, and vitamins.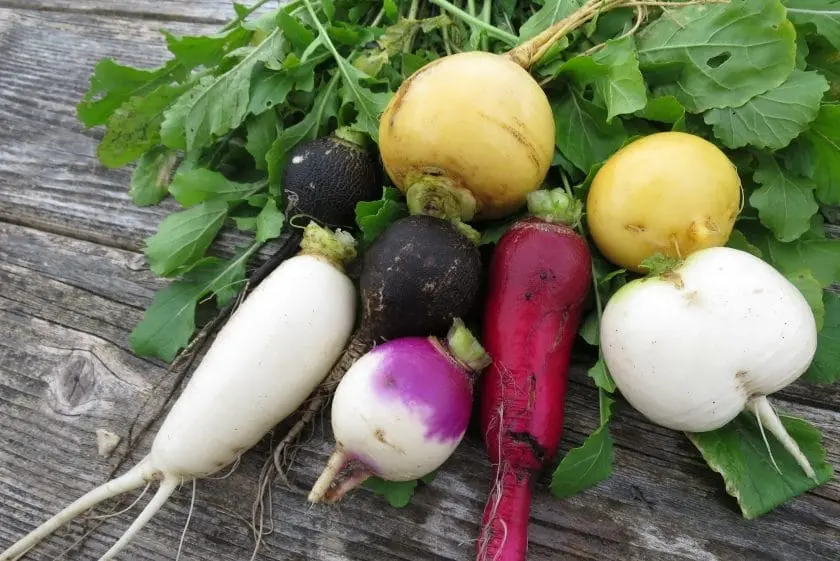 The most famous types that you can find available in markets and shops are Black; Chinese, which includes white, red, purple, and green types; Sowing radish or simply radish, Daikon is a Japanese variety. The color of the pulp depends on the type and can range from white to red.
People eat it fresh, also in the form of juices, and also use widely in various salads. Many restaurants use it as a decorative element to their main course.
Benefits and harms
During the winter-spring period, when many vegetables are unavailable or unhealthy, radish is one of the best sources of vitamins and minerals. In addition, radish with honey is a well-known folk remedy for treating the cold.
Radish, beet and carrot salad or juice is great for treating anemia.
Radish helps to stimulate digestion, flush excess water from the body to avoid swelling, and also cleanses the bile ducts.
But it is worth remembering that in case of problems with the stomach and intestines, as well as diseases of the pancreas, kidneys, and cardiovascular system, you need to use radish with great care, as this can lead to pain.
Recipes with radish: salads, carpaccio, toast
The taste of a vegetable depends on the type of vegetable and can be either sweet or quite bitter. Heat-treated ones lose their bitterness and taste more palatable, but fresh root vegetables certainly retain more of the health benefits.
Sandwiches with radish and cottage cheese
Toast – 1 pc.
Cottage cheese – 1.5 tablespoons
Sour cream – 0.5 tablespoons
Butter – 15 g
Salt to taste
Greens to taste
Cooking method
Mix cottage cheese with sour cream. Add salt to taste.
You may also spread the toast with butter, and make a layer of cottage cheese with sour cream.
Decorate the sandwich with radish slices and herbs.
"Vitamins" salad
Ingredients
Radish – 50 g
Wheat grains (germinated) – 2 tablespoons
Walnuts – 25 g
Vegetable oil – to taste
Salt to taste
Parsley, dill – to taste
Mix chopped nuts with sprouted grains and finely chopped radishes. Season the salad with vegetable oil, salt and herbs. Stir and serve.
Radish and veal salad
Ingredients
Veal – 150 g
Egg – 2 pcs.
Radish – 5 pcs.
Green onions (chopped) – 1 tbsp.
Young or Peking cabbage – 100 g
Mayonnaise to taste
Shred cabbage. Boil the veal and cut into strips. Mix all the chopped ingredients, add the mayonnaise, put the salad on a plate and serve.
Potato soup with radish
Ingredients
Radish – 6 pcs.
Meat broth – 1 l
Kohlrabi (heads) – 2 pcs.
Potatoes – 500 g
Cream – 150 ml
Parmesan – 30 g
Butter – 50 g
Salt to taste
Black pepper – to taste
Nutmeg – to taste
Cut the potatoes and one kohlrabi head into cubes and simmer in butter until soft. Add broth and bring vegetables to readiness.
Grind the finished vegetables through a sieve and season with pepper, nutmeg, and salt. Grate the second head of kohlrabi, mix with cream, add to the grated soup and bring to a boil. Pour the soup into a plate, sprinkle with Parmesan, and decorate with radish slices.
Muli sabji
Ingredients
Radish with tops (round) – 10 pcs.
Coriander – 0.5 tsp
Zira – 0.5 tsp
Turmeric – 1 g
Ground red pepper – 1 g
Mustard oil – 1.5 tablespoons
Ajwain seeds – 1 g
Brown sugar – 1 tsp
Salt – 0.5 tsp
Lemon juice – 1 tsp

Cut the radish into circles, put it in a double boiler, cover with coarsely chopped herbs and cook for 15 minutes (until it becomes tender crispy). In a skillet with a thick bottom, heat the mustard oil. A few seconds after it begins to smoke, throw in the unmilled spices and fry until slightly darker. Then add the radish with herbs, ground spices, sugar, and mix. Reduce heat and fry for another 4 minutes. Then, remove the dish from the heat, add salt, lemon juice, mix well, and serve.
How to choose when buying
The best radish for consumption is the one with an even surface structure. Root crops should not be damaged or cracked. One of the main requirements for radish is its juiciness. To buy just juicy root vegetables, you need to be extremely careful about examining their appearance. Sluggish and loose fruits are not recommended for use, since they are likely to have been stored for a long time, and, accordingly, do not differ in the expected benefits.
Cracks in the root vegetables of the radish indicate that the vegetable suffered from a lack of moisture, and therefore will differ in rigidity and bitterness. It is not recommended to flatter yourself with the large size of the radish and choose a vegetable according to this criterion – large fruits are often hollow. It is best to give preference to medium-sized vegetableы, which are advised to buy with tops since it helps the roots stay fresh longer. But at home, the foliage must be cut off so that it does not draw a vitamin reserve from the vegetable.
How it can be used for cosmetic purposes
Not everyone knows, but radishes are also popular in cosmetology. The main thing is to choose environmentally friendly and fresh root crops for this. Moisturizing lotion To prepare this tonic you will need 15 ml of radish juice; 5 ml of almond oil; 100 ml of mineral water. Mix the ingredients and place them in a bowl with a dispenser. Wipe the skin of the face 2 times a day, applying the lotion on the face with a cotton sponge. Such a cosmetic product will moisturize and tone the skin, relieve age-related pigmentation, fill the skin with freshness and youth.
Refreshing mask
A refreshing radish mask will give the skin of your face lightness and elasticity, remove fatigue from it, relieve puffiness, saturate with oxygen. Such a remedy is like light peeling since it helps to remove keratinized particles of the epithelium from the dermis. To prepare the mask, you need to mix chopped radish, a sprig of parsley, and 1 tsp. rye flour. Steam the skin a little using a hot compress, then apply the mask itself, hold for 15 minutes and rinse. The procedure should be carried out once a week.
Check out this great video on how to grow a radish:
2020-09-17