Beet is a well-known root vegetable crop. Its homeland is the Mediterranean region.
Beet history
People began to eat the leaves initially, and only within some time the root crop itself. The Romans soaked the tops in wine or vinegar and seasoned them with pepper. The enslaved Germanic tribes paid tribute to Rome with beets.
People cultivated the vegetable in the 11th century, and the Greek name for the root crop came into the Slavic language in a distorted form: "beetroot." Sometimes, when boiled, they acquire a brown hue due to the mineral composition of the water. Pickled or frozen root vegetables can also turn brown, which does not affect their properties and taste in any way.
The benefits of beets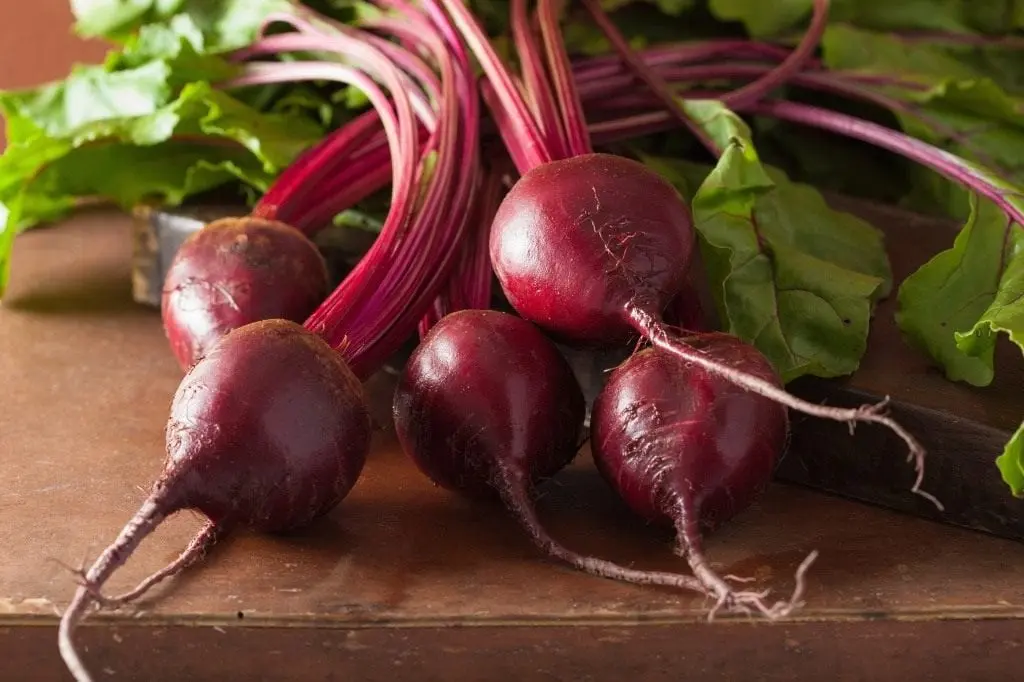 Beets contain many vitamins and minerals. This vegetable holds the record for the concentration of boron and manganese. In terms of iron content, beets are having second place after the garlic. These trace elements activate the work of hematopoiesis and regulate metabolism.
The betaine found in this root vegetable is helping the formation of choline, which improves liver function.
Our vegetables are extremely beneficial for constipation and problems with the intestinal flora. Pectin inhibits the activity of putrefactive intestinal bacteria and envelops the inflamed mucous membrane.
They are also rich in organic acids: malic, citric, and tartaric.
The energy value of beets is 42 kcal per 100 g due to their high sugar content.
Calories per 100 g 42 kcal
Proteins 1.5 g
Fat 0.1 g
Carbohydrates 8.8 g
Beetroot harm
Beetroot has several contraindications. Let's talk about them too. People should not eat beets, especially fresh ones, in case having kidney and bladder diseases. They contain substances that contribute to the formation of oxalic acid compounds, which is dangerous for urolithiasis. There is a lot of sugar in the root vegetable, so there should be limitations on consumption for people with diabetes. For bowel disorders, beets can worsen symptoms.
The use of beets in medicine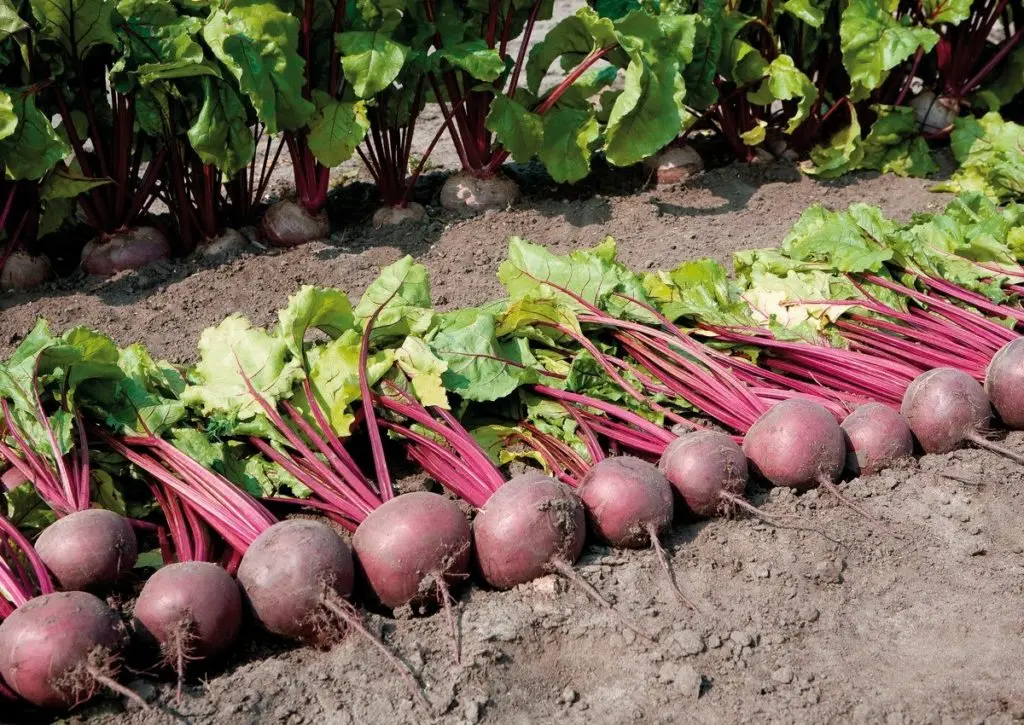 The main benefits of beets are for patients with constipation and other congestion. Fiber and organic acids of beets enhance intestinal motility, pectin reduces inflammation.
This vegetable is useful for preventing vitamin deficiency and scurvy, as it has a high concentration of ascorbic acid and carotene, especially in the tops.
Beetroot has a beneficial effect on the cardiovascular system, helps to lower blood pressure thanks to magnesium. The substances that roots are containing help to strengthen the walls of the capillaries. They are having a vasodilator, antispasmodic, and sedative effect.
Beetroot is a natural antiseptic. Suppresses the development of putrefactive bacteria in the intestines, and the juice reduces inflammation of the skin and oral mucosa. To speed up wound healing, you should use the beet leaves and crush them beforehand.
Beets are beneficial for anemia, general depletion of the body and loss of strength since it contains many iron and other trace elements.
The use in cosmetology
If the skin is problematic and excessively oily, it is necessary to grate the beets, dilute the beets with low-fat sour creme, and then cover the face with a mask for 20 minutes. It is very effective after you have washed off such a mask to wipe your face with ice.
How to get rid of freckles at home with the help of beets
Of course, beets have an intense coloring effect, but besides that, they can also save you from freckles. The main thing is to carry out the procedure correctly.
We take a soda, beet, squeeze juice from it, combine two liquids one to one. Then, with the resulting solution, like a lotion, we wipe the face from freckles. Put the gauze on your face and keep it for five to fifteen minutes. You can repeat the cosmetic session every day for two weeks.
Beets for the face were used as the first cosmetics; they tinted lips with burgundy juice, applied blush to the cheeks. And today, you can use the vegetable to create homemade recipes. A real storehouse of vitamins and acids gives freshness and elasticity. When you use it correctly, the root vegetable is also effective for skin whitening, protects against premature aging.
Benefits of beets for the skin
Cleans and tightens pores;
Soothes inflammation;
Refreshes and moisturizes;
Eliminates age spots;
Tones up;
Stimulates renewal processes.
Anti-wrinkle beetroot mask
Beetroot juice for the skin is used to keep the dermis fresh and soft. Active elements allow you to cope with age-related processes, whiten pigmentation, smooth out wrinkles.
Components:
a teaspoon of milk;
potatoes.
Grind the raw vegetable into mashed potatoes, mix the mass with milk and juice. Steam the covers thoroughly, then distribute the finished composition. Please keep it for no more than ten minutes, repeat the procedure twice a week.
Rules for the use of masks with beets
cook only from fresh root vegetables, in small single portions;
mix in glass, ceramic, or earthenware to avoid oxidation reactions;
for masks, you can use juice, raw, boiled puree, or a decoction of leaves, vegetables;
the main precaution is not to keep it for more than fifteen minutes. Otherwise, you can get a rich burgundy skin pigmentation;
goes well with oils, other vegetables, herbs, and cereals.
The use of beets in cooking
People are using roots and fresh young beet leaves for making food. The root of the vegetable is usually good for boiling or baking. People cook multiple types of salads, soups, and sauerkraut on their basis. You may add leaves to soups or salads, boil them separately. Beetroot juice is great to use as a natural color in sauces.
Beetroot soup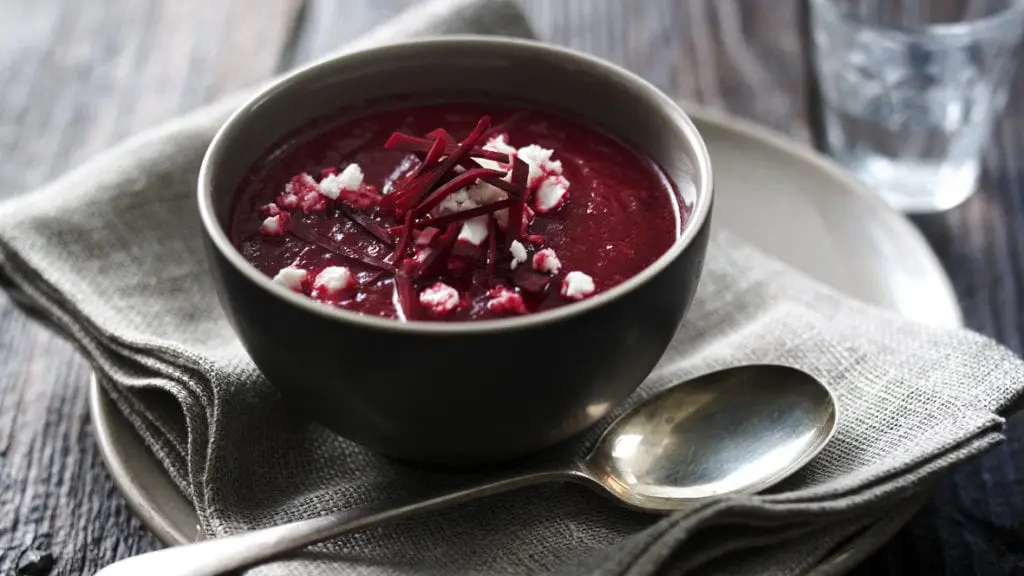 Diet healthy lunch. For more satiety, people usually prepare it in meat broth. You may serve it with herbs and sour cream.
Beets – 1 piece
Bulgarian pepper – 1 piece
Carrots – 1 pc
Tomato – 1 piece
Onion – 1 piece
Potatoes – 2 pieces
Salt, pepper, bay leaf – to taste
Boil broth or boil water in advance. Add bay leaf. Wash and peel all vegetables—grate beets on a coarse grater. Pour boiling water over the tomato and remove the skin. Dice the potatoes, carrots, onions, and peppers. Sequentially toss vegetables into a boiling liquid: first beets, carrots, onions, and peppers. Reduce heat and simmer for 15 minutes. Add potatoes, salt, and pepper, and cook until soft. Let it brew under the lid and pour into plates.
Vitamin beet salad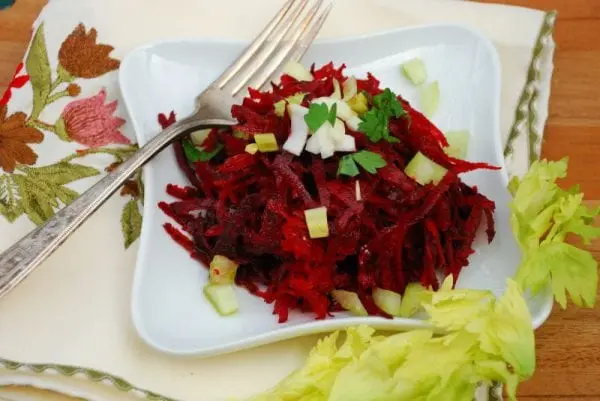 Diet meal for a snack. You can add prunes or herbs.
Beets – 1 piece
Sour apple – 1 piece
Walnuts – a small handful
Salt, pepper, lemon juice, olive oil – to taste
Boil the beets in advance, cool, peel. Cut apples and beets into strips. Chop nuts, add to salad. In a bowl, combine salt, pepper, oil, and lemon juice and season with salad.
More useful info about beets you may find in the video below:
2020-09-17