Description
The most expensive nut in the world growing in Australia is macadamia. It contains a ton of fatty acids and vitamins that are especially beneficial for the skin and hair.
The macadamia nut (lat. Macadamia) or kindal belongs to the family of Protean plants that grow only in a few places on planet Earth. There are only about nine types of macadamia nuts that are eaten and also used for pharmacological and medical purposes.
Five of the nine types of macadamia nuts grow only on Australian soil, the remaining varieties of the plant are cultivated in Brazil, the USA (California), Hawaii, as well as in the South African region.
However, Australia is considered the birthplace of the macadamia nut. The Australian macadamia nut got its distinctive name from the famous chemist John Macadam, the best friend of the botanist Ferdinant von Müller, who in turn became the discoverer of the plant. At the beginning of the last century, botanists began to study the beneficial properties of the macadamia nut.
It is noteworthy that the macadamia nut belongs to those rare species of fruit-bearing plants that tolerate temperature changes well, and can also grow at an altitude of up to 750 meters at sea level. Macadamia nut trees begin to bear fruit at 7-10 years of age. Moreover, one tree gives a crop of at least 100 kg of macadamia nuts.
Macadamia nut history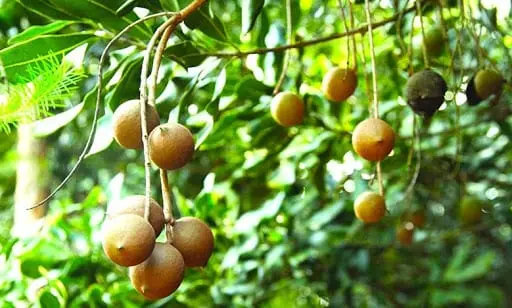 The nut grows in tropical climates, and is considered one of the most "capricious" – it is often attacked by pests, and the tree bears fruit only in the tenth year. This is what makes it relatively rare and adds value.
Macadamia was first described 150 years ago. Initially, collection was done by hand only. Gradually, more unpretentious plant varieties were developed, which made it possible to spread it more widely: in Hawaii, Brazil and South Africa. But mainly macadamia is still growing in Australia.
Composition and calorie content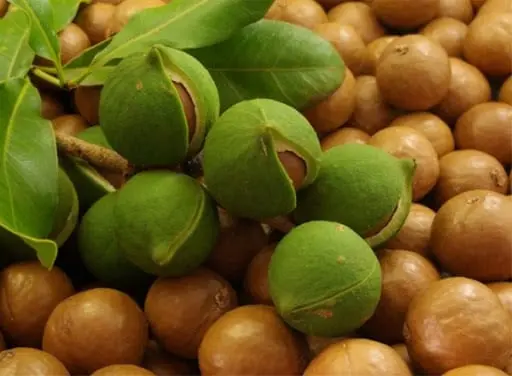 Macadamia nut is rich in vitamins and minerals such as: vitamin B1 – 79.7%, vitamin B5 – 15.2%, vitamin B6 – 13.8%, vitamin PP – 12.4%, potassium – 14.7%, magnesium – 32.5%, phosphorus – 23.5%, iron – 20.5%, manganese – 206.6%, copper – 75.6%
Energy value of macadamia nut (The ratio of proteins, fats, carbohydrates – bju):
Proteins: 7.91 g (~ 32 kcal)
Fat: 75.77 g. (~ 682 kcal)
Carbohydrates: 5.22 g. (~ 21 kcal)
Benefit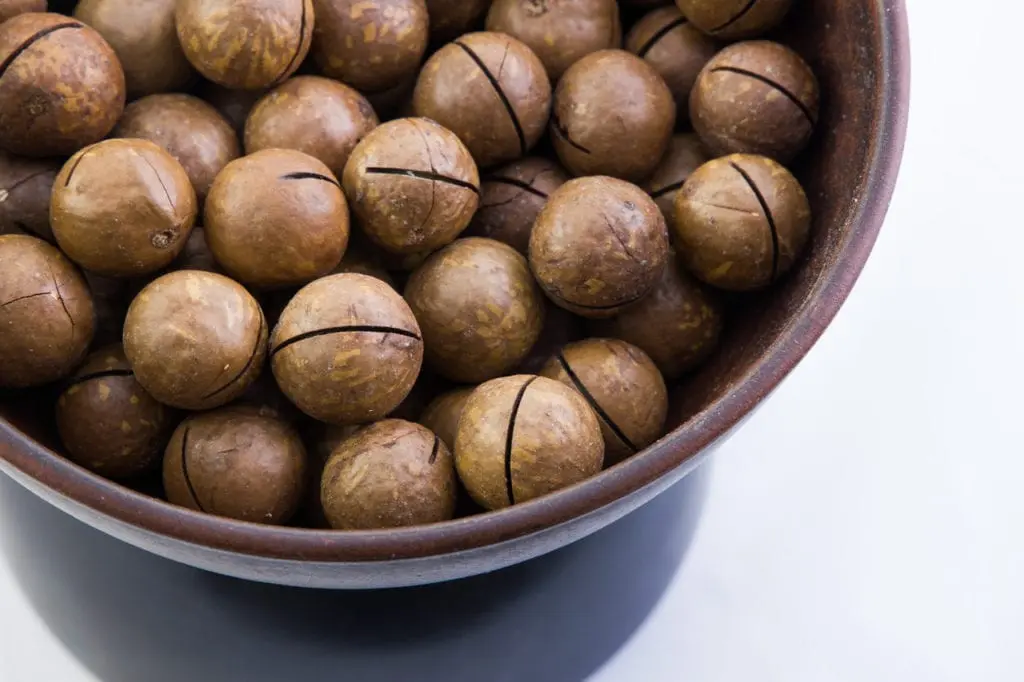 Macadamia is packed with nutrients. Most of all it contains B vitamins, vitamin E, and PP, as well as minerals: calcium, selenium, copper, phosphorus, zinc, potassium. As with other nuts, macadamia has a high concentration of fatty acids.
Systematic consumption of macadamia in food reduces skin problems, normalizes its color and oiliness, and improves the condition of the hair thanks to nutritious fats.
Nutritionists recommend replacing one meal with a handful of macadamia for weight loss, which will replenish the missing energy and reduce appetite. Also, omega-3 in the composition of the nut reduces the level of cholesterol in the blood, which is the prevention of heart and vascular diseases.
A large amount of calcium in macadamia can be a preventive measure for diseases of the joints and bones.
Macadamia harm
This nut is one of the most nutritious, so the maximum amount per day is a small handful. Individual intolerance to the product is possible, so allergy sufferers need to be careful about macadamia, as well as nursing women so as not to cause a reaction in the child. It is not recommended to eat macadamia in the acute phase of diseases of the stomach, intestines, pancreas and liver.
The use of macadamia in medicine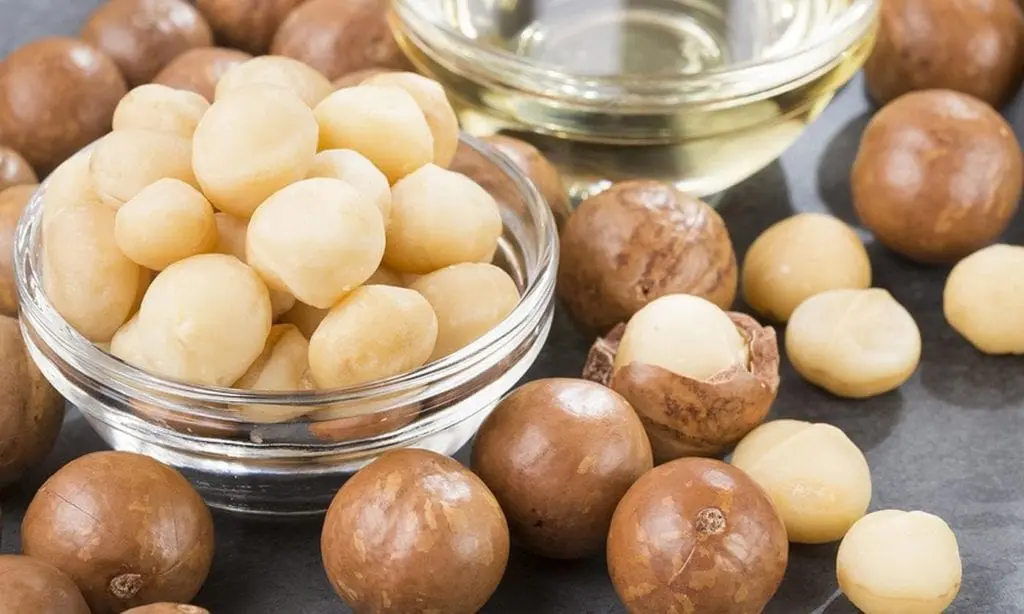 A cosmetic oil is produced from macadamia, which has the properties of smoothing wrinkles and accelerating the regeneration of damaged skin. It is also used to strengthen hair follicles.
It is useful to include this nut in the diet of people suffering from dystrophy. Macadamia will help restore strength after prolonged illness during pregnancy. It is not without reason that macadamia is a traditional component of the diet of the aborigines of Australia, who give nuts to children who are lagging behind in development, as well as those who are sick.
The high calcium, potassium, and iron content of these nuts can help reduce sugar cravings. There is a hypothesis according to which the desire to gorge on sweets is caused, among other things, by a deficiency of fats and minerals in the diet. In any case, a handful of nuts is a much healthier dessert.
The use of macadamia in cooking
Macadamia has a sweet taste and is used for making desserts and salads.
Diet Cheesecake with Nuts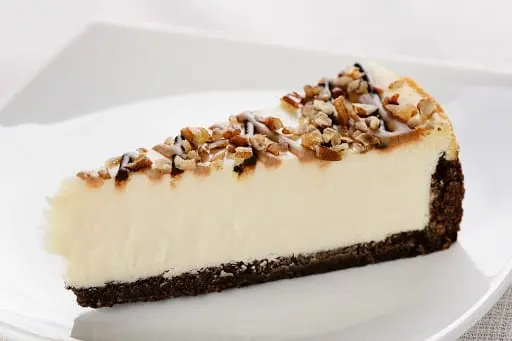 Any dessert is still a high-calorie product, but even those who are on a diet can pamper themselves with a small piece of such a cheesecake. The bran in its composition is useful for digestion, and little sugar is added.
Ingredients
Macadamia – 100 gr
Low-fat cottage cheese – 700 gr
Agar or gelatin – the amount according to the instructions
Eggs – 2 pieces
Cornstarch – 0.5 tablespoons
Bran – 2 tablespoons
Sugar, salt – to taste
Preparation
Mix bran, starch and 1 egg, lightly sweeten and salt. Pour onto the bottom of the cheesecake pan and bake at 180 degrees for 10 – 15 minutes. Soak gelatin in cold water until it swells, and then heat, stirring, until dissolved. Sweeten cottage cheese, gelatin and egg, beat with a blender. You can add vanilla or cinnamon. Pour on top of the baked dough and cook for another 30-40 minutes. Chop the nuts with a sharp knife, and sprinkle on the finished baked goods.
2020-10-07