The summer season is about to begin, and it's time to make sure that life in the summer house is comfortable, safe and pleasant. First of all, it is necessary to provide the dacha kitchen with clean drinking water, which is often "difficult" and is not always controlled as carefully as the city water supply. The experts of the company "AQUAFOR" talk about the most relevant solutions to the issue of drinking water for life outside the city for any budget.
We have a rest with children
In the summer, many people move to a country house with whole families together with their children. It is not always possible to install a stationary water purification system in a country house. Here comes to the aid of the blown jug "AQUAFOR ""Orleans". The special design of the replaceable module allows you to purify water from unpleasant odors, foreign tastes and harmful impurities longer and more efficiently. Externally, the filter looks like an ordinary glass jug, but in fact it is made of Eastman Tritan copolymer. This material combines the best characteristics of glass and food-grade plastic — it is very strong, durable and safe for health. Thanks to the round bottom, it is difficult to accidentally tip over such a jug. And even if the child drops it anyway, the jug will not break and will not cause him any harm.
A miniature factory at your home
"AQUAFOR" DWM-101S "Morion" is a real mini-plant for water purification in your country kitchen. It is compactly placed under the sink, and a small convenient tap for drinking water is displayed in the sink. Even if the pressure in the water supply is low, this will not affect the cleaning efficiency in any way. At the same time, this reverse osmosis filter takes up half as much space as any other water purification system of this class. How does it work?
The cleaning cycle completely repeats the algorithm of the factory technology of water purification, which is then bottled and which we buy in the supermarket. First, tap water is completely cleaned of mechanical impurities — sand, rust and silt. The carbon filter then absorbs harmful impurities such as chlorine and heavy metals. Further, the reverse osmotic membrane does not pass allergens, antibiotics, nitrates, bacteria and even viruses, sending them to the drainage, after which the water is twice enriched with magnesium ions. Thus, you get absolutely clean, fresh and soft premium-class water directly from the tap in your country kitchen.
Thanks to the AQUAFOR DWM-101S Morion filter, you will never see scale inside the kettle again. And household appliances, like a slow cooker or a coffee maker, will last you much longer. In addition, in the long run, you get a significant benefit. It is estimated that such a filter can save up to 9 tons of water per year.
A new generation smart filter
J. SCHMIDT A500 is irreplaceable at any dacha. The principle of its operation is simple. You fill the filter with water, install the cover with the electronic unit and press the Start button. The micro-pump is turned on, and water filtration begins. It is disabled automatically when the filtering is completed.
One replaceable module will provide you with 500 liters of clean drinking water. The Filter indicator will tell you when to replace the module, and the Battery indicator will warn you when to recharge the battery. By the way, it charges as easily and quickly as a smartphone.
The J. SCHMIDT A500 is not an ordinary jug, but a real mobile filtration system. It combines two important advantages — deep cleaning, as in a stationary system, and mobility. You can easily take it with you anywhere. In any place, it will instantly produce ultra-fine water purification. Unique in its properties, the material "AQUALEN TM", patented by the specialists of "AQUAFOR", is able to remove toxic contaminants of any complexity. A membrane with a porosity of 100 nm (this is 800 times thinner than a human hair) completely cleanses the water from bacteria and intestinal parasites. You just need to fill a glass from a filter jug, and you can enjoy the pleasant taste of clean water. However, it is worth remembering that this compact filter is not designed for cleaning water with an increased level of hardness. For these purposes, for example, reverse osmotic filters "AQUAFOR" from the DWM series are suitable.
We cook with comfort
Sometimes, to provide a country kitchen with clean water for cooking, you have to put a lot of effort. Get rid of this problem once and for all will help the filter "AQUAPHOR ""Crystal". It is neatly placed under the sink, takes up little space and supplies clean drinking water through a separate tap. In just one minute, you get 2.5 liters of high-quality fresh water. This is quite enough to cook soup or compote for the whole family. Such water can be safely used for the preparation of baby food.
The filter efficiently and reliably cleans water from chlorine, heavy metals, petroleum foods, pesticides and other dangerous impurities that can be found in it most often. At the same time, the cartridge is changed only once a year along with the case. Just turn it clockwise until it clicks and carefully remove it. It is important that you do not come into contact with the pollutant, and the plastic case itself can be recycled if desired.
Reliability and long service life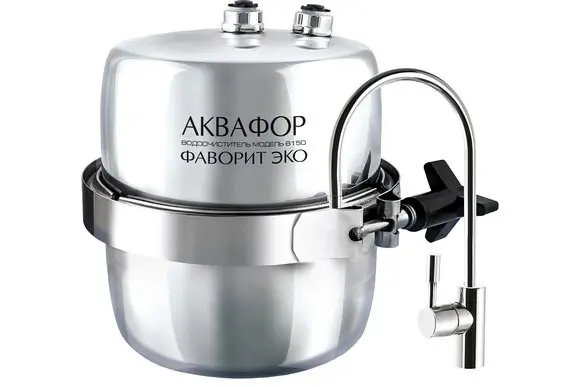 If you value reliability and durability in the purchased items, then you will definitely like the AQUAFOR filter "Favorite ECO". The case is made of high-quality stainless steel and is not subject to corrosion or mechanical damage. Even after ten years, it will retain its strength and all its performance characteristics. You will not find a single leak in it.
The filter effectively removes the most common dangerous substances from tap water, such as chlorine, heavy metals, petroleum foods and organic carcinogenic impurities. And the Japanese-made hollow fiber membrane that is part of the replaceable module will provide protection from bacteria. A glass of clean drinking water is collected in just 10 seconds, and an average pot – in a minute. Everything is simple, fast and very convenient.
A small kitchen is not a problem
If your country house has a very small kitchen, it's okay. The AQUAFOR DWM-31 filter will save you from any inconveniences and provide you with clean drinking water. This is the most compact version of the reverse osmosis system-when water under high pressure passes through the membrane and is cleaned of harmful substances dissolved in it. This filter is incredibly effective and takes up very little space.
The DWM-31 filter efficiently cleans water from bacteria, parasites and viruses. And it also eliminates stiffness — the main cause of scale formation. In addition, there is a moderate mineralization of water. As a result, the kettle and pots in which you boil water for cooking will now always be clean. And the most important thing is that the taste of dishes and drinks will become much brighter and cleaner.
Any of the presented filters is a real find for the country kitchen. It remains to understand which of them is best suited for you. In the company's line of "AQUAFOR" you will find optimal solutions for every taste. These are high-quality, reliable and safe filters that will provide you with the purest drinking water throughout the summer season and for many years to come. Thanks to them, life in a country house will become much more comfortable and pleasant.