Today, only the lazy have not heard about such a wonderful product as chickpeas! Recently, the popularity of large peas, which is called "Turkish" or "mutton", simply rolls over in our country. But it was not always so. Literally, twenty years ago, we had little demand for chickpeas. But the current relevance of the product is easy to explain. Indeed, it is recently that a healthy lifestyle has become fashionable.
Proper nutrition is an integral part of a healthy lifestyle. And chickpeas are far from the last place in a healthy diet. Consider why chickpeas are so good for the human body and what this product is in general.
Chickpeas are especially popular in the Middle East, where they are used to make hummus and falafel.
Lamb chickpeas (chickpeas, cultivated chickpeas, lamb peas) belong to plants of the legume family. They eat chickpea seeds, which are an excellent source of vegetable protein. Southeastern Turkey and northeastern Syria are considered the homeland of chickpea. Chickpeas are grown in over 50 countries, but the leaders are India, Pakistan, Iran, Turkey, Syria, as well as Australia and Ethiopia. Ukrainian chickpeas are prized in many countries around the world, in particular in Turkey.
Beneficial properties
It contains about 20-30% protein, 50-60% carbohydrates, and up to 7% healthy fats, as well as zinc, folic acid, phosphorus, potassium, magnesium, lysine, vitamins B1 and B6.
Chickpeas contain both soluble and insoluble dietary fiber, which has a positive effect on the digestive tract.
They should be included in the diet of people who adhere to a diet, as it normalizes sugar levels and saturates well.
Thanks to methionine, chickpeas are able to reduce blood cholesterol levels. Chickpeas also have a positive effect on the work of the nervous system due to a large amount of manganese.
Due to their iron content, chickpeas are good for people with anemia.
Before starting a conversation about the effect of chickpeas on the human body, I would like to make a small digression to the composition of this product. After all, it is precisely due to the saturation with useful substances that the plant product is famous for its healing properties.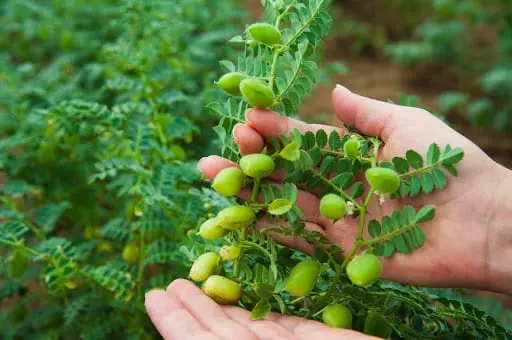 Nutritional value per 100 g of product:
proteins – up to 19.7 g;
carbohydrates – up to 60 g;
fats – 6-6.5 g;
dietary fiber – 3 g;
water – up to 12 g.
Studying the nutritional value of chickpeas, one can understand that it is a high-carbohydrate product, rich in protein and fatty acids.
Chickpea contains the following beneficial substances:
silicon;
magnesium;
calcium;
potassium;
phosphorus;
manganese;
iron;
boron
Chickpeas contain nicotinic and ascorbic acid. The product also contains Omega-3 and Omega-6 acids. Vitamins such as A, K, B1, B2, B4, B6, B9, E give particular value to chickpeas. It is worth noting the high starch content – up to 43%.
This is a hearty, nutritious and, by the way, quite tasty product. Both men and women like him equally. It is not contraindicated for children either. And how much benefit it brings to the body!
The benefits of chickpeas for a woman's body
Chickpeas are such a product that is good for the body of women and men. But I would like to consider this benefit in more detail separately.
The first thing that can be said about the benefits of these peas for the female body is that the product should be consumed during the menstrual period. Peas are saturated with iron. This element is extremely important to replenish in order to alleviate premenstrual syndrome and maintain the balance of trace elements in a woman's body at the end of critical days. A low hemoglobin level is also unacceptable during the period of gestation. Therefore, in the absence of contraindications, expectant mothers are advised to include this valuable product in their diet.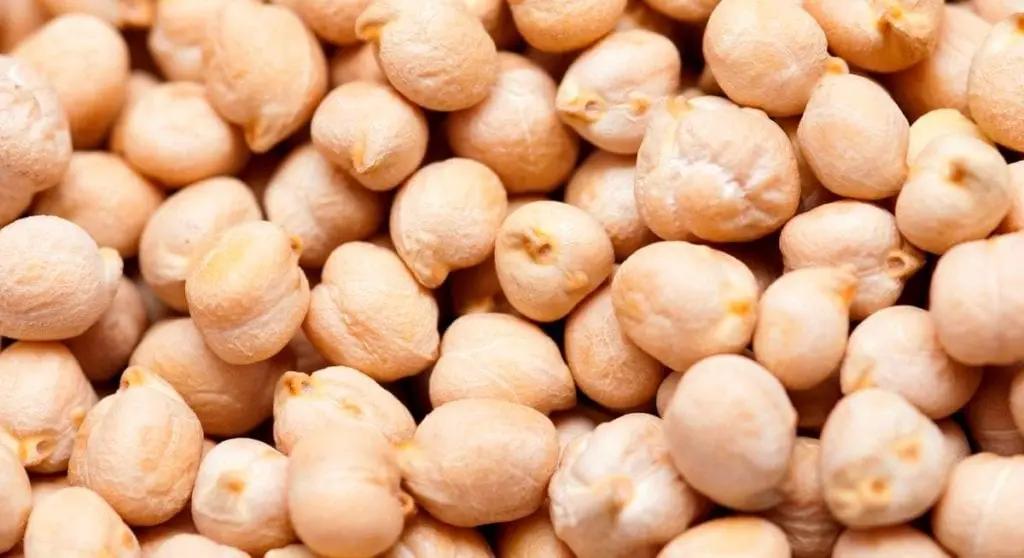 You can start eating healthy and tasty peas already in preparation for conception. However, this gift of nature has a positive effect not only on the female reproductive system. Chickpeas are packed with vitamin E and contain Omega-3.6 acids. Due to this richness, this product has a positive effect on the health of the skin, hair, and nail plate. Chickpeas are also credited with powerful antioxidant properties. By consuming this delicious and nutritious product, it is easier to keep youthful and maintain visual appeal. And this is important for women. By the way, chickpeas, the calorie content of which is quite high (364 Kcal per 100 grams), does not spoil the figure very much.
The thing is that the glycemic index of peas is 28. This is a rather low indicator of the rate of absorption of carbohydrates. It is obtained due to the high content of dietary fiber. Hence, we can conclude that chickpeas cannot cause a sharp set of extra pounds. A low GI also indicates that the product is approved for use (with caution) with diabetes.
The benefits of chickpeas for men
Chickpeas have a very beneficial effect on the male body. Saturation with vegetable proteins and beneficial acids helps to improve potency. The influence of this product on male strength is legendary. Any man will appreciate the taste of nutritious chickpeas. But the stronger sex needs nourishing, high-calorie, but at the same time, food that is harmless to the body and figure. Chickpeas are perfect here! Eating "mutton peas" at least 2-3 times a week, you can reliably protect the heart and blood vessels.
The trace elements contained in this product nourish the heart muscle and strengthen the walls of blood vessels. But, as you know, men are more at risk of the early development of cardiovascular diseases. Saturates chickpeas with a protective ability and the nervous system. It is also important for men whose lives are sometimes filled with stress. These peas are good for maintaining a slim body and nourishing muscle mass during physical training. After all, the product contains all the same valuable protein and vitamins that nourish and protect tissues.
Overall health benefits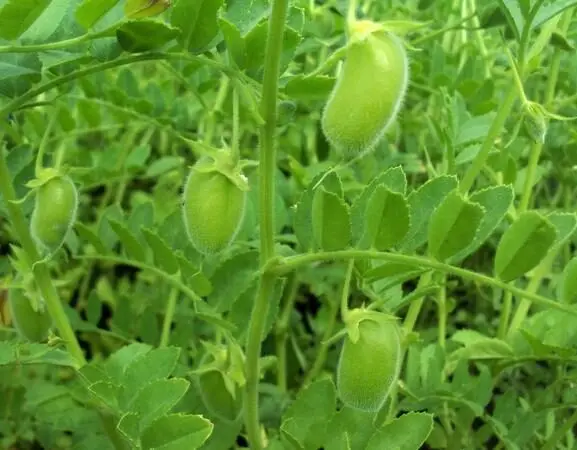 Chickpeas are especially prized for the following list of medicinal properties:
cleanses the body of toxins, has an antioxidant effect;
strengthens the immune system, stabilizes metabolism;
improves the process of hematopoiesis, strengthens the walls of blood vessels;
has a beneficial effect on the respiratory system;
helps to maintain and improve vision;
improves the digestion process;
prevents the development of atherosclerosis;
helps to align the glycemic profile in diabetes mellitus;
nourishes joints and muscle tissue.
And this is not a complete list of the benefits of chickpeas for which this product is so valuable in a healthy diet. There are literally so many advantages that they overshadow the disadvantages that still exist.
What can be the harm from eating chickpeas?
With all the advantages of the product, there are still disadvantages. Chickpeas are not perfect, and not everyone can eat it and not always.
It should be borne in mind that the presence of any chronic diseases requiring a special diet is a reason for consulting with a specialist regarding the permissibility of including chickpeas in the diet.
There are also a number of contraindications for the use of this pea:
the presence of individual intolerance to this product;
intestinal tract diseases, flatulence;
diseases of the liver and pancreas;
bladder ulcer and cystitis.
The main contraindications for chickpea are related to the fact that the product contributes to increased gas production. And if there are diseases of the organ systems for which this symptom can intensify or provoke harmful consequences, it is recommended to exclude chickpeas and other legumes from the diet. Saturation with vitamins and trace elements is a benefit, which is good for the body.
But in the case when there are allergic reactions to some component contained in the product, you should not tempt fate. After all, food allergies pose quite serious risks. Otherwise, chickpeas are quite safe. This product is also quite tasty!
Popularity story!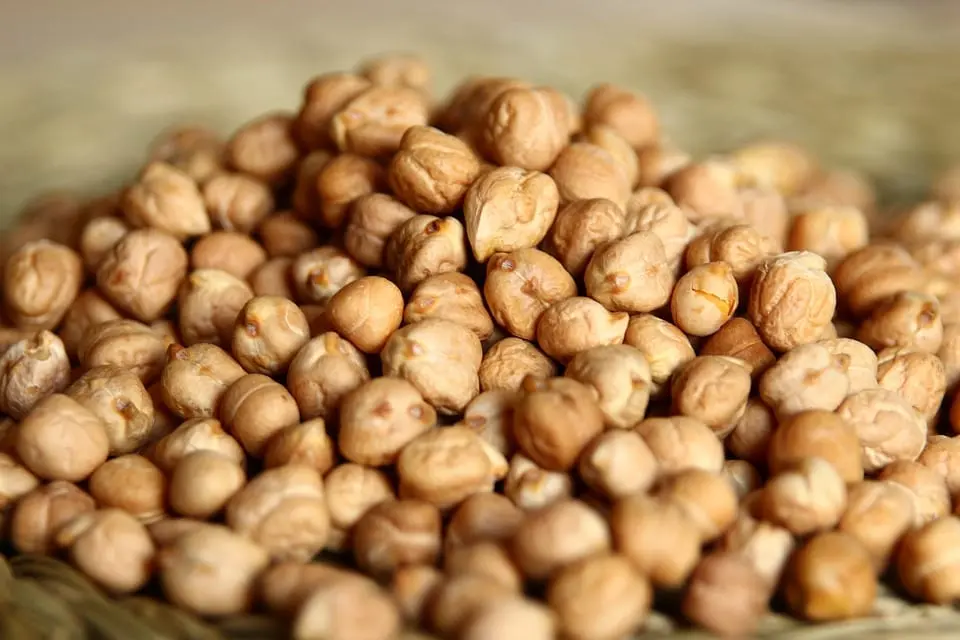 Medium-sized light brown beans are known today by gourmets and connoisseurs of delicious and healthy food around the world! Chickpea is considered an oriental legume crop. It is appreciated in India, Turkey, Italy, Israel, and other countries. Chickpea production began about 7,500 years ago. The native land of chickpeas is the Middle East. The Romans and Greeks were the first to appreciate the benefits and taste of the product and began to widely use this gift of nature in cooking. In the modern world, chickpeas have gained popularity due to such famous dishes as hummus and falafel.
How to choose and store
To get tasty and healthy food, you should choose the right chickpeas. Everything is extremely simple here! The peas should be dense, smooth, evenly colored. Color – from light brown to slightly darker shades (depending on the variety and degree of maturity). You should not buy the product if you see a lot of faded blotches. An unpleasant smell, the presence of plaque – these are signs that the chickpeas have deteriorated. The beans should be about the same size.
Chickpeas are stored for a long time (up to 12 months) if the correct conditions are provided for the storage period. These peas need darkness, lack of moisture, and a temperature regime of 0 to 5 degrees. Under such conditions, peas will not deteriorate for a long time and retain their qualities.
Here he is so versatile and healthy chickpeas! The product has become popular and is easily available in the trade space of our country. The price of the product differs depending on the country of production, brand, and grade. But overall, it's an inexpensive, healthy, and delicious plant-based food option!
What to cook from chickpeas: TOP-5 recipes for delicious and healthy dishes
Bozbash with chickpeas
Cooking time: 2 hours
Ingredients:
Lamb ribs – 1.5 kg
Chickpeas – 150 g
Carrots – 2 pcs.
Sour apples – 2 pcs.
Tomatoes in their own juice – 5 pcs.
Bulgarian pepper – 2 pcs.
Onions – 2 pcs.
Chili pepper – 1 pc.
Garlic – 5 cloves
Cilantro – 5 branches
Salt – 30 g
Zira – 12 g
Black peppercorns – 15 pcs.
Hops-suneli – 13 g
Coriander – 6 g
Water – 3 l
Cooking method:
Cut the lamb ribs across 2 ribs. Fill with water. Boil over low heat for 1.5 hours along with chickpeas and salt pre-soaked in water.
Then add the sliced ​​carrots and apple slices and whole chili peppers. Boil for 15 minutes. Then add the bell pepper cubes and chopped tomatoes in your own juice.
Grind the cumin, coriander seeds, and black peppercorns in a mortar. Add to soup. Add hop-surely and chopped onion into half rings. Stir and cook for another 2 minutes.
Sprinkle with chopped cilantro and garlic when serving.
Chickpeas and spicy cauliflower salad
Cooking time: 1 hour
Ingredients:
Chickpeas – 300 g
Cauliflower – 1/3 head of cabbage
Young potatoes – 7 pcs.
Tomatoes – 1 pc.
Shallots – 1 pc.
Lime – ½ pc.
Fresh cilantro – 3 sprigs
Olive oil – 2 tablespoons l.
Curry paste – 1 tbsp l.
Vinegar – 1 tsp.
Turmeric – 1 pinch
Sea salt – 1 pinch
For refueling:
Small ginger root – 1 pc.
Fat yogurt – 3 tbsp. l.
Extra Virgin Olive Oil – 2 tbsp l.
Tamarind sauce – 1 tsp
Turmeric – 1 pinch
Cooking method:
Boil the chickpeas according to the instructions on the package.
Squeeze 2-3 tbsp of lime half. spoons of juice.
Disassemble the cauliflower into small inflorescences and, after cutting off the coarse stems, put in a deep bowl.
Add curry paste and a pinch of turmeric, drizzle with lime juice and olive oil and stir.
Put the seasoned cabbage on a small baking sheet and bake under a preheated grill for 5 minutes.
Peel the shallots, cut into thin rings, put in a deep bowl, sprinkle with vinegar, and let marinate.
Cut the tomato into small wedges.
Boil the potatoes without peeling and cut into 4 pieces.
Add tomato, chickpeas, potatoes, baked cauliflower to the pickled onions and mix everything.
Peel and finely grate the ginger root.
Prepare the dressing: combine yogurt with grated ginger and tamarind sauce, add turmeric, pour in Extra Virgin olive oil and mix everything.
Pour salad dressing, salt, and stir.
Finely chop the cilantro, add to the salad and mix again.
Eggplant recipe with chickpeas and oranges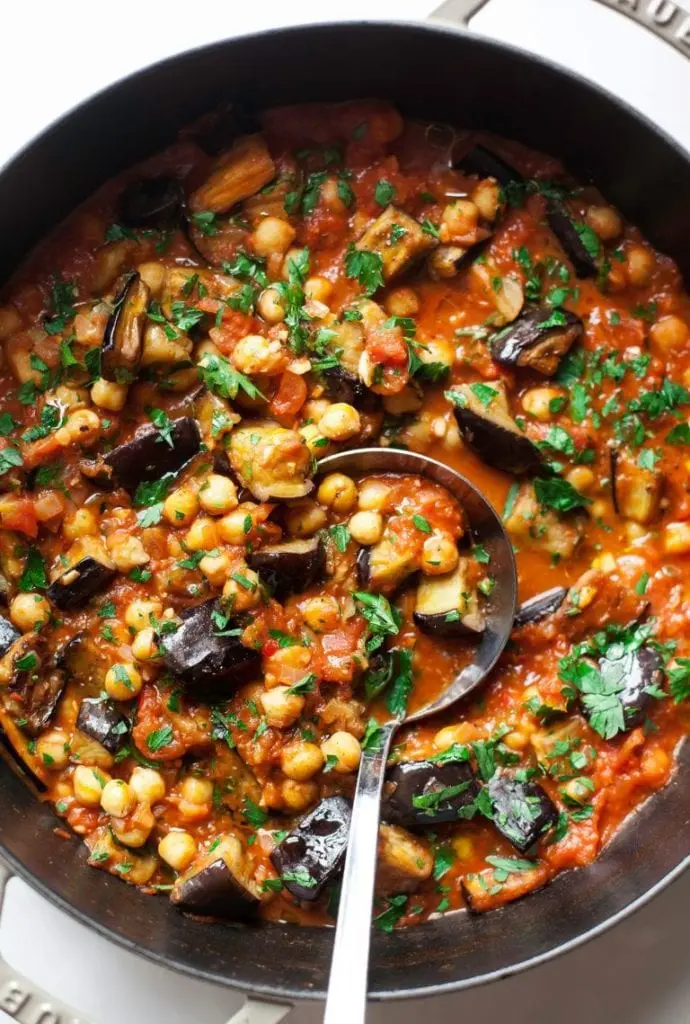 Cooking time: more than 3 hours
Ingredients:
Eggplant – 300 g
Baby carrots – 10-12 pcs.
Chickpeas – 100 g
Dried apricots – 6-8 pieces
Fennel – 1 tuber
Quinoa – 200 g
Coriander – 1/2 tsp
Salt to taste
Zira – 1/2 tsp
Orange (zest from half and juice from all)
Cooking method:
Soak the chickpeas for 6-8 hours.
Peel the eggplant, cut it into 3 cm cubes.
Cut the fennel into strips, remove the zest from 1/2 of the orange and extract the juice.
Put all vegetables, zest, and chickpeas in a cast-iron or double-bottomed dish, pour over orange juice, cover and simmer for 30 minutes.
Then add spices, preheating them a little in a dry frying pan.
After adding the spices, simmer for another 5-10 minutes. Then keep the dish turned off for another 10 minutes with the lid closed. If you have tagine, then it is ideal to cook in it and in the oven, like the people of Morocco.
Some more great chickpeas recipes you may find in this video overview below:
2020-09-17