Pumpkin is a plant with creeping stems, the fruits are usually orange, but other colors of the skin also appear. The benefits of pumpkin for men and women are undeniable, and children love this vegetable for its sweet taste.
Pumpkin history
According to some sources, it was actively cultivated already 5.5-8 thousand years ago. Pumpkin was brought to Europe from South America and quickly took an important place in cooking and even medicine. In the modern world, for us, it is just a delicious and beautiful vegetable. Still, the initial attitude to pumpkin was somewhat different: people considered that it was the raw material for medicinal products. People prepared ointments and used them in folk medicine as a remedy for helminths, and Avicena was recommended for a laxative effect. Let's figure out why this healing vegetable is so useful.
The benefits of pumpkin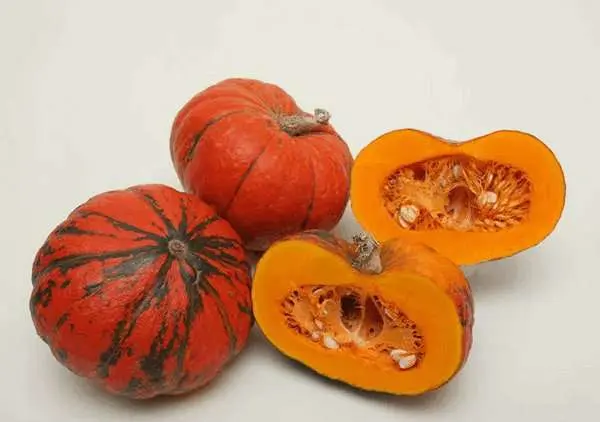 Pumpkin is a storehouse of vitamins, and a considerable part of them is present in the pulp and seeds and flowers. Pumpkin has 4-5 times more carotenes than carrots. Carotenes in the body are converting into vitamin A, which is especially beneficial for eyesight and is also a powerful antioxidant. Pumpkin contains vitamins C, E, K, and almost all B vitamins.
The seeds contain many trace elements, and pumpkin seeds are among the top three in terms of zinc content.
Due to its low-calorie content, pumpkin is an ideal dietary product because it contains no starch, cholesterol and trans fats, little sugar, but a lot of fiber useful for digestion. The calorie content of 100 g of pulp is only 22 kcal.
Calories per 100 g 22 kcal
Proteins 1 g
Fat 0.1 g
Carbohydrates 4.4 g
Harm from Pumpkin
Even a useful product can be harmful, so it is worth considering possible contraindications. Who should be careful with introducing pumpkin into the diet? Nutritionists and health consultants say that people with gall bladder and kidneys should avoid it since pumpkin has a choleretic effect and can provoke the movement of stones. Raw vegetables are more difficult to digest, so it's best not to give raw pumpkin to young children and the elderly. People with diabetes should also avoid eating lots of pumpkins as it can cause blood sugar to rise.
Sometimes, frequent consumption of this vegetable can cause bloating and loosening of the stool. Then you need to reduce the serving size and frequency of use. Excessive feeding on the pumpkin can lead to false carotene jaundice. The carotene contained in the vegetable causes yellowing of the skin. Occasionally, individual intolerance and allergies occur. In this case, it is better to refuse the product. It is worth limiting the use of pumpkin seeds for those on a diet – you should remember about their high-calorie content: 100 g contains 559 kcal ".
The use of pumpkin in medicine
Pumpkin is often used in dietetics – there are all pumpkin diets. This low-calorie vegetable reduces appetite due to its high amount of fiber and dietary fiber and normalizes metabolism. However, one should be careful to lose weight with the help of pumpkin, explains expert Alexander Voinov: "Obesity is a serious disease. Self-medication often leads to poor results.
Contact a specialist to find out all the nuances and choose a method of losing weight. Due to its beneficial properties, Pumpkin is often found in various diets, but only as part of a possible complex diet that will ensure weight loss without depriving the body of all the elements it needs. The pumpkin is recommended to be consumed in the first half of the day and preferably raw. "
Positive effects for men
Pumpkin has a positive effect on the condition of the male reproductive system. The vegetable pulp contains a high concentration of vitamin E – tocopherol, translated from Greek as "bringing offspring." The seeds contain much zinc: 30 g meet up to 70% of the daily requirement. Also, pumpkin seeds are the record holders among products in terms of L-arginine content. Together, they have a noticeable effect on the entire body: it participates in the synthesis of testosterone, normalizes the function of the prostate gland, improves the state of the cardiovascular system, and affects erectile function.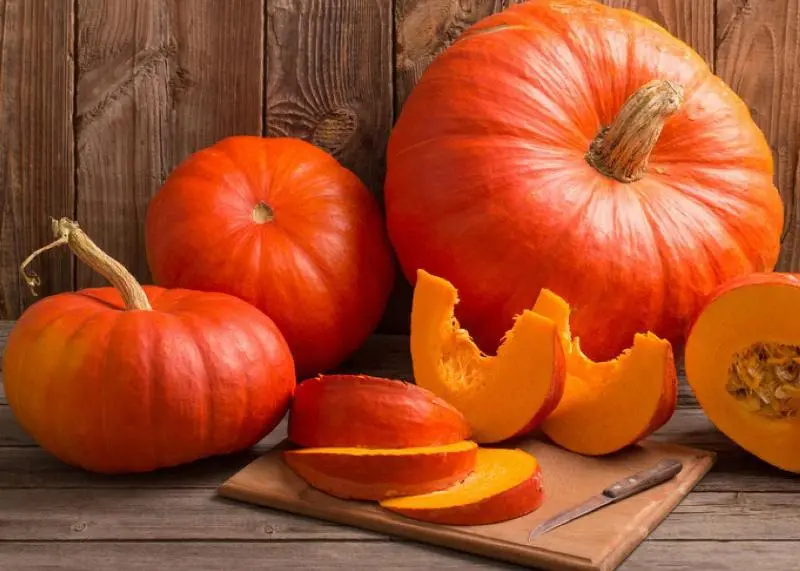 The thin film – the shell of the pumpkin seed contains the amino acid cucurbitacin, which has anthelmintic properties, which has been used in folk medicine. Due to rare side effects, a decoction of unrefined seeds was a strong recommendation to use for children and pregnant women.
Scientists proved the positive effect of pumpkin seeds even on cancer: a high concentration of zinc helps prevent esophageal cancer development. Zinc has a detrimental effect on cancer cells while not damaging the body's cells, American scientists have established. Scientists attribute this to the connection between zinc and calcium. Zinc "responds" to calcium signals "sent" from cancer cells. Pumpkin pulp can also contribute to the fight against cancer. The provitamin A contained in it helps prevent the development of lung cancer. Scientists have experimentally established that small doses of provitamin A neutralize the effect of a nicotine-derived carcinogen contained in cigarettes.
More positive effects
Masks from seed gruel and compresses from pulp juice are good to use in cosmetology to moisturize and brighten the skin and reduce inflammation. The oil extract accelerates the healing of epidermal damage.
Pumpkin has a laxative, anti-inflammatory and choleretic effect, so a small amount is useful for people with congestion and constipation.
The high potassium content in the pulp reduces the risk of cardiovascular disease. It strengthens blood vessels' walls, which is extremely beneficial for people who have atherosclerosis and high blood pressure.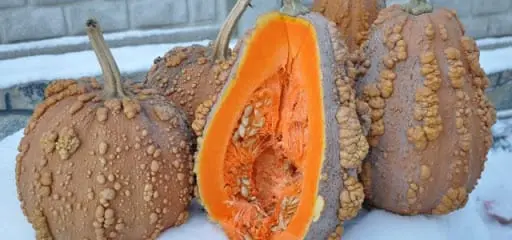 Choosing the right pumpkin
A good pumpkin has a firm but not woody skin. Naturally, cracks, soft spots and dark spots should not be present on the peel – all this indicates that the plant has begun to rot.
When choosing a pumpkin, you should not focus on size, it is better to focus on the average size. Fruit that is too large and dry may have dry, watery flesh with a bitter taste.
It is also impossible to forget about the tail: the shoot of a good pumpkin has a dark color and a dry rind. If the tail is missing, it is better not to buy it because no one knows if the seller suddenly removed it on purpose (especially when people pick the vegetable ahead of time). Besides, the shelf life of pumpkin without a stalk is significantly reduced.
More tips on how to choose
The pulp of pumpkins that have had fungal diseases will be very tasteless and bitter. Dents, dark or pinkish spots on the peel may indicate a possible lesion. It is better not to buy a pumpkin piece by piece – an unscrupulous seller could cut the affected pumpkin.
There are several types of pumpkins, most often on the store's shelves and markets, you can find hard, nutmeg and with large fruits. There is also a decorative one, but it is not usable.
Hard-faced
The main feature of hard bark products is the increased density of the peel. Such a peel prevents the evaporation of moisture from the pulp, the penetration of pathogenic bacteria and fungus into the fruit. The pumpkin can lie long enough if you observe:
dryness of the room – at high humidity, the fruits rot;
darkness – you should store the pumpkin in the light much less;
cool – the temperature should be between 5 and 15 degrees Celsius.

During the ripening period of the pumpkin, it is dense, but during storage, it gains firmness, which becomes similar to the bark of a tree.
Muscat
This vegetable culture got its name for the specific nutmeg smell that appears when cutting the fruit. The pulp of all varieties has a rich consistency, and it is fibrous, dense without empty spaces inside. All seeds are in the middle of the fruit.
The storage conditions of the pumpkin are identical, the nutmeg in this regard does not differ from the hard bark.
Large-fruited
Tropical America is the birthplace of large-fruited pumpkin. The sweetish pulp is good for making cereals, soups, jams, fillings, desserts, juices. The seeds are good to consume when dry and for medicinal purposes. A little about the storage of the fetus:
A whole vegetable is good to store for up to six months.
Frozen pieces – stored for up to a year.
Peeled Fresh Pumpkin – you should place it in the vegetable compartment of the refrigerator, then store it for up to ten days.
Unpeeled but cut pumpkin – shelf life is ok, but for up to two and a half weeks.
Storing cut pumpkin
Tips on storing
First of all, you need to remove the core from the entire fruit, not just from the part that people usually use to cook. It would help if you did not peel off the peel on the pumpkin – it protects the fruit from microbes' effects. You need to provide the halved fruit with additional protection, for example, by wrapping it with cling film or foil.
If none of these are at hand, you can use a hermetically sealed food container. You can cut the pumpkin into pieces and fold it there.
The oil content is rich in vitamins, trace elements, and acids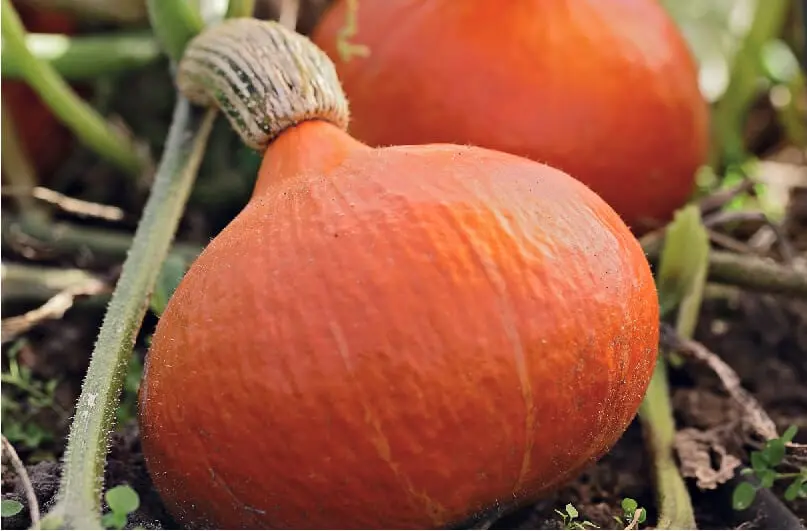 Omega-3 acids are of great value and are excellent for atherosclerosis.
Potassium, calcium, and iron salts stimulate the heart, strengthen the skeletal system.
Vitamins normalize the metabolic process.
Magnesium supports brain function.
Selenium prevents the onset of malignant tumors.
Phospholipids regulate the functioning of the gallbladder.
Many nutritionists recommend the oil to their clients. Its use helps cleanse the liver. The seed oil is a must in the fight against excess weight.
Pumpkin oil
The seed oil is rather easy to make. It is usually made from seeds. It is not difficult if all conditions are met:
put seeds in a saucepan;
fill them with water;
cook for five minutes;
cool to room temperature;
grind and squeeze.
If you do not have time to prepare oil, you can buy it in a store, any pharmacy. In the application, you must definitely follow the instructions, it is better to consult a doctor.
Pumpkin salad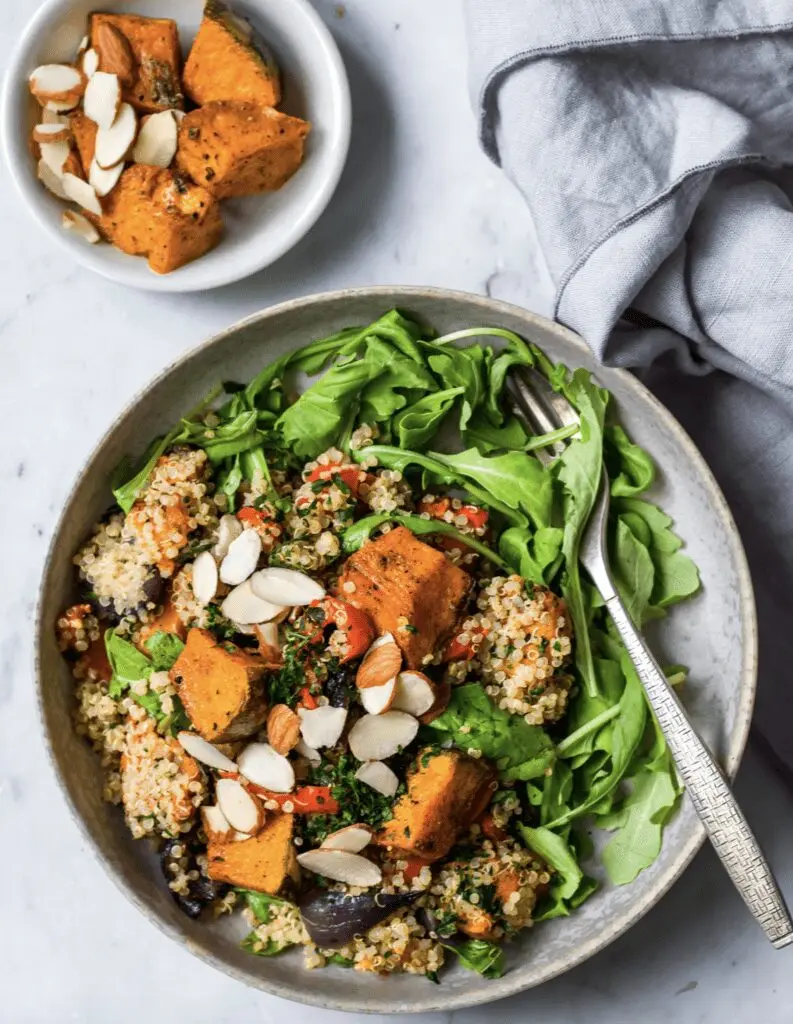 Pumpkin (500 g) is rubbed on a coarse grater. Add 2 tbsp: l—honey, sugar, and salt. Apples (unlimited quantity) need to be cut into cubes, mixed with grated pumpkin flat, and poured with lemon juice. Now is the time for chopped walnuts, raisins, and sour cream. Everything is ready, so you may pour the salad into a deep plate and serve.
Pumpkin pancakes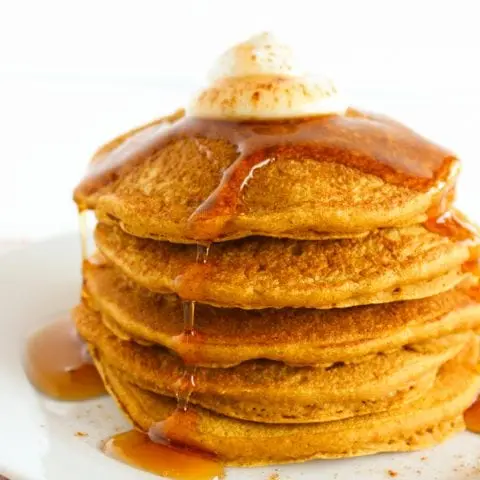 For cooking you will need:
400 g pumpkin pulp;
120 g flour;
2 eggs;
half a teaspoon of sugar;
salt to taste;
125 ml of kefir;
some vegetable oil.
Cooking the dough. Wash the pumpkin pulp, dry, and grate on a coarse grater. It would help if you sieved the flour. In a separate container, beat the eggs, sugar, and salt with a whisk, then pour in kefir and beat again until smooth. Now you may add the flour and knead until smooth. Then you need to add pumpkin and mix again. Leave for a minute or two. It remains to fry the dough in a pan in olive oil.
Pumpkin casserole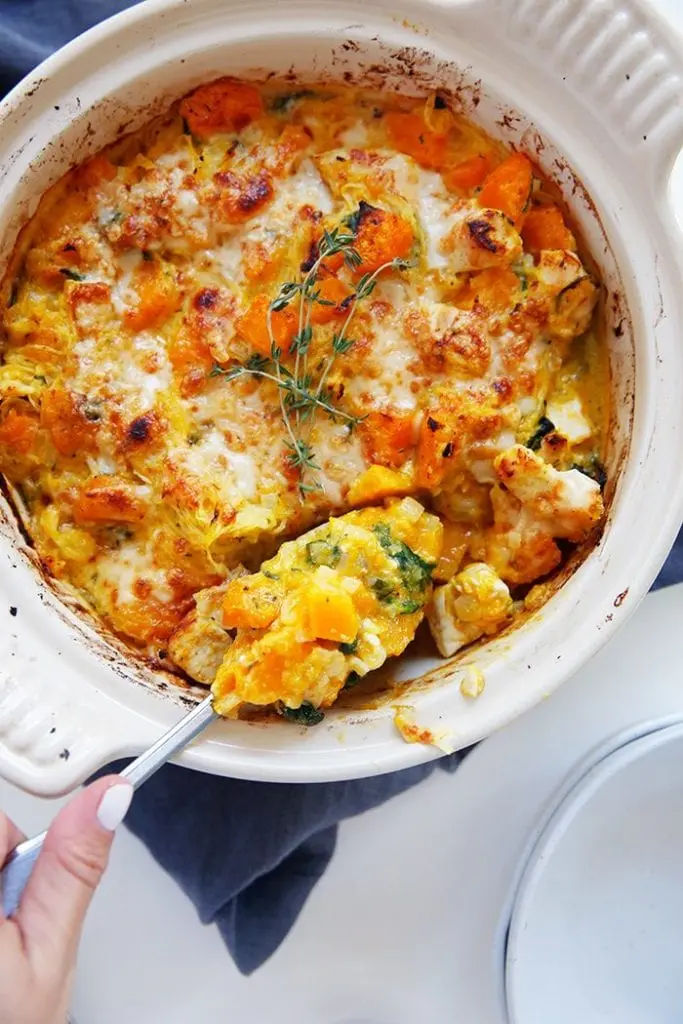 Baked pumpkin – benefits and tastes at the same time. The casserole is a versatile dish for daily use in the diet. This simple homemade dish that you can prepare in a deep baking sheet or skillet. You can bake the dish in the oven or oven. For cooking, you will need:
100 g butter;
1 cup bread crumbs
0.5 teaspoon of cinnamon;
1 pumpkin;
5 apples;
6 eggs;
a glass of sugar;
5 pieces. potatoes;
5 tsp edible salt;
salt to taste.

First, you need to pour sugar into a deep container, add butter, softened at room temperature, and mix thoroughly with a fork or spoon. Ground cinnamon and salt are added in the process. After the mixture begins to foam, the egg is beaten, and everything is mixed again until foam, then the second, and so on.
Separately, grate a large peeled pumpkin fruit, boiled, peeled potatoes, and a peeled apple on a grater. Mix these three components and add a glass of bread crumbs with a pinch of salt. Mix. After that, you must mix the resulting mass with the butter-egg mixture. Now it just remains to put the mass on a baking sheet and send it to the oven, preheated to 180-185 degrees. Everything is ready; you can decorate the casserole to taste, for example, using powdered sugar.
Enjoy the five little pumpkin song and watch this cute video below:
2020-09-17