Chayote is an edible or Mexican cucumber (lat. Sechium edule, pumpkin family) – a thermophilic, liana-like, vegetable plant, well known in countries with tropical and subtropical climates as a valuable food crop. The homeland of chayote is Central America, where the Aztec and Mayan tribes have grown it since ancient times. Today, this plant is cultivated everywhere in areas with tropical and subtropical climates.
It is very popular among many peoples due to its high yield, nutritional, gustatory, dietary (its calorie content is 19 kcal / 100 g) and medicinal properties.
Growing chayote
The growing season of chayote is at least 180 days, so in cooler climates it is grown as an annual climbing herb. The length of the chayote stems reaches 10 – 20 m and more, and therefore it is necessary to take care of the arrangement of supports or trellises in advance.
Sometimes low temperatures do not allow harvesting, since there is not enough heat for fruit ripening; in this case, due to the decorative properties of the plant, it is used as a decoration for arbors, arches, alleys, terraces, galleries. In areas where the temperature does not drop below + 20 ° C for 6 – 7 months in a row, chayote is a perennial liana (it can grow in one place for up to 20 years), the stem of which becomes lignified in the third – fourth year of life.
Fruiting begins in June and can continue even in December, subject to warm weather. The crop yield in this case is on average up to 80 or more fruits per season.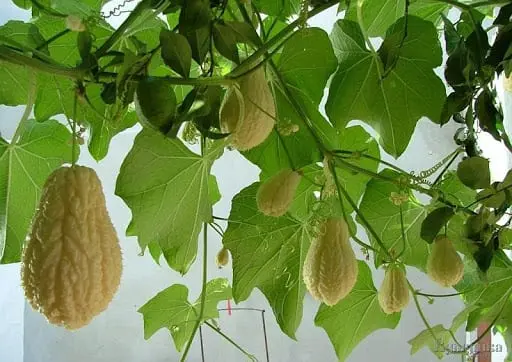 Chayote fruits weigh from 0.2 to 1.0 kg, can have a green, yellow-green, sometimes purple color and come in various shapes: cylindrical, spherical, pear-shaped, conical. Their most common pear-shaped form. The skin of the fruit is dense and thin, the pulp is juicy, soft, slightly sweet in taste.
Inside the fruit there is a single, flat, oblong bone 3–6 cm long and 3–4 cm wide, resembling an enlarged pumpkin seed. In addition to the top fruits, tubers (up to 10 pcs.) With a total weight of no more than 10 kg are formed on the root system of chayote. They are rich in starch and also have nutritional value. Dig them out after harvesting the fruit.
Harm of Mexican chayote cucumber and contraindications
Chayote Mexican cucumber can harm people with individual intolerance. This vegetable has no other contraindications.
What does chayote contain
The composition of chayote fruits includes: fiber, starch, sugar, polyunsaturated fatty acids, proteins, carbohydrates, ascorbic acid, carotene, vitamins (C, PP, B1, B5, B6, B2, B9, B3), minerals, trace elements (phosphorus, iron, zinc, magnesium, potassium, calcium). This fruit contains 17 amino acids, including those essential for the body (tryptophan, threonine, phenylalanine, lysine, leucine, valine, histadine and methionine).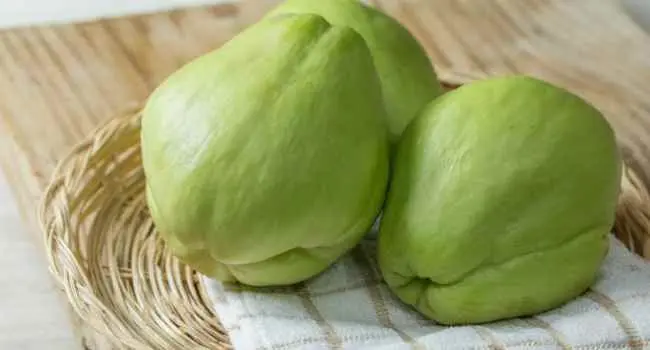 All parts of the plant (except the stem) are edible and are used to prepare delicious dietary meals. Young shoots are boiled like asparagus or used in salads together with leaves. The fruits are very tasty when not ripe. They can be eaten raw in combination with other vegetables, boiled, fried, pickled, baked, salted. Root vegetables fried in oil taste like potatoes with mushrooms, in addition, they are used to make flour.
Seeds with a delicate nutty taste are very much appreciated by culinary experts. Young plant roots, boiled or pickled, are also a delicacy. The stem also does not remain without application, it goes to the manufacture of very beautiful silvery filaments, which are used to weave various products. Old parts of the plant (tops, roots, fruits, tubers) are used as livestock feed.
Useful properties of chayote
Chayote is popular not only for its taste and nutritional qualities, but also as a remedy for diseases of the cardiovascular, digestive, and genitourinary systems. It is used in the treatment of colds, as a diaphoretic, diuretic. It is successfully used in case of thyroid problems and to lower blood pressure.
Eating fruits helps to eliminate cholesterol from the body. The plant is also used to remove stones from the kidneys. Modern developments of pharmaceutical companies based on the use of the healing properties of chayote are successfully used for the prevention of cancer. Chayote drugs help recover from radiation and chemotherapy.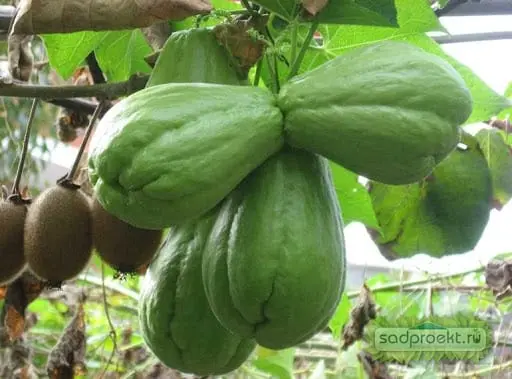 In gynecology, chayote is known as a remedy for mastopathy, fibromic, myoma and other neoplasms. It is also used to treat adenoma and prostatitis.
Plant characteristics
Chayote is a single plant, pollinated by insects or by hand, unusually sensitive to temperatures and humidity, prefers nutritious, well-drained soils with a neutral reaction, reacts very poorly to cold (stops growth if the temperature drops below + 20 ° C), lack of lighting, wind loads, excess moisture (roots are afraid of getting wet, especially in spring).
Chayote belongs to short-day crops, therefore, in our conditions, its flowering begins at the end of July – August, when daylight hours will be reduced to 12 hours. To regulate this process, the plant is covered with a dark film. Thus, it is possible to shift the time of flowering and ripening of fruits to the period of the most favorable temperatures.
How to clean chayote
As can be seen in the photographs, chayote is covered with a prickly rind, which must be removed for use in cooking. The inner seed must also be removed.
There is more than one way to clean chayote, and today I will share two of them with you, along with some tips.
For the first method, stock up on a thick glove or thick towel, through which chayote thorns will not pass. Having wrapped the fruit in a towel, scrape off the thorns from it with a knife, and then peel the skin with a knife for peeling root vegetables.
This method is better for unripe fruits, which still have a fairly soft skin.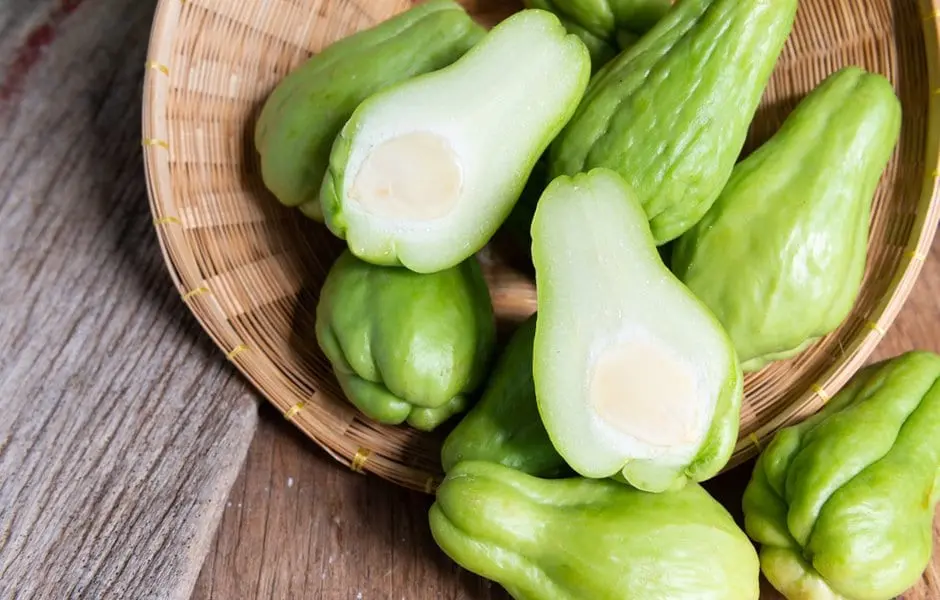 Instead of a root vegetable knife, you can use a regular knife, peeling the chayote like a pear or apple.
Holding the fruit in the center with a fork, cut off its two end parts, I call them "nose and tail", then place the chayote vertically, stick the fork on top and cut the peel around the entire perimeter of the fruit. Next, trim off the remaining rind from the bottom of the chayote.
Cut the fruit into quarters and remove the inner seed. Now you can chop the chayote as your recipe calls for. It is very important to remember that chayote secretes a lot of slimy juice, becoming covered with it during the cutting of the skin, which makes the fruit difficult to manipulate. To avoid home injury, you can wear latex gloves, prick the chayote with a fork, wrap it with a paper or cloth napkin, or simply rinse the chayote and your hands frequently under running water.
How to choose
It is advised to use young fruits with a shiny peel for food, since an overripe vegetable will be tough. You can buy chayote from June to the end of October. In addition, canned and pickled fruits can be found in stores.
How to store
Chayote can be stored for up to a month at a temperature of about + 10˚С. Vacuum packed in the refrigerator can be stored for the whole winter.
The use of chayote in cooking
Different parts of the vegetable are used in different ways. Young shoots of chayote are boiled like asparagus in salted water and then used for soups, side dishes and salads. The roots can be boiled, but only while the chayote is young. In the future, they are often used as livestock feed.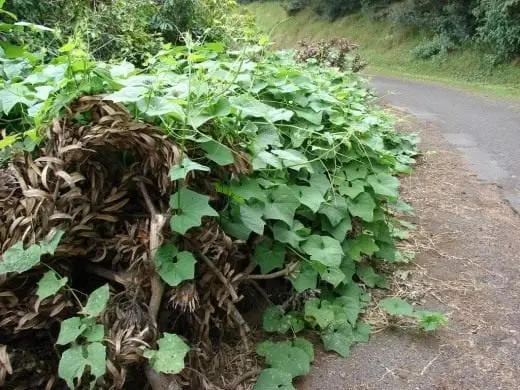 The green leaves make a good ingredient in sauté or vegetable stews. Chayote tastes a bit like potatoes, so the way it is prepared is similar to classic potato recipes. On the other hand, due to the fact that this vegetable is distributed mainly in countries with a different culinary culture, there are original recipes for its use.
For example, finely grated chayote pulp often becomes the basis for various soups. The fruit is not eaten raw: unlike ordinary cucumbers, they are tougher. But in any other form, this vegetable is great, as it has a pleasant nutty taste. Popular dishes include chayote soup, a stewed vegetable stuffed with rice, meat or cottage cheese, boiled shoots, soufflés, desserts with chocolate and honey.
The sauce is also interesting, which contains chayote, onion, eggplant and tomato. And mushroom lovers like fried shoots – they have a similar taste. One of the most popular recipes: peeled boiled chayote is cut, butter is added and served hot. This vegetable goes well with tomatoes, eggplants and makes a delicious puree served as a side dish.
There are many different combinations of chayote with other foods: due to its neutral taste, it goes well with many vegetables. Traditional Mexican spices such as cayenne pepper or tabasco are added to these dishes. The large amount of oil helps to soften the spice and enhance the overall juiciness of the chayote. The combination of Mexican cucumber with fruit is also unusual. For example, it is used along with cinnamon and apples in pies – in this combination, chayote also becomes sweet. The fruit contains a lot of starch, so flour is often made from it.
Among other things, chayote can be pickled and canned. For preservation, good fruits are chosen without any damage, immersed in cool water, in which a little citric acid is diluted. If the fruits are too large, then they must be cut. They are stacked in jars in layers (a layer of chayote – a layer of spices, and so on). Garlic, dill, horseradish leaves, black pepper, parsley roots are used as seasonings. Then the vegetables are poured with brine (80 grams of salt per liter of boiled cooled water), the jars are covered with lids, and then left for 2 weeks. As soon as fermentation stops in the jars, they are sealed with sealed lids.
In Asia, chayote is considered a must-have ingredient in many hot or vegetable salads. And in Mexico and Africa, its pulp is added to baked goods.
Baked chayote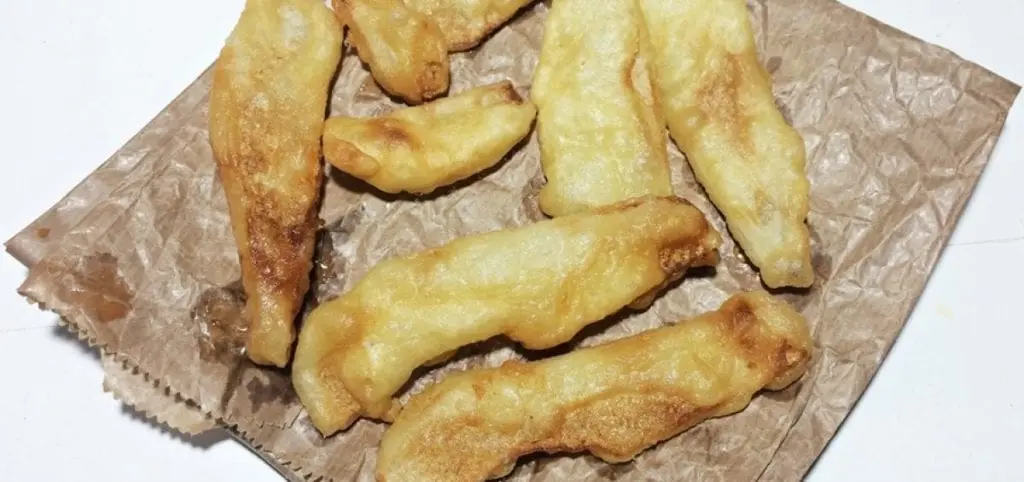 Preparation time: 10 min.
Cooking time: 35 min.
Servings: 4
Ingredients
White sesame 1 tbsp l.
Flax seeds 10 g
Lemon 1 pc.
Extra Virgin olive oil 5 ml
Adyghe salt 10 g
Dark balsamic vinegar 5 ml
Chayote (Mexican cucumber) 2 pcs.
Cooking baked chayote
A Mexican cucumber differs from the usual cucumber in that it has only 1 seed, and the taste is quite similar to a cucumber. Baked chayote tastes like zucchini. It turns out even tastier.
Step 1
For cooking, you will need chayote, balsamic vinegar, sesame seeds, flax seeds, herbal salt or Adyghe salt. Lemon juice and olive oil optional.
Step 2
Wash the chayote, then cut into large slices. Don't forget to remove the seed.
Step 3
Season the chayote with spices, salt, add sesame and flax seeds, season with balsamic vinegar, mix well. Transfer to a baking dish.
Step 4
We bake in the oven for 30-35 minutes. After the chayote, you can drizzle with lemon juice and olive oil. Serve the baked chayote immediately, hot or warm.
Chayote salad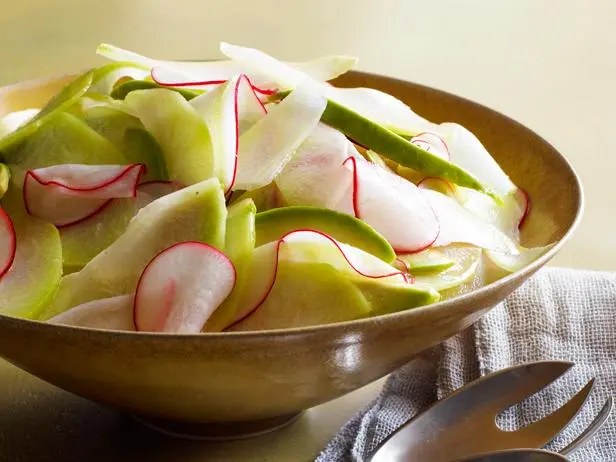 Ingredients
Chayote – 1 pc.
Green peas – 200 g
Green onions – 1 bunch
Parsley – 1 bunch
Salt – 5 g
Black pepper – 3 g
Mayonnaise – 2 tablespoons
Cooking
We take a cucumber, mine. If the chayote is large and the skin is rough, it is better to peel it. Cut the chayote in half, remove the soft bone.
Cut chayote
Then rub on a coarse grater.
Wash greens, then chop finely. Take greens that are neutral in taste, for example basil, it is better not to use arugula.
Open a jar of peas, drain the water, add canned peas to the salad.
Combine vegetables and herbs
Season with salt and pepper to taste, mix. We fill with oil or other dressing to taste.
Stir salad with butter
Chayote salad is ready, serve immediately.
Chayote salad recipe
It is better to prepare this salad before serving, as chayote is juicy and will let a lot of juice.
This salad can be seasoned with butter or mayonnaise, I served with mayonnaise.