Blackthorn or blackthorn berry is a shrub or small tree 1.5-3 (large species up to 4-8) meters high with numerous thorny branches. The branches grow horizontally and end in a sharp, thick thorn. Young branches are pubescent. The leaves are elliptical or obovate. Young leaves are pubescent. With age, they become dark green, with a matte sheen, leathery.
A thorn is very nice in the spring, with white flowers are in five petals. Init pleases with tart fruits in the fall. The blackthorn begins to bloom in April-May. The flowers are small, white, growing single or in pairs, on short peduncles, five-petal. They bloom before leaves, cover all branches, and have a smell of bitter almonds. Thorns bear fruit from the age of 2-3 years. Fruits are monostable, mostly round, small (10-15 mm in diameter), black-blue with a waxy coating. The pulp is usually green.
The seeds are not separated from the pulp. The fruits ripen in August-September and stay on the tree all winter until spring. The fruits are tart-sour, ripen late, but the plant bears fruit annually and abundantly. After the first frost, the astringency decreases, and the fruits become more or less edible. The wild blackthorn grows in Asia mostly and is less common for Western Europe, the Mediterranean, the European part of Russia, the Caucasus, and Western Siberia.
Consistency of blackthorn berry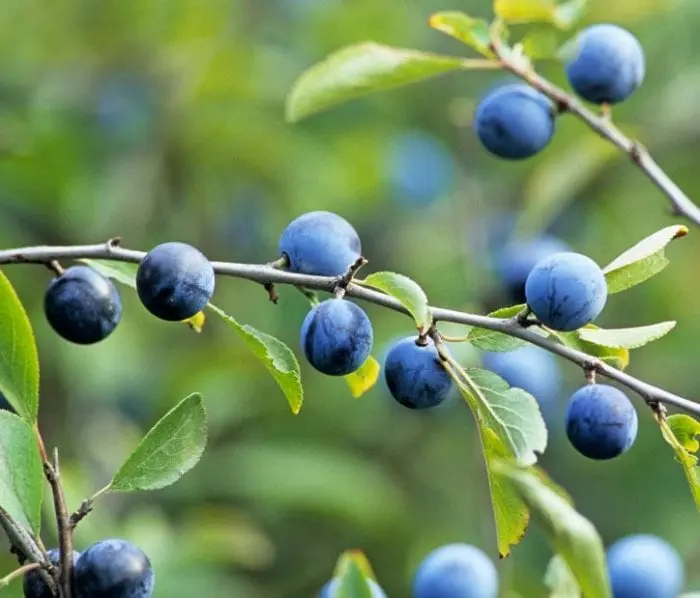 Blackthorn berries contain 5.5-8.8% of sugars (glucose and fructose), malic acid, fiber, pectin, carbohydrates, steroids, triterpenoids, nitrogen-containing compounds. It's also rich in vitamins C, E, carotene, coumarins, tannins, catechins, flavonoids, higher alcohols, glycoside, mineral salts, and fatty oils: linoleic, palmitic, stearic, oleic, and allosteric. The leaves contain vitamins C and E, phenol carboxylic acids, flavonoids, anthocyanins. The seeds contain a poisonous glycoside that cleaves off hydrocyanic acid.
The roots contain tannins and dyes. Blackthorn fruits (fresh, processed into jelly, jam, and tinctures, in the form of a decoction or extract) have an astringent effect. They are good to treat stomach disorders and intestines such as ulcerative colitis, dysentery, food toxic infections, and candidiasis.
A medicinal drink for intestinal infectious diseases is thorn wine. People use the astringent pleasant fruits of thorns as an astringent, antiseptic, diuretic, and fixative. They are also good to use to increase appetite. Thorn flowers are used as a diuretic, laxative, diaphoretic. They can stop vomiting and nausea, improve metabolism, soothe the nervous system.
Blackthorn leaves
Young blackthorn leaves are good for making tea. They also have good diuretic and laxative properties and may heal wounds. Bark and roots are used as antipyretic. Fruits are good to use for nonspecific colitis, dysentery, food poisoning, and toxic infections. Blackthorn is treating the stomach, intestines, liver, kidneys. Helps with various neuralgias, metabolic disorders, vitamin deficiencies. It can also be used as a diaphoretic and antipyretic agent. Thorn preparations have astringent, anti-inflammatory, diuretic, laxative, expectorant, and antibacterial effects.
They relax the smooth muscles of the internal organs and reduce vascular permeability. Both fruits and flowers improve metabolism and are indicated for gastritis, spasmodic colitis, cystitis, edema, and kidney stones. They also help with rheumatism, boils, pustular skin diseases.
Blackthorn flowers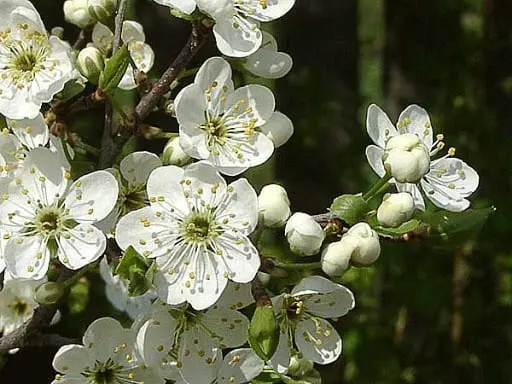 Thorn flowers have a positive effect on the metabolism of the body. Therefore, they treat those skin diseases that depend on the violation of this metabolism. They also regulate intestinal motility and contraction of the hepatic ducts and have a mild laxative effect. Fresh juice helps with jaundice. Preparations from thorn flowers act, unlike fruits, as a laxative for constipation, especially in children.
These drugs regulate intestinal peristalsis, act as a diuretic, diaphoretic and antihypertensive agent. Blackthorn fruit juice has antibacterial activity against giardia and other protozoa; therefore it is recommended to take it for gastrointestinal disorders and giardiasis. The juice is also effective in the form of lotions and compresses for skin diseases. People use decoctions of thorn flowers for inflammation of the mucous membranes of the mouth, throat, and esophagus.
Blackthorn tea
Blackthorn tea is a mild laxative; it increases diuresis. It is a great treatment for chronic constipation, cystitis, prostate adenoma. Blackthorn tea is beneficial for people with a sedentary lifestyle. Blackthorn leaves are an excellent diuretic and laxative for chronic constipation. An infusion of leaves is good for rinsing with inflammation of the oral cavity. A decoction of the leaves treats skin diseases, chronic constipation, nephritis, cystitis. A decoction of leaves in vinegar is lubricating old purulent wounds and ulcers. Infusion of leaves and flowers performs inflammation of the kidneys and urinary bladder and is great for healing dermatoses.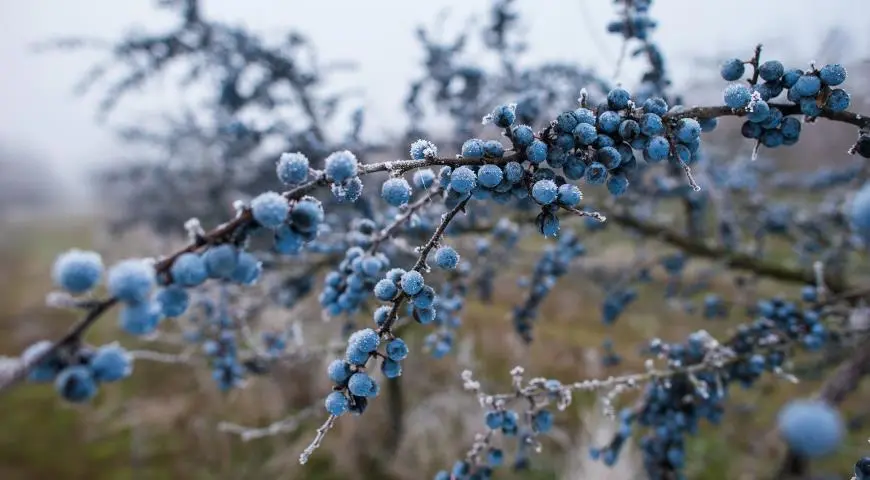 The infusion of flowers is used as a diuretic and diaphoretic and for hypertension. A decoction of flowers lowers the permeability of blood vessels, has an anti-inflammatory effect, and therefore is great for metabolic disorders, prostate adenoma, as an expectorant and diaphoretic, for neuralgia, nausea, and shortness of breath. The broth is also good for constipation, liver disease, furunculosis, and pustular skin diseases.
Composition and calorie content
In terms of composition, thorn fruits are rich in sugar – they contain 5.5-8.8 percent of sugars (fructose and glucose). There is also malic acid, fiber, pectin, steroids, carbohydrates, nitrogen-containing compounds, triterpenoids, vitamins E, C, coumarins, carotenes, tannins, flavonoids, catechins, glycoside, higher alcohols, and mineral salts. Also, there are fatty oils such as palmitic, linoleic, oleic, stearic, and allosteric.
Blackthorn leaves contain vitamins E and C, flavonoids, phenol carboxylic acids, anthocyanins. A poisonous glycoside is found in the seeds. This glycoside is capable of cleaving hydrocyanic acid. Thorn roots are rich in tannins and dyes. The calorie content of the fruit is 54 kcal per 100 grams.
Beneficial features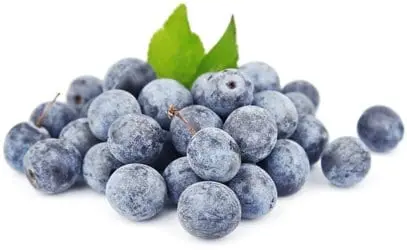 Blackthorn fruits (both fresh and in the form of drink, jelly, jam and tinctures, decoctions, or extracts) can have an astringent effect. They are great for those who suffer from indigestion or intestinal disorders (dysentery, ulcerative colitis, foodborne diseases, and candidiasis). Blackthorn wine is even called a medicinal drink that is healing intestinal infectious diseases.
The blackthorn fruit is also eaten as an antiseptic, astringent, fixative, and diuretic. They are also capable of improving appetite. Thorn flowers are also useful, acting as a diuretic, laxative, diaphoretic. They can stop nausea and vomiting, improve metabolism in the body, and calm the nervous system. People are making tea from the blackthorn leaves. It is also a good diuretic and laxative that can also heal wounds. The bark and roots of thorns are good to use as an antipyretic drug.
This plant's fruits act as a treatment for dysentery, nonspecific colitis, toxic infections, and food poisoning. Tern is treating the intestines, stomach, kidneys, and liver. It can have a beneficial effect on metabolic disorders, neuralgia, or vitamin deficiency. The blackthorn has also proven itself well as a diaphoretic and antipyretic agent.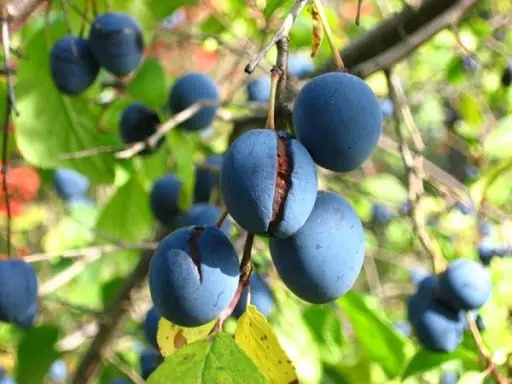 Harm and contraindications
Unfortunately, almost any berry can be harmful in one way or another. This fact did not pass by our thorn berries.
Blackthorn is harmful in case of hypersensitivity to the components of this plant.
It's important to know! The seeds of the berries contain a rather toxic substance from organic glycoside compounds called amygdalin. This substance can detach hydrocyanic acid when the bones are in an aqueous environment for a long time and then cause intoxication in the body.
Contradictions
It's worth to abstain from small blue fruits for people suffering from:
Chronic diarrhea;
Lowered blood pressure, i.e., hypotension;
Allergic diseases;
Increased acidity of the stomach and the subsequent ensuing consequences;
Thrombophlebitis;
Varicose veins associated with increased blood clotting;
Those who have individual intolerance.
The list seems very impressive, but it is important to understand that contraindications refer to pronounced diseases. In other cases, you need to listen to your organism.
Role in cooking
People are actively using blackthorn fruits for preparing first and second courses, desserts, and sauces. The most famous tkemali sauce includes the sweet and sour pulp of these fruits.
Bulgarians add fruits to cereals to give them a special flavor. Jam, as well as jelly and drinks with its addition, have a special taste.
Lovers of self-made alcoholic drinks value the taste of the fruit. It is great to flavor vodka; moonshine is made from overripe berries. A thorn-based wine has an interesting color and a sweet and sour, slightly astringent taste. Making sloe liqueurs at home is also very popular.
Blackthorn jam recipe
This is a quick sloe jam recipe. Jars can be stored for up to a year.
You will need:
up to 2 kg of medium-sized sloe;
0.5-0.7 liters of distilled water;
2.5 kg of granulated sugar, maybe a little more – 3 kg
First of all, according to this recipe, you need to wash the berries thoroughly. Then transfer them to a colander to allow the water to drain. Transfer to an enamel bowl or saucepan and cover with sugar. Repeat layers one more time. Then pour water into a container with thorns and cook. After boiling, just 5 minutes is enough for the berries to be ready. Now you need to transfer them to prepared jars and roll them up. Allow cooling once done. The jam jar can be stored for up to 5 years in a cool place.
Correct harvesting of blackthorn
During the period of mass budding (early April), they begin to harvest blackthorn flowers. Semi-blossomed and blossoming (but not fading) inflorescences are torn off or cut off (not washed) and laid in a thin layer (up to 5 cm) in the shade on burlap, natural fabric, other water-absorbing material, or a paper pallet. You should turn up raw materials regularly so that they do not become moldy.
After complete flowering, the preparation of sheet raw materials begins. You should select only the largest, undamaged leaves. Like flowers, need to lay on bedding and get dry in the shade in a draft or dryers at a temperature of + 45 … + 50 ° С.
It's better to harvest young 1-2-year-old blackthorn shoots in the middle of summer (June). It is then that young shoots contain the highest concentration of natural compounds useful for health. It would help if you dried them in the same way as the leaves. They can be hanging dry in loose small panicles in shaded areas in a draft. You should check it regularly to ensure there is no mold.
Check out this video on how to identify a blackthorn and make a sloe gin:
2020-09-16