Description
Pomelo (also called pompelmus) is a citrus evergreen tree with large fruits found in the tropics. Pomelo fruits are the largest of citrus fruits, with a thick skin, sweet and sour with a slight touch of bitterness.
The evergreen tree Pomelo (Pompelmus) belongs to the genus of citrus fruits of the Rute family. Pomelo fruits are large enough, sometimes the fruit can be up to 10 kg. The pulp of the pomelo is not as juicy as that of an orange or grapefruit, with larger and firmer fibers.
Depending on the variety, the color of ripe fruits can be either pale green or dark green, or yellow. The flesh of the pomelo can be light yellow to pink.
Pomelo history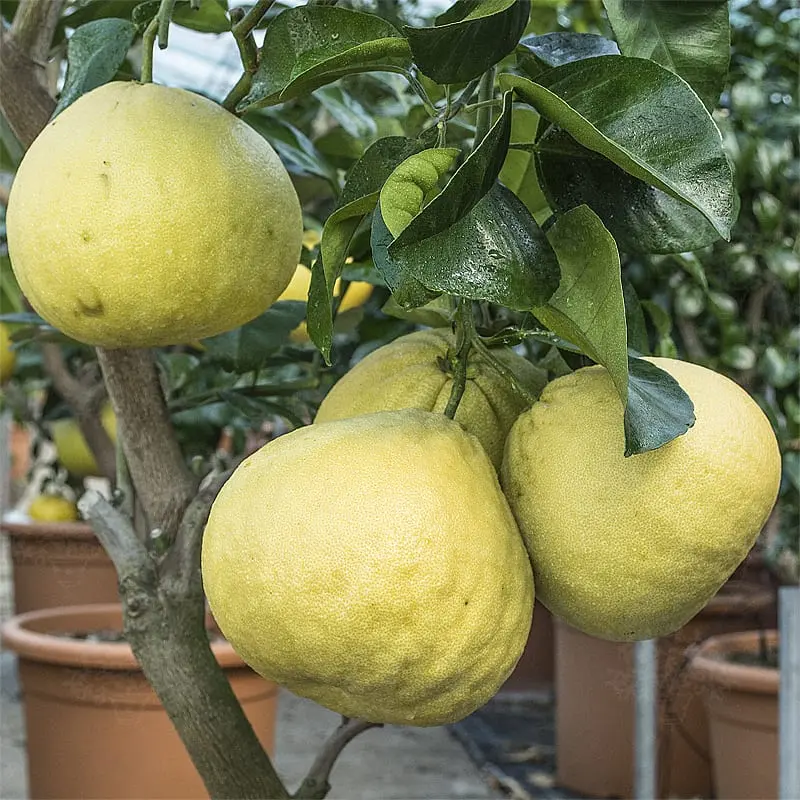 The thick skin of the fruit is green or yellow, and the slices are separated by partitions that taste bitter. There are three types of fruit: red, white, and pink, depending on the color of the pulp. Pomelo is the largest citrus, the largest variety of white pomelo can weigh up to 10 kg.
The homeland of the pomelo is Malaysia and China. The first mentions in Chinese manuscripts date back to 100 BC. e. The pomelo is considered a symbol of well-being and prosperity, so in China it is given to each other on New Year's Eve, and many traditional dishes are prepared with it. In Thailand, the fruit is used as an offering to the gods. The fruit was brought to Europe by a British navigator in the XIV century.
Pomelo is often considered a hybrid of grapefruit, however, this is not the case. Pomelo is an independent fruit, which was then crossed with an orange to make a grapefruit. Further crossing the pomelo with white grapefruit yielded a sweet fruit that resembles a large green tangerine. It appeared in 1984 in Israel, where scientists tried to bring out a fruit sweeter than a grapefruit.
Composition and calorie content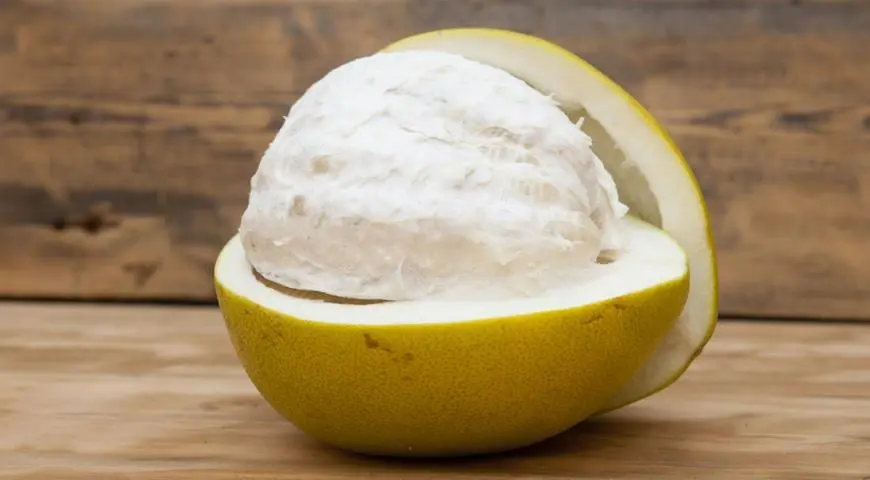 The pomelo fruit contains on average 7.6-11.1% dry matter, 0.5-0.7% protein, 0.1-0.3% fat, 0.4-0.8% fiber and 0.4- 0.7% ash. Pomelo is unusually rich in vitamins and useful micro- and macroelements. Note that grapefruit, rich in vitamins A and C, is inferior in these indicators to pomelo.
On average, per 100 g of weight, the pomelo fruit contains up to 235 mg of potassium, 26-27 mg of calcium, 22-26 mg of phosphorus, 1-2 mg of sodium and 0.3-0.5 mg of iron, 30-53 mg of vitamin C, up to 30 mg of beta-carotene, 0.04-0.07 mg of vitamin B1, 0.02 mg of vitamin B2, 0.2-0.3 mg of vitamin B5, as well as a significant amount of folic acid.
The calorie content of the pomelo is 26-39 calories per 100 g of pulp.
The benefits of pomelo
The pomelo contains many vitamins (A, C, B1, B2, B5), minerals (calcium, potassium, iron, phosphorus, sodium), fiber, organic acids and essential oils.
The fruit is recommended by nutritionists as part of various diets, says Alexander Voinov, nutrition and health consultant at the WeGym fitness club network: "Thanks to the pomelo's ability to speed up metabolic processes, fat deposits are burned and the process of weight loss is more active.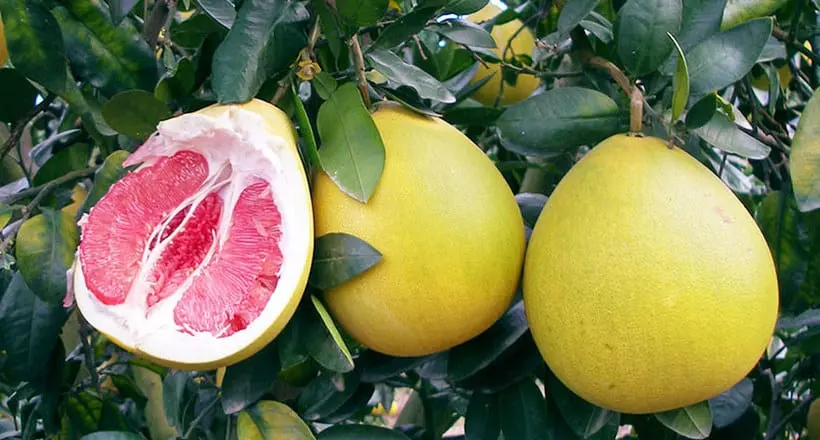 Also, fiber, contained in large amounts in pomelo, has a beneficial effect on digestion, accelerating the elimination of toxins and toxins and increasing the level of absorption of nutrients. "
The high content of vitamin C in pomelo improves immunity, improves overall well-being and mood, and reduces the risk of blood clots and cancer.
Pomelo harm
People with certain diseases should be careful to eat pomelo. Due to its high acid content, it is not recommended to eat pomelo for people with stomach ulcers, high acidity and other gastrointestinal diseases. For the same reason, the pomelo is excluded from the diet of patients with hepatitis and nephritis. Like all citrus fruits, pomelo is a frequent allergen, so it is not recommended to get carried away with this fruit for pregnant and lactating women, so as not to provoke an allergic reaction in a child.
The use in medicine
The increased concentration of vitamin C in pomelo (30 – 53 mg per 100 g of pulp) allows you to cover the body's daily need for ascorbic acid with just a couple of slices. Vitamin C acts as an antioxidant, enhancing the activity of leukocytes and thus boosting immunity, helping to fight infections. Vitamin C is also necessary for normal collagen synthesis, which affects skin elasticity, teeth and gum health.
Pomelo helps to lower cholesterol and blood sugar levels, lowers blood pressure, and reduces the risk of blood clots, which makes this fruit extremely useful for diabetics and people with cardiovascular diseases.
Pomelo is useful for constipation. Due to the increased fiber content, the digestion process is improved. Pectin, which is more in pomelo than in all other citrus fruits, has an enveloping effect and protects the mucous membrane of the esophagus and stomach from the effects of acids.
The pomelo contains a special enzyme, carnitine acyltransferase, which is absent in many other products. It accelerates the breakdown of fats and improves the absorption of nutrients, so this fruit is indispensable in dietetics as one of the best "fat burners". In addition, the fruit is low-calorien – in 100 g of fruit pulp there are only 25 – 39 kcal.
Pomelo is also used in cosmetology. Masks made of pomelo pulp and rubbing the face with juice have a moisturizing and nourishing effect on the skin of the face, and reduces the secretion of sebum.
The effectiveness of pomelo has been proven in the fight against cancer. The peel of the pomelo fruit is rich in bioflavonoid antioxidants that slow down the division of cancer cells.
The use of pomelo in cooking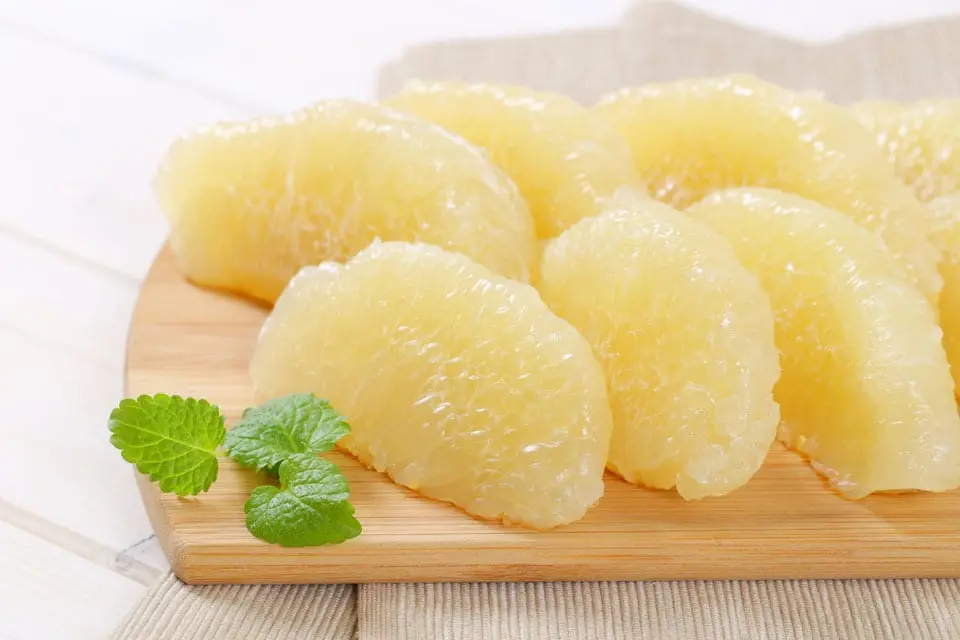 Pomelo is often found in national Asian dishes. The flesh of the fruit is used for food, usually fresh, sometimes baked with other products – such as fish, meat, vegetables. Jam is also prepared from the peel, dried and added to tea and compotes. Dried pulp is less beneficial than fresh pulp, as the concentration of vitamin C decreases.
To clean the pomelo, you need to make deep cuts in the skin along the length of the fruit and cut off the top and bottom of the fruit. Then, tear off the peel and peel each slice of the bitter white film – it comes off easily.
How to choose
To understand how to choose the right pomelo, focus primarily on the appearance of the fruit. The ripe and sweet fruit should be yellow, green or light orange in color (the shade is influenced by the country of origin and the variety). The dimensions of this citrus are very large, the diameter of the fruit reaches 30 cm, the larger the size, the more juicy citrus you get.
How to choose a pomelo in a store Visually identifying a quality pomelo will help its rind: look for a thick-skinned rind with a dense and spongy surface. At the same time, a large outwardly pomelo does not always contain a lot of pulp, take into account the thickness of the crust, which sometimes reaches 5 cm.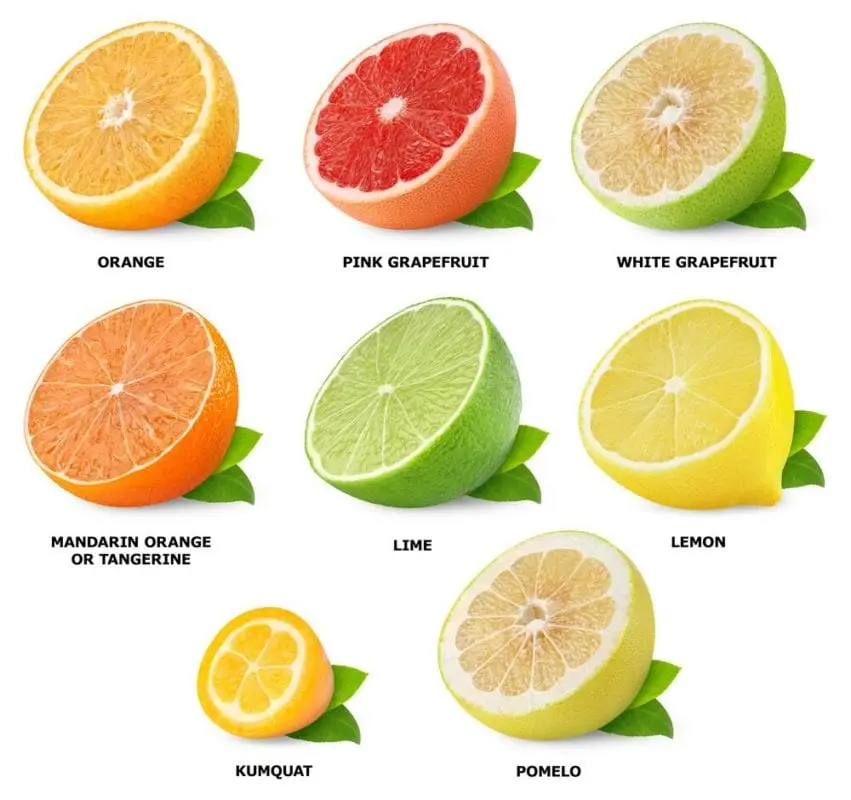 Not all exotic lovers understand how to choose the right pomelo, so let's move on to the second important criterion – aromatic. What smell indicates ripeness? Delicious, pleasant fruity aroma, penetrating even through the packaging, tells us that the direction of the search has been chosen correctly.
And finally, the third criterion: in order to choose the right pomelo in a ripe state in the store, you must avoid signs of spoilage. You will have to feel the surface a little: be alert if you find seals and depressions on the peel.
This defect indicates an artificial method of maturation. Smoothness, firmness, lack of damage, uniform color are good signs, while ruddy sides and green areas are quite acceptable on mature fruits.
This fruit is still unfamiliar exotic. But the broom man worth knowing and worth to include it in your diet because this fruit is a good offer for people who care about healthy eating.
What kind of fruit is it?
Pomelo's homeland is China, from where it is gradually spread throughout Southeast Asia. It is believed that in China, pomelo has been cultivated for over a thousand years. And this is where people first realized what a storehouse of vitamins and minerals contains this citrus relative. And when in ancient times was the expansion of China throughout Southeast Asia, the Chinese brought with them cuttings and seedlings of grapefruit, as this fruit is considered a symbol of prosperity and affluence.
What to cook with pomelo
Pomelo fruit is used raw or in processed form. The fruit is a part of many national Thai and Chinese dishes; it is added to salads, goes well with seafood and poultry, is used for cooking marmalade, and peel makes candied fruits.
Pomelo is used as a filling for pies.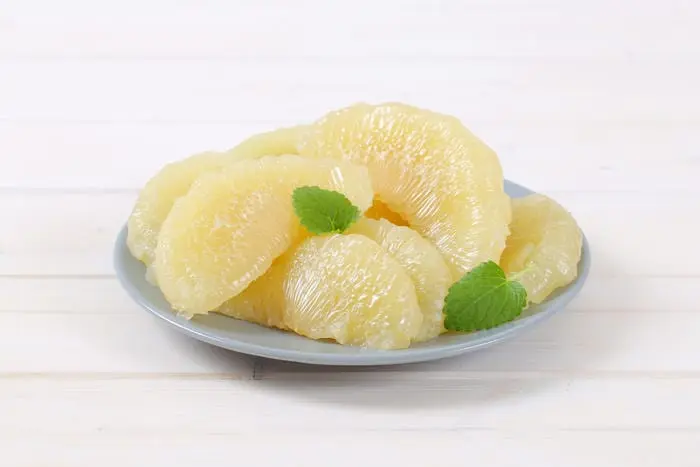 Salad with pomelo and smoked chicken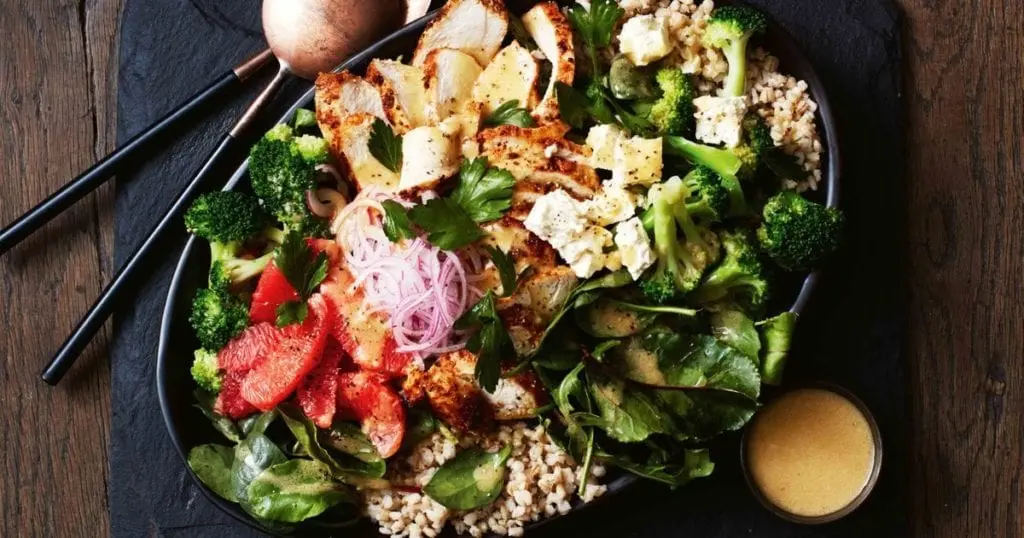 Such a salad is suitable both as a festive dish and as a healthy lunch. You can add chopped walnuts and lime juice.
Medium-sized smoked breast – 1 pc
Peeled pomelo – half medium fruit
Lettuce leaves – 2 – 3 pieces
Olive oil, salt, pepper – to taste
Cut the chicken breast into cubes, peel the pomelo wedges from the film and divide into pieces. Coarsely chop the lettuce leaves. Mix ingredients and place in a salad bowl. In a bowl, combine olive oil, salt and spices. Pour the dressing over the salad, sprinkle with the nuts.
2020-09-25