Description
Lettuce is 95 percent water consistent and is also low in calories. It is rich in minerals, fiber, folic acid, vitamins A and C. Typically, lettuce is grown outdoors.
In this case, the concentration of nutrients is higher than in greenhouse lettuce leaves. You can also see the difference in nitrate content, with much less nitrate in lettuce grown outdoors.
Many chefs use juicy lettuce to decorate a variety of dishes, but it is prized primarily for its beneficial properties. It has been known for a very long time, but earlier it was grown exclusively to obtain the oil contained in the seeds of the plant.
There are two types of this wonderful salad – head and leaf. Lettuce is very common in cooking; it is used not only for salads, but also for spicy dressings, meat and fish dishes. Studying recipes with lettuce, it is easy to notice that the leaves of this plant are torn by hand. This is due to the fact that the salad chopped with a knife loses its useful properties.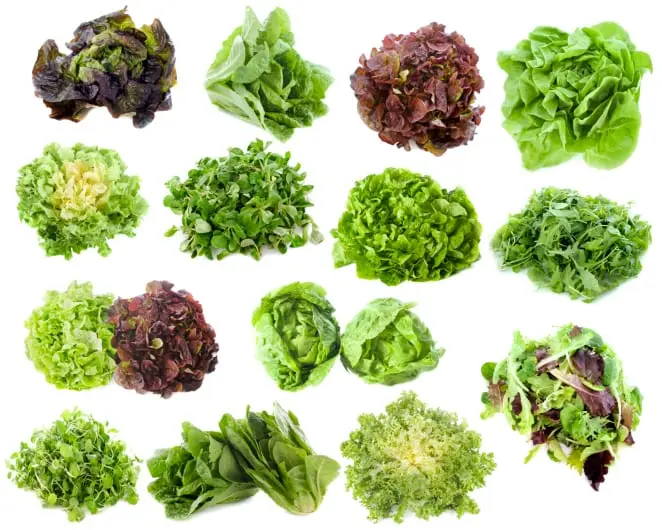 Lettuce is an essential part of a healthy diet. Nutritionists appreciate the benefits of lettuce, but they also note that such a rich composition of the product, if used improperly, can cause some harm to health.
This plant is extremely rich in potassium, which normalizes water balance in the body, as well as folic acid, which is especially beneficial for women's health. The calorie content of lettuce is 12 kcal per 100 g of product.
Composition and calorie content
Lettuce contains 2.9 g of carbohydrates per 100 g of product, which is approximately 65% ​​of the total energy per serving, or 11 kcal. Of the fat-soluble vitamins, lettuce contains A, beta-carotene, E, and K. Of the water-soluble vitamins C, B1, B2, B3 (PP), B4, B5, B6 and B9.
Fat – 0.15 g
Protein – 1.36 g
Carbohydrates – 2.87 g
Water – 94.98 g
Ash – 0.62 g.
Lettuce Storage
The Mediterranean is considered the homeland of lettuce, in Europe it began to be grown in the middle of the 16th century, and in Russia from the 17th century. Two types of lettuce are common: leaf and head lettuce. Usually, in the middle lane it is planted from the beginning of April, when the soil has warmed up enough.
Harvesting occurs only when the salad has reached full size. After that, you need to ensure the correct storage conditions so that the lettuce retains its beneficial properties. In a regular refrigerator, it stays fresh for 5 days.
Lettuce oil
Lettuce oil is marketed as a sedative that helps overcome insomnia, depression, nerve inflammation, and pain. It is also believed to be an aphrodisiac, effective in the treatment of stomach diseases, diabetes mellitus, and in the restoration of the liver.
Lettuce oil improves skin condition, gives it elasticity and improves hair growth. The oil is applied internally, 2 teaspoons per day, and also rubbed locally into the skin. To calm the nervous system, it is recommended to increase the intake to 3 tablespoons. To normalize sleep, use 2 tablespoons of oil an hour before bedtime and 1 tablespoon immediately before bedtime.
Lettuce oil is used as massage oil for body and face massage. With it, you can make massage mixtures if you combine oils in the right proportions. The oil nourishes the skin, smoothes wrinkles, and has a regenerative effect on muscles and ligaments.
How to choose lettuce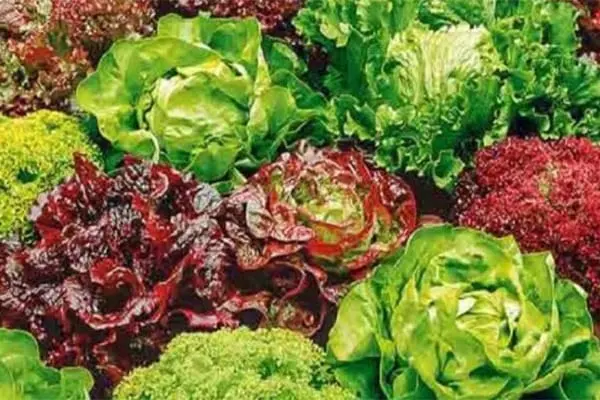 Salad, like any greens, quickly withers and loses its taste, so the main condition when buying it is to be fresh. The leaves of a good salad are juicy and bright, they cannot be lethargic and damaged, and there should be no mucus on the stems.
If your chosen salad is heady, look for compact, symmetrical, strong, but not too hard heads. Head lettuce has a longer shelf life and is easier to transport than leaf lettuce. Purchased lettuce should be used as soon as possible, and added to the salad and seasoned immediately before serving so that it does not stack and lose its appearance.
In cosmetology
In case of hair loss, the juice of lettuce leaves is rubbed into the scalp, together with honey it is used in the fight against dandruff. Fresh lettuce pounded with yeast is used for carbuncles and boils.
Lettuce masks are used to prevent sunburn, relieve inflammation, eliminate oily sheen, and tone faded skin. To prepare masks, lettuce leaves need to be crushed to a gruel state, add various ingredients and apply on the face for 15-20 minutes.
Refreshing: mix 2 tbsp. l. lettuce leaves with sour cream (or kefir, yogurt + 0.5 tsp. olive oil).
The benefits of lettuce
Lettuce is a healing product for the dietary nutrition of children, the elderly, people with a weakened body after heavy exertion, serious diseases, operations, and obesity. The vitamins contained in lettuce are valuable for the body during spring beriberi.
Lettuce has an expectorant effect, increases protective functions, therefore, to combat coughs and generally strengthen the body, it is useful to eat it during illness. Regular consumption of lettuce can improve appetite and have a beneficial effect on the digestive system.
Lettuce greens have health benefits for nervous disorders, insomnia. The lutein and zeaxanthin in lettuce are important for eye health.
For the body of a pregnant woman (however, any person) iodine is extremely necessary. With its lack, the mother will suffer from high blood pressure, reduced immunity and weakness, and the child may have developmental delays and defects in the organization of the nervous system.
Lettuce can be one of the natural food sources of iodine during pregnancy. It is also rich in folic acid, which is involved in the formation of the placenta and is indispensable for the healthy development of the fetus.
Lettuce juice has a positive effect on the body for diseases of the digestive system, hypertension, atherosclerosis, it has a laxative and diuretic effect. An infusion of crushed fresh leaves is used as a remedy for chronic gastritis, scurvy and liver diseases.
Harm
Salad can be harmful to people with colitis and enterocolitis, gout and urolithiasis. The use of lettuce is not recommended for exacerbations of intestinal diseases, which are accompanied by diarrhea.
A contraindication to the use of lettuce oil is bronchial asthma. Proper nutrition is the key to health. Using lettuce salad, you can prepare hundreds of varied and, most importantly, healthy dishes. This wonderful product will help you stay slim and beautiful at all times.
Fried lettuce with garlic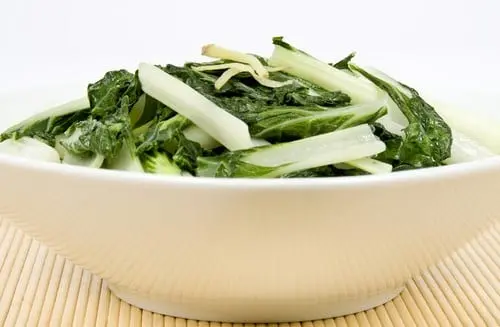 INGREDIENTS
Rice sweet wine 1 tablespoon
Soy sauce 1 tablespoon
Sugar ¾ teaspoon
Salt ½ teaspoon
Garlic 5 cloves
Lettuce 500 g
Vegetable oil 2 tablespoons
Sesame oil 1 teaspoon
Preparation
In a small bowl, combine wine, soy sauce, sugar and salt.
Heat the oil in a wok until hazy, add the crushed garlic and fry for 5 seconds. Add small pieces of lettuce and fry for 1-2 minutes until almost soft.
Pour in the sauce and cook for another 30 seconds-1 minute until the lettuce is soft but not discolored.
Remove from heat, drizzle with sesame oil and serve.
2020-09-29