Muscle group: Biceps
Type of exercise: Isolation
Additional muscles: Forearms
Type of exercise: Power
Equipment: Dumbbells
Level of difficulty: Beginner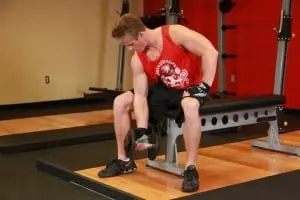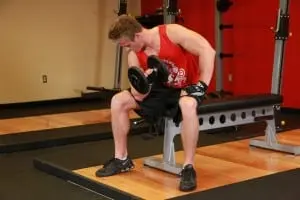 Concentrated of flexion on a biceps, sitting — technique exercises:
Sit on a horizontal bench. Set a dumbbell. Feet apart, as shown in the figure.
Grab a dumbbell with your right hand. Rest your elbow of the right hand in the upper part of the thigh. Rotate the wrist so that the palm was facing away from your hips. Tip: arm straight, dumbbell above the floor. This will be your initial position.
Keep the shoulder motionless. On the exhale, follow the bending of the arms at the biceps. Only works forearm. Continue until the bicep is fully reduced and the dumbbells will be at shoulder level. Tip: at the peak of the movement of the little finger should be higher than the thumb. It will provide a "bicep peak". Hold this position, straining the muscles.
On the inhale slowly lower the dumbbells, returning arm to starting position. Caution: avoid swinging hands.
Complete the required number of repetitions, then repeat the exercise with the left hand.
Variations: you can perform this exercise standing, slightly stooped, shake hands forward. In this case, the supports you are not using leg, so you have to apply more force to ensure the immobility of the shoulder. This option exercise is complicated and not recommended for people with weak lower back.
Video exercise:
exercises for the arms exercises for the biceps exercises with dumbbells
Muscle group: Biceps
Type of exercise: Isolation
Additional muscles: Forearms
Type of exercise: Power
Equipment: Dumbbells
Level of difficulty: Beginner