Description
Saloop. This non-alcoholic hot or cold beverage consisting of water, honey, spices, and herbs, often medicinal.
The first mention of the drink preserved in the Slavic peoples' annals from 1128: Theple prepared the beverage in a special copper vessel (flasks or Saclay), and it was called a digest stewed fruit, var. Before the advent of tea in Rus – Saloop was the hot drink, the number one. It was prepared not only for home consumption but also sold in crowded places: markets, fairs, folk festivals, in restaurants.
The main spices and herbs were sage, St. John's wort, cinnamon, ginger, bitter peppers, and Bay leaf. However, a few years after the October revolution, the number of Saloop used by the population gradually reduced until it is fully stopped. Its place took black tea and coffee.
Cooking Saloop
There are two basic ways of cooking Saloop – simple and custard. When cooking custard Saloop, it is a process of fermentation.
To prepare one liter of a simple Saloop, you need to take honey (100 g), spices (cloves, cinnamon, black and fragrant pepper, ginger, St. John's wort, cardamom, nutmeg), and water (1 liter). Water pouring into two containers 200 and 800 ml. In a smaller amount of water, dissolve the honey and bring to a boil over medium heat, constantly removing the foam—spices wrapped in cheesecloth and boil in the rest of the water. So spices gave water their flavor- they should infuse for 30 minutes. In the end – remix both the mixture and stir before serving.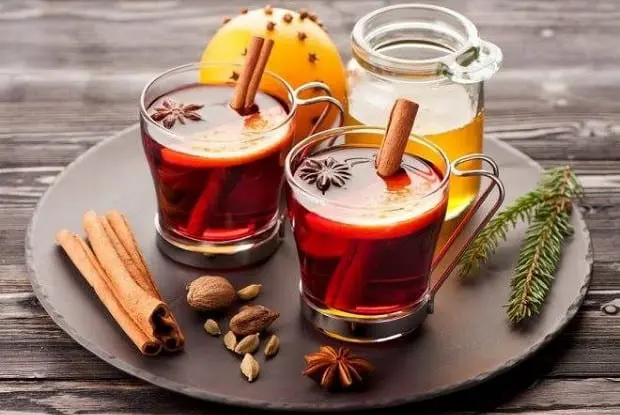 To prepare custard Saloop, it is necessary to have an enamel bowl, combine water (4 l), honey (500 g), easy-Braga (4 years), vinegar (30 g), and ginger (20 g). The mixture should boil on a slow fire for 30 minutes, constantly removing the foam. Then cool and pour into a tightly sealable container. You may also add half a tablespoon of yeast. To finalize, leave it in a warm place for 6-12 hours. At the expiration of the specified time, the capacity to activate put it in a cool place and keep it for another 2-3 days. After that, brew Saloop is ready to use.
In addition to the drink's spices, you can add fruit juices; the drink will gain additional flavor and taste.
The use of Saloop
Hot Saloop is mainly a winter drink, which is used to warm after overcooling. Also, due to its composition, it has anti-inflammatory and immunomodulatory properties. It is also a drink to restore the body after diseases, surgery, and injuries. The cold drink is good to quench your thirst in the bath after a sauna or on hot days.
The main useful properties of the drink acquire by adding honey. This drink nourishes vitamins and minerals (magnesium, iodine, iron, calcium, potassium, etc.). The drink has a tonic effect, perfectly restores forces after heavy intellectual and physical activity. People with diabetes can consume small quantities of this drink. Saloop is required in the diet for anemia, indigestion, the intestine, gas, constipation, diseases of the cardiovascular system, and the skin.
Also, thanks to the spices, the drink is filled with healing properties. Cloves added to the drink relieve spasms of the stomach and intestines. Also, it relieves the pain and gives energy. Cinnamon has an antifungal activity that reduces the level of putrefactive processes in the digestive tract and normalizes blood sugar. Cardamom has a positive effect on the nervous system, relieves tension.
The dangers of drink and contraindications
The drink is contraindicated for people who are allergic to honey and honey products, which may lead to suffocation and pulmonary edema.
Those who seek to lose weight must refrain from Saloop. Due to included in its composition of honey, it contains enough calories.
Delicious creamy exotic drink with cardamom " sahlab, salep, saloop !"
Useful and dangerous properties of other beverages:
2020-10-09