Ide description
Ide is one of the representatives of the Carp family. In appearance, this fish is similar to roach. The average weight of the ide is 2-3 kg, and its length is about 70 cm. In nature you may find individuals of larger sizes as well.
The scales have a gray-silver color; on the belly it is lighter, and on the back it is much darker. The fins are colored pink-orange.
This freshwater fish can thrive in semi-fresh sea bays. It feeds with animals (worms, insects and molluscs) and plant foods. The spawning period is in the second half of spring.
Ide is a schooling fish, in some cases, thanks to this, the catch is rich.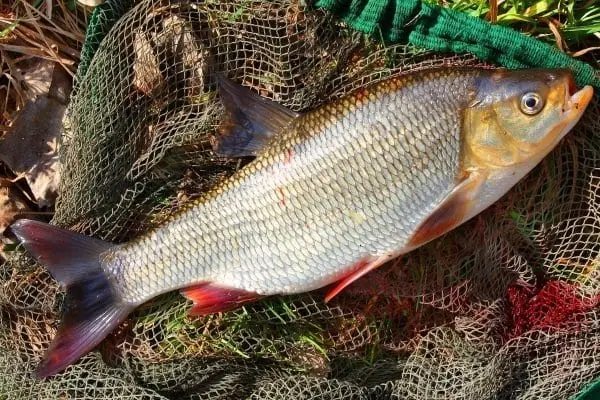 Even though the ide is not a predatory fish, it does not refuse to eat small fish upon reaching a weight of 300-400 g. It is found in most rivers with clear water, but rivers with moderate currents and fairly deep best suit this fish. Ide also lives in ponds, large reservoirs, and flowing lakes. Ide prefers deep places with a middle course; the bottom is a small pebble, sandy or silty-clayey.
Behaviour
Groups gather at sunken snags, bridges, clay, or stone blocks. The most beloved places are pits below the rapids and whirlpools below the dams. The ide feeds on the shores with plantations hanging over the water, where many insects and caterpillars have fallen into the water.
After rains, ide loves to gather at city drains on the border of clear and muddy water. For night feeding, fish comes to shallow places, often bordering on a roll or swift. At this time, the Ide is vulnerable, and you can easily catch it on sandy shoals and near the coast. At the coast, you may catch ide in the daytime after heavy rains.
The fish is widespread in the waters of Europe and Asia. The Ide is not found only in some northern European water bodies, in the Caucasus, in the Crimea, in Central Asia, and the Transcaucasus.
Since ancient times, freshwater fish from the Carp family has been of particular value. Sources of vitamins and complete protein are tench, carp, roach, bream, asp, crucian carp, silver carp, carp, and ide.
Composition and calorie content
Ide meat is rich in phosphorus, calcium, magnesium, potassium, iron, sodium, fluorine, chlorine, chromium, nickel and molybdenum. It is high in protein, nicotinic acid and about 117 kcal per 100 grams.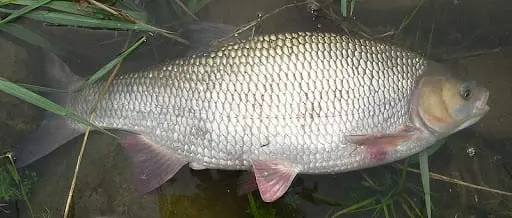 Calorie content 117 kcal
Protein 19 g
Fat 4.5 g
Carbohydrates 0 g
Dietary fiber 0 g
Water 75 g
Beneficial features
The ide is fast and easy digestible. Boiled or baked fish is perfect as a dietary food. Ide is very useful for people with gastritis, stomach ulcers and heart disease.
The main value of this fish is the presence of protein with a unique combination of essential amino acids. Especially valuable among them are lysine, taurine, tryptophan and methionine.
Thanks to important minerals, including phosphorus and calcium, regular consumption of ide meat helps to strengthen bones and teeth, and is the prevention of osteoporosis.
Good food that stimulates digestion is aspic or fish soup from freshwater fish. Extracts of substances that saturate the broth enhance the secretion of gastric juice and pancreatic enzymes. These two dishes can be a good remedy for inflammation of the gastric mucosa, accompanied by low acidity.
Harm and contraindications
With hypertension and severe kidney disease, you should refuse to eat river fish in dried and salted form.
Because of the abundance of ide seeds, you should eat with great care to avoid intestinal damage.
The purity of the reservoir where the fish lived directly affects the content of useful and harmful substances in it.
Ide harm
The Ide as a fish species does not have any properties dangerous to humans, except the presence of small bones.
The danger is posed by parasites, which are quite often in the ide. Therefore, Ide must be thoroughly cooked (heat) processed.
Another important point: ide is a very hardy fish and can live for some time even in polluted water with a high concentration of agricultural poisons (pesticides, herbicides, etc.), heavy metal salts, and chemical industry waste. Therefore, before purchasing or catching fish, you need to make sure that it is environmentally friendly.
Interesting facts about ide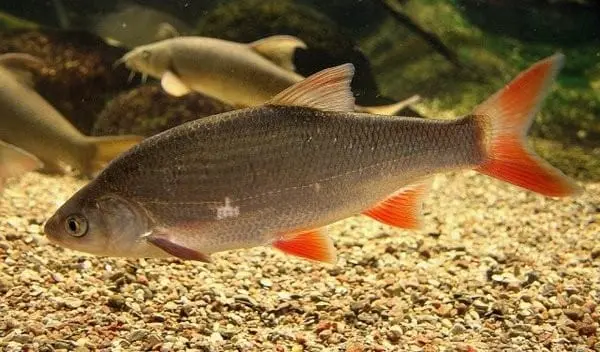 Does the Ide have its own secrets? Undoubtedly. After all, not from scratch, the Ide among fishermen has earned the title of "the most cunning fish." So take a couple of minutes to get acquainted with interesting facts from Ide's life, and maybe they will help you catch the fish of your dreams!
If Ide is still cunning, the fisherman should make sure that the hooks and line are powerful. When hooking, the ide behaves almost like a pike: it begins to shake its head from side to side actively. And he also knows how to jump out of the water. Especially if the hapless angler forgets to close the cage.
It certainly has no fear. It will check the walls of the cage for a long time after capture. And if you accidentally swam in a boat over a flock of ides, then after a few minutes they will return to their former parking lot.
Ide taste qualities
The fish tastes similar to other members of the carp family. The presence of small bones slightly overshadows the high nutritional properties of the ide. The river dweller has a taste characteristic of freshwater inhabitants of ponds and lakes and yellowish or white meat. The food characteristics are influenced by the time of fishing. For example, in summer, the Ide, which does not like the fast flow, but prefers calm water, begins to give off with mud. Therefore it is best to soak it in saltwater before cooking.
Cooking applications
Most often, chefs fry or dry the fish to soften the bones. However, the range of recipes using ide is actually quite wide and varied. It makes good combinations with many products and is popular among gourmets all over the world.
What foods is Ide compatible with?
Vegetables: onions, potatoes, tomatoes.
Mushrooms: white, oyster mushroom, champignon.
Spices / Condiments: Pepper, vinegar, coriander, sesame, thyme, nutmeg.
Greens: parsley, cilantro, mint, spinach.
Fruit: lemon zest.
Dried fruits: raisins.
Seafood: crabs.
Dairy products: sour cream, cheese, milk.
Oil: vegetable, olive.
Flour: wheat, matsemel.
Alcohol: beer, white wine.
Sauces: plum with mint, creamy.
Chicken egg.
Ide in sour cream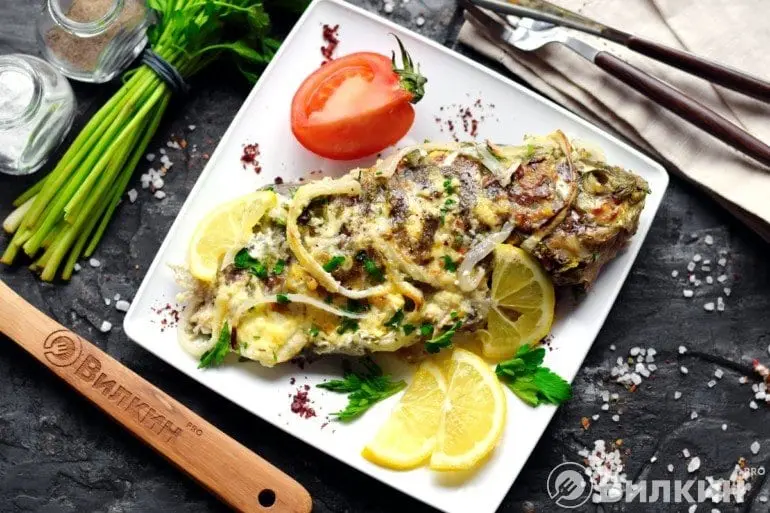 Ingredients 3-4 servings
pcs Ide 1
3 tbsp. spoons Flour
to taste Spices (basil, fish seasoning, salt, pepper)
3 tbsp. spoons. Sour cream
1-2 heads, Onion
garlic,
water
How to cook
Peel the fish, cut into pieces, salt, and pepper to taste. Add basil and fish seasoning to the flour, coat the fish in flour and fry in a pan until golden brown. Place the fish on a plate.
In the same pan, in the SAME oil, fry the onion in half rings until golden brown. In the end, add two cloves of garlic.
Put the onion, fish in a baking dish (I baked in the same pan), add sour cream and a little water. Put in the oven at 180 degrees for 15-20 minutes. Serve with your favorite side dish; we have buckwheat today!
Enjoy your meal!
2020-09-21