Description
The pike is a predatory fish that represents the Pike family, the ray-finned class. This predator is found in almost all medium and large water bodies, although it also occurs in small rivers, ponds, and lakes. At the same time, pike inhabits freshwater bodies worldwide in many countries of the world.
The pike can grow up to one and a half meters in length and weigh about 30 kg, or even more. The fish distinguishes by a projected shape, a relatively large head, and mouth. The color of the predator depends on the living conditions, or rather the presence of aquatic vegetation. Therefore, its color can vary from gray-greenish to grayish-yellowish or grayish-brown, which is typical for the dorsal shade.
On the sides, there may be transverse stripes, as well as large brown or olive spots, of a dark shade. The fins are paired and have a characteristic orange tint. Often, in some lakes, there are silver varieties.
The pike can be easily distinguished from many fish species by its highly elongated head and protruding lower jaw. The teeth of different sizes are located on the lower jaw, thanks to which the pike manages to capture and securely hold its prey. The rest of the teeth are smaller in size, the sharp ends directed into the pharynx and go far into the mucous membranes.
Pike habitats
The most common species – common pike-is found in North America and Eurasia's water bodies. Southern pike or grass pike is found in water bodies included in the Mississippi River basin and the Atlantic Ocean basin.
Black pike is a North American predator found in rivers and lakes with abundant aquatic vegetation, from the coast of Canada to Florida, as well as the Great Lakes and the Mississippi River Valley.
Amur pike is common in natural reservoirs of Sakhalin Island and the Amur River.
The Italian pike prefers to inhabit the waters of Northern and Central Italy.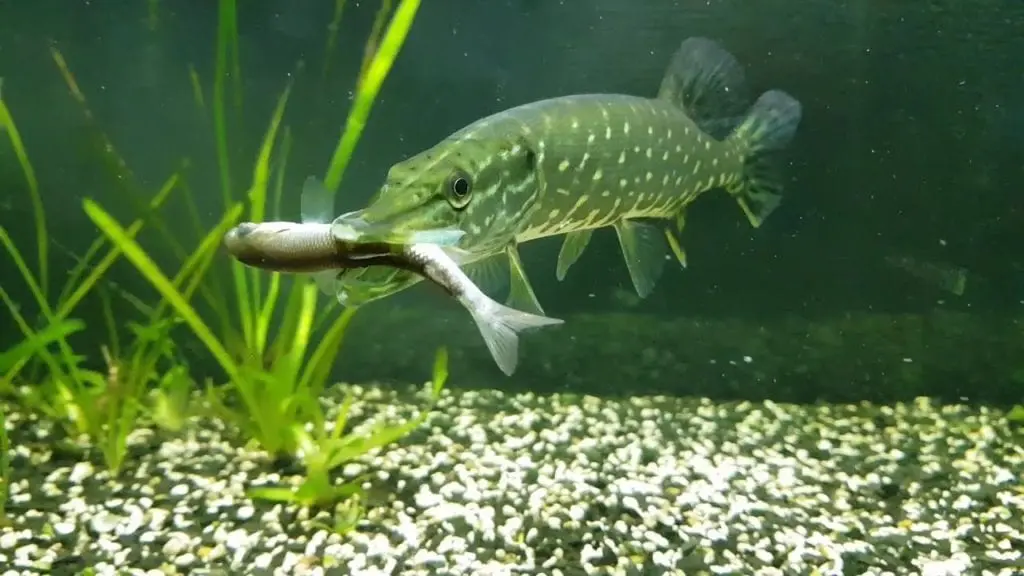 Interesting facts about pikes
They usually do not chase prey but prefer to attack from an ambush. Hidden in thickets of aquatic plants, the pike freezes motionless and, as soon as it sees the prey, rushes at it with a swift jerk.
These predators, being hungry, attack any prey that they can overcome. Sometimes large pikes even eat unwary ducks.
In warm water, pikes do not survive, so they are found only in rivers with cold or cool water.
Being freshwater fish, they live mainly in rivers and lakes, but sometimes they are met in the sea, where large rivers flowing into this very sea desalinate it.
In the Russian city of Nefteyugansk, there is a monument dedicated to pike.
Fresh caviar of these fish can be poisonous; therefore, before eating it, it is first processed. For example, salted.
Especially old pikes can reach a length of several meters and a weight of 35 kg.
Pike can lay up to 250,000 eggs at a time.
These fish do not hesitate to eat their own relatives. Larger pikes, on occasion, can easily eat their smaller counterparts.
Throughout the life of a pikes teeth are constantly renewed. Some are lost in fights, some are worn out, but new ones always grow.
The meat of these fish belongs to dietary products because the proportion of fat content in it is minimal – only a few percent.
On average, a pike grows by 2.5 centimeters per year, but it can grow immediately up to half a meter in length or even more in the first year of life.
Older pikes can be more than two meters long.
These fish, even the largest ones, usually do not attack people. They prefer to attack whatever prey they can handle without too much trouble.
There are only 7 different species of pike in the world.
In Africa, South America, Australia, and Antarctica, pike are not found.
This fish can easily overcome prey, the size and weight exceeding half of its own.
Pike meat composition
Pike, like most other fish varieties,consists mainly of water and proteins. Only 0.69 grams of fat per 100g of pike meat. Also, you will not find carbohydrates in the pike. The calorie content of pike is only 84 Kcal per 100 grams of the product. The complete absence of carbohydrates, high protein content, and low-calorie content of pike make this fish indispensable in a dietary and healthy diet.
Energy value of pike fish:
Proteins: 18.4 g (~ 74 kcal)
Fat: to 1.1 g (~ 10 kcal)
Carbohydrates: 0 g. (~ 0 kcal)
The benefits of pike
The beneficial properties of pike are obvious with the naked eye; you need to see the fish's chemical composition, which is replete with a high content of substances necessary for the human body. Vitamins of group A, B, folic acid, choline, as well as magnesium, phosphorus, sodium, selenium, and manganese, these elements are the main benefits of pike. Nutritionists have long turned their attention to pike meat, popular in low-calorie or protein diets.
The main beneficial property of pike for all adherents of a healthy diet is that the fish contains a very scanty amount of fat (1%). The benefits of pike for a balanced diet also lie in that the fish contains a large amount of natural protein, which the human body perfectly absorbs and it saturates with useful micro and macro elements.
Pike harm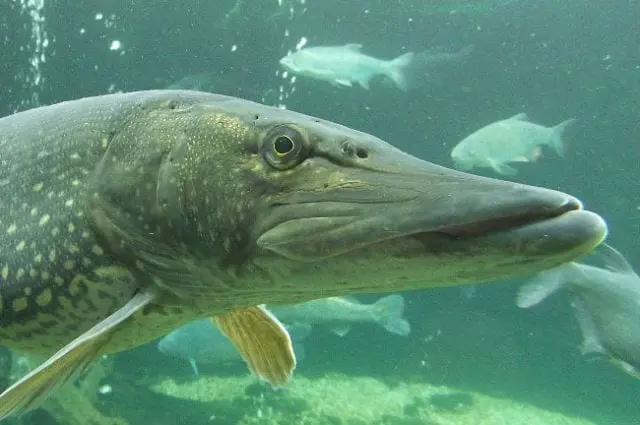 This Fish is contraindicated in case of individual intolerance and the presence of allergies. In no case should you eat fish caught in a contaminated area? You should not abuse pike, otherwise, you can earn extra pounds, even though it is a dietary product. People who are afraid of gaining excess weight need to eat this fish in small quantities and be sure to steam it.
Taste qualities
The fish has lean, dryish, tender meat. The larger the size, the tastier the meat. Large specimens are drier than small ones, so they are stuffed with bacon, cooked with pork, and stewed with vegetables.
Cooking applications
In some countries, the pike is popular, while in others people don't like it because it has a lot of bones, therefore it is less popular. Suppliers deliver the food to the shelves frozen, canned, or chilled. Most often, chefs use pike as minced meat for meatballs or cutlets, however, there are other more sophisticated recipes.
How to cook pike?
Bake in the oven with mushroom sauce.
Fry in butter in beer batter.
Cook and serve with caper sauce.
Bake on an onion and lemon pillow.
Cook he in Korean with carrots.
Marinate in red wine.
Prepare pork and pike cutlets.
Stew the fish stuffed with oyster mushrooms.
Bake with sour cream and parmesan.
Fry on a wire rack.
Grill.
Cook the fish soup.
Stuffed pike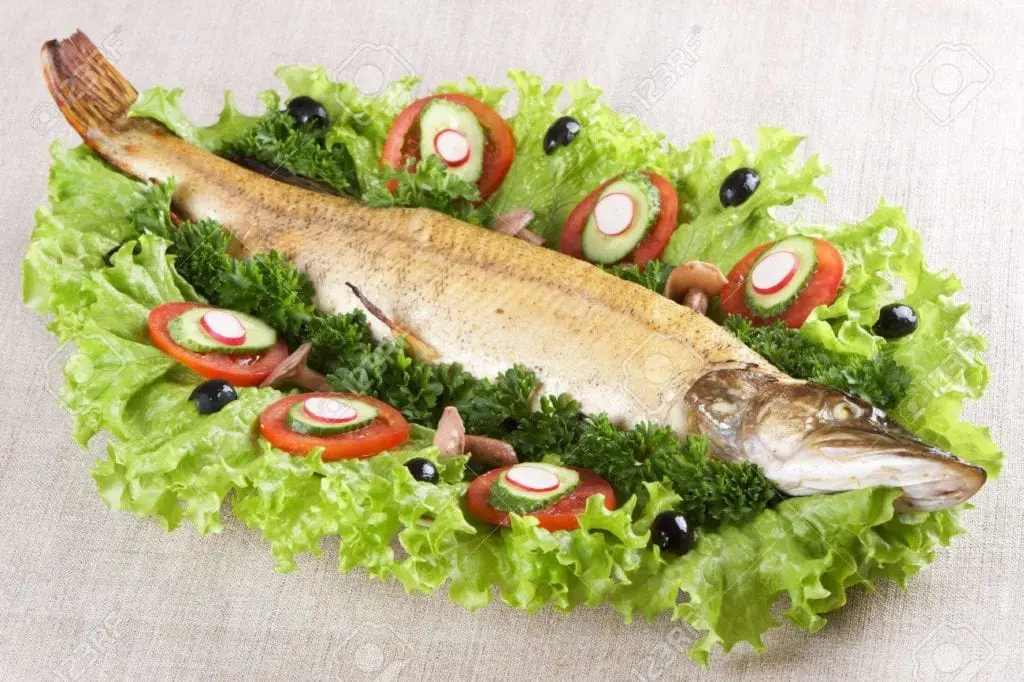 Ingredients
1.5-2 kg Pike
1 Sweet pastry
50 g Butter
2 eggs
2-3 heads Onion
150 g Milk
2 Carrots
Salt pepper
Basil
Bay leaf
Dried barberry
How to cook
The most important thing is to prepare the pike.
First, carefully peel off the husk, cut off the head and pull the insides through the top.
Then remove the skin from top to bottom like a stocking.
First, you need to help a little with a sharp knife, cutting in the necessary places, then the skin will go by itself. The main thing is not to damage it anywhere. It is better to leave a bone in the fins area than to break through the skin. In general, the leftovers of meat on the skin will not spoil the dishes.
Clean the head from the gills and wash.
Pour the fish's bones and fins with a little water, add spices, bay leaves, and boil until tender.
Soak a sweet pastry (like buns for 9 kopecks, remember?) In milk.
Finely chop the onion and fry until golden brown in butter.
In a blender or a meat grinder, grind pike meat with a soaked and squeezed bun, add fried onions, eggs, salt, pepper, barberry, spices (you can improvise according to your taste), and knead into a homogeneous minced fish.
Sew the fish's skin at the bottom in the place of the tail and in those places where the gaps did occur. Stuff the fish with minced meat, but not tightly. There should be a place inside; otherwise, during cooking, the skin will shrink and may burst if there is too mucс meat. Sew in the head area. It would help if you got an airtight, incomplete bag. Fill the pike head with minced meat. We sculpt small balls from the remaining minced meat.
Cut the carrots into rings and place them evenly on the bottom in a baking dish. Put the head and the carcass of the fish on top, fish balls around, and pour, preferably with hot fish broth.
Put the dish in the oven at 160-170 degrees for 1-1.5 hours, depending on the fish's size.
As soon as the fish gets brown, remove it from the oven, let cool and refrigerate for 5-6 hours. After – cut into portions and serve.
Enjoy your meal!
2020-09-21