Description
The Latin name for cardamom is (Ellettaria cardamomum) – a genus of plants in the Ginger family. Cardamom seeds combine the virtues of several spices: they have something of ginger, something of nutmeg, something of white pepper. Most often, cardamom is added to baked goods and is also pounded with salt. And this salt is used to season meat and vegetables.
The birthplace of cardamom is the Malabar coast of India and Ceylon; black cardamom is native to Guatemala and India. To this day, these areas are centers for the production of cardamom.
Composition and calorie content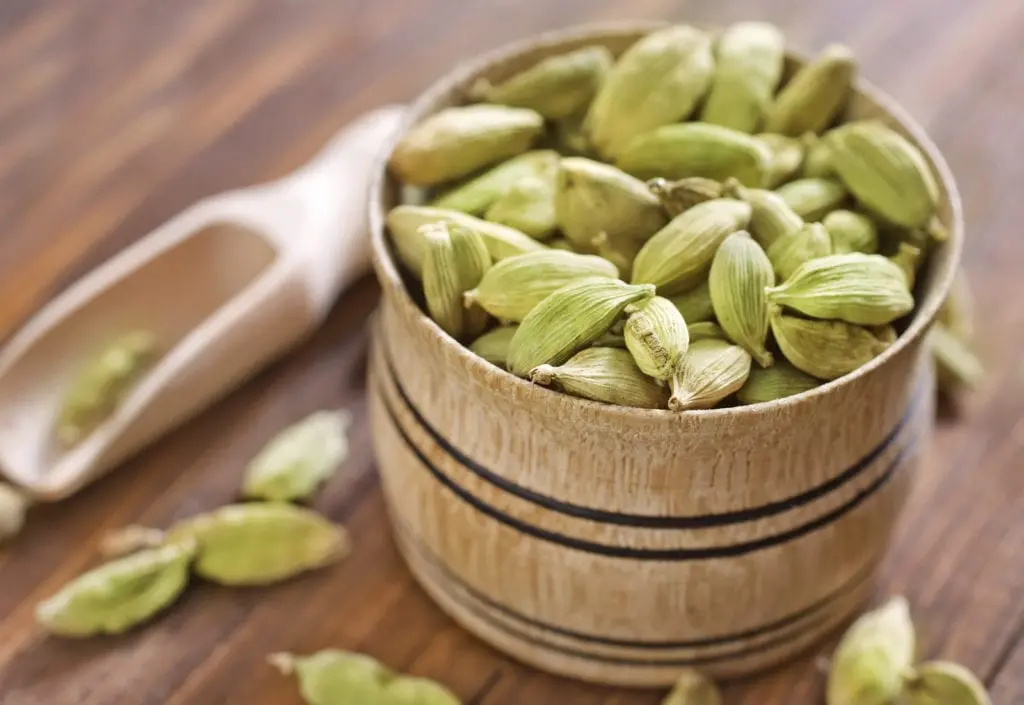 The composition of cardamom seeds contains essential oil (3-8%), fatty oil, amidone, rubber, terpineol, cineole, terpinyl acetate, vitamins B1, B2, B3, as well as mineral elements: phosphorus, calcium, magnesium, iron and a large amount of zinc …
100 grams of the product contains 311 kcal.
Taste and aroma of Cardamom
Seeds with a strong, pungent, spicy-burning, slightly camphor odor and sweetish-pungent taste.
Historical facts
The mentions of Dioscorides and Pliny about this "most delicate" spice, which, according to them, had an extraordinary healing power and at the same time was considered a strong stimulating component, have survived. The ancient Greeks and Romans paid dearly for this spice.
Where could I buy
A popular spice, cardamom is suitable for many first or second courses and even savory pastries. Therefore, cardamom can be easily found in stores and markets. When buying, pay attention to the packaging – it should not let through the aroma of spice and absorb moisture from the environment.
If this is cardamom in boxes, then they should be whole, beautiful, without unnecessary inclusions. The manufacturer, his experience, reputation and the availability of all the necessary documents are also important.
Unusual properties
Cardamom effectively removes the smell of garlic and alcohol. It is part of the "dry spirits" that are used to flavor gingerbread, Easter cakes, etc.
Cooking applications
Cardamom belongs to one of the most refined spices. Its main field of application is aromatization of flour confectionery products – muffins, cookies, gingerbreads, gingerbread – and especially, aromatization of confectionery fillings in rolls, puff pastry and in products with added coffee (for example, coffee cake).
But in addition to this, cardamom can be used to refine homemade tinctures and liqueurs, as a component in marinades for fruits, in some sweet dishes (jelly, compotes, curd spreads), as well as in fish soups, in spicy broths for fish, for flavoring fish mince, fillings, casseroles.
In the East, cardamom is one of the most beloved spices. It is especially popular in the cuisine of North India, where it is included in almost all traditional spicy mixtures (masala), and in combination with almonds and saffron, it must be added to festive rice dishes and to lassi – a frothy soft fermented milk drink of izyogurt.
In the Middle East, cardamom is commonly combined with fruits and nuts, and is also added to meat and rice dishes. In addition, this spice is an indispensable component of "oriental" coffee (in Arabic, in Tunisian): freshly ground cardamom seeds are added to coffee before brewing or put several boxes in cezve (this is the name of oriental coffee utensils).
Scandinavians add cardamom to meat and fish dishes, sausages (especially in liverwort), pates and marinades for herring, sprat and herring, flavor liqueurs, hot punches and mulled wine. The French add cardamom to liqueurs such as Curacao and Chartreuse,
The Germans put cardamom in a spice mixture to flavor the famous Nuremberg Christmas gingerbread Lebkuchen with candied fruits, almonds and honey (by the way, the Germans taught us to add cardamom to Easter cake as well).
Medical use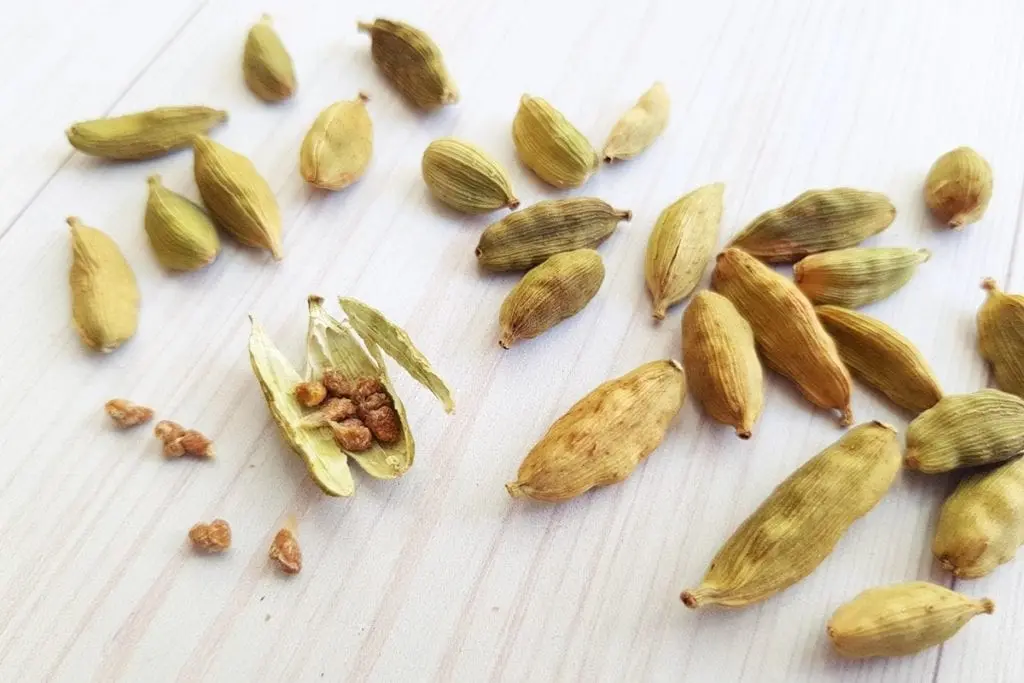 Cardamom has been used in traditional folk medicine for over 3000 years. It has anti-inflammatory, stimulating, carminative, diuretic, stimulating effect – it stimulates the mind, heart, gives a feeling of joy. Cardamom is also recommended for asthma, coughs, bronchitis and migraines, as a means of increasing appetite. It promotes the elimination of various poisons and toxins from the body.
How to choose
To extend the shelf life of cardamom, it is recommended to buy it in seed boxes. However, you need to know how to choose the right ones, as overdried cardamom pods are often on the market. They can be empty or wormy. Quality cardamom grains are black, shiny, with a smooth surface.
The most valuable are Malabar (Indian) and Mysore cardamom. Then comes cardamom from Sri Lanka in quality.
Storage
Ground cardamom retains its aroma for no more than 2 months.
Beneficial features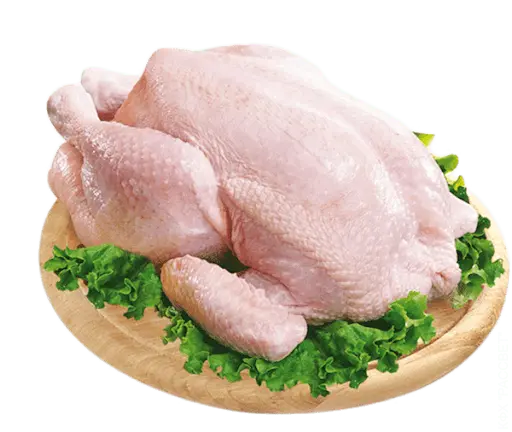 Cardamom has antibacterial properties and is also good for teeth whitening, which makes it a natural alternative to chewing gum.
In addition, it stimulates the secretion of gastric juice, strengthens the muscles of the stomach, is used to eliminate constipation, flatulence, and also as an aphrodisiac.
Oriental medicine treatises describe this seasoning as a means to remove mucus from the body, which allows you to treat bronchitis, asthma, colds, coughs, and cleanse the gastrointestinal tract.
Cardamom fights pathogenic bacteria, reduces the level of "bad" cholesterol in the blood, increases immunity, exhibits antioxidant properties, reduces harm from caffeine, calms the nervous system, tones the body, stimulates mental activity, fights fatigue, maintains visual acuity, prevents headaches , speeds up metabolism and helps fight obesity.
Contraindications for use
Cardamom is not recommended for gastric ulcer and duodenal ulcer.
Types of cardamom
Cardamom
Cardamom seeds combine the virtues of several spices: they have something of ginger, something of nutmeg, something of white pepper. In Russia, cardamom is most often added to baked goods. They are also pounded with salt, as, for example, in Adygea. And this salt is used to season meat and vegetables.
Green boxes of cardamom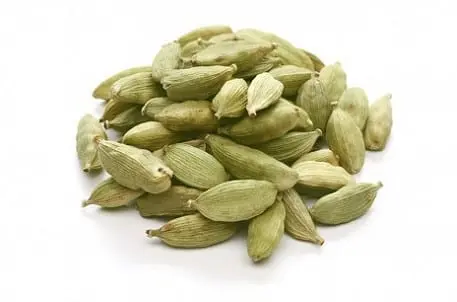 Cardamom fruits are green three-chambered capsules, the most fragrant and bright. It is green cardamom, not bleached or black, that gives the right pungency to traditional spicy baked goods, punch and mulled wine, where it is most often added.
Cardamom boxes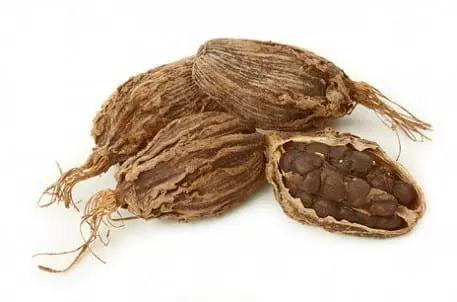 Cardamom boxes are the seeds of an Indian tree from the ginger family that are prized for their bright spicy aroma. Green – the most fragrant – or less pungent white boxes whole are added to punch and mulled wine, and ground – in baked goods, for example, in gingerbread. Black cardamom, the fruit of a tree related to cardamom, has a slightly smoky aroma and is used in Indian cuisine as a spice for hot dishes.
Ground cardamom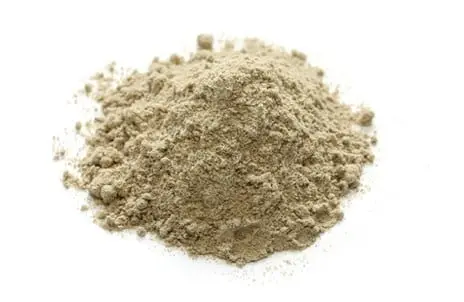 Ground cardamom boxes are brighter in hot dishes – particularly Indian dishes – and in baked goods. As with any hot spice, it's important not to overdo it with ground cardamom, especially freshly ground.
2020-10-02