Description
Lychee – translated from Chinese "Chinese plum". A small sweet and sour fruit, covered with a crusty rind with a bone inside. Grows on evergreen tropical trees.
Lychee story
As the name suggests, the lychee is home to China, where it is also called the "dragon's eye" for its cutaway appearance. Only the jelly-like pulp of the fruit is used for food.
The first mention of lychee dates back to the 2nd century BC. The fruit was first brought to European countries in the middle of the 17th century. Lychee grows throughout the subtropical area of ​​Southeast Asia.
Composition and calorie content
Caloric content 66 kcal
Proteins 0.83 g
Fat 0.44 g
Carbohydrates 15.23 g
The chemical composition of lychee includes: beta-carotene, vitamins B1, B2, B5, B6, B9, B12, C, K, E, H and a large amount of PP (niacin), as well as the main useful minerals: potassium, calcium, magnesium, iodine, chromium, zinc, selenium, copper and manganese, iron, phosphorus and sodium.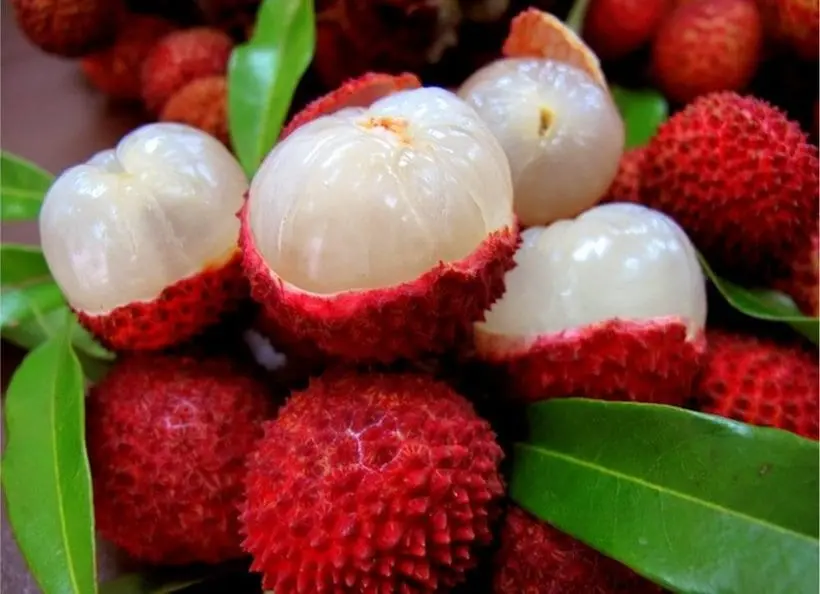 The benefits of lychee
Lychee contains a large amount of vitamins: C, E, K, group B, PP, N. Lychee also contains a lot of minerals: calcium, iron, magnesium, potassium, phosphorus, zinc, sodium, iodine and others.
Lychee is useful for people with diseases of the cardiovascular system, for the prevention of atherosclerosis. The high concentration of potassium, magnesium and niacin in this fruit has a beneficial effect on the heart and lowers cholesterol levels.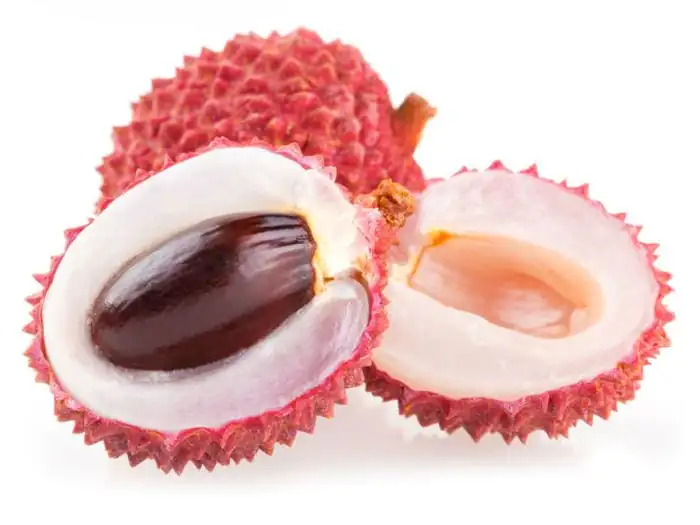 The pectins in lychee reduce inflammation in the stomach and intestines, as they have enveloping properties.
In Hindu medicine, lychee is considered an aphrodisiac that affects sexual function and sex drive.
Lychee harm
Lychee is a rather exotic and unusual fruit for us, so you need to try it carefully and in small quantities. It can cause an allergic reaction, and if overeating and diarrhea. Do not get carried away with lychees for people suffering from diabetes due to their sugar content. Giving fruit to children is especially careful to avoid allergic rashes. Begin to introduce lychee into the diet gradually, from one piece and bring to 10 – 20 per day
The use of lychee in medicine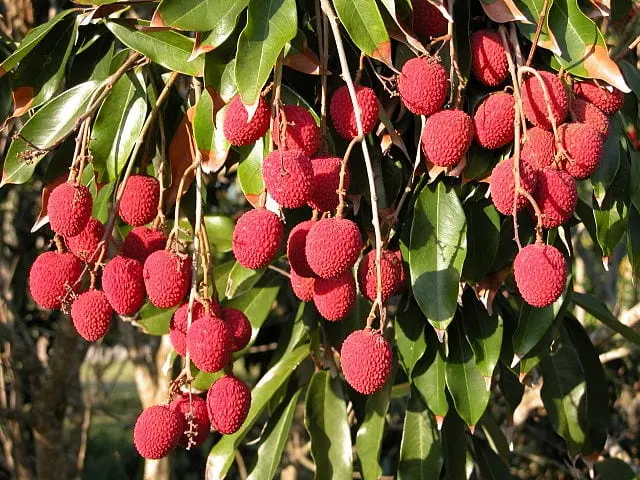 Lychee is rich in dietary fiber and nutrients, while it is low in calories and does not contain fat. This makes it an excellent fruit for diet food. Thanks to dietary fiber, the feeling of satiety arises for a long time and discourages the desire to have another snack. Lychee normalizes the digestive system and is recommended for people with inflammatory diseases of the gastrointestinal tract.
In China, this fruit is considered a natural aphrodisiac, and the people of India call the lychee the fruit of love. It has a positive effect on libido – sexual desire.
Potassium and magnesium are useful for diseases of the heart and blood vessels. And vitamin C and polyphenols in lychee help lower cholesterol levels and vasodilatation.
Lychee is also used in cosmetology. Antioxidant properties help slow down the aging process of the skin and improve hair condition. The juice is rubbed onto the skin and applied to the hair roots.
The anti-cancer properties of lychee have been proven, as it contains many substances – antioxidants.
The use of lychee in cooking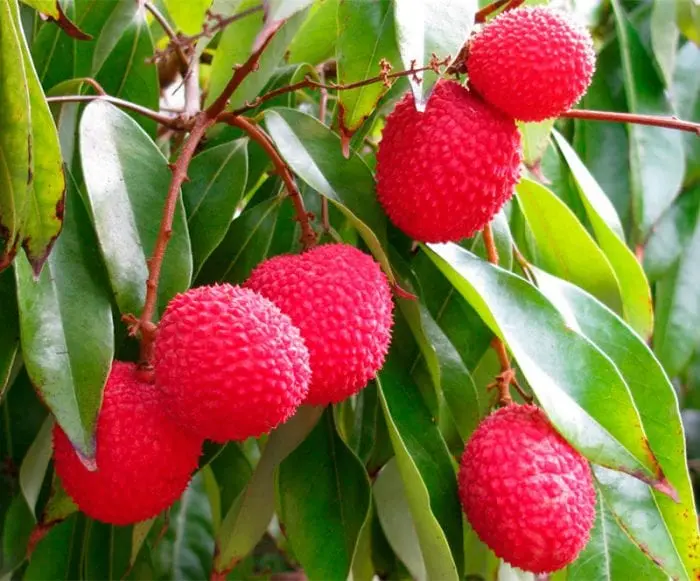 Lychees are mainly used fresh as food. Desserts are prepared from the pulp: jelly, ice cream, cocktails and added to various dishes. Lychee is used to make wine and sauces. Sometimes the fruits are dried, the peel stiffens, and the dry contents roll over inside. As such, it is called lychee nut. Before use, the skin is cut, and then a large bone is removed.
Exotic chicken and lychee salad
This unusual dish is nevertheless extremely healthy. Its low calorie content and high vitamin content make it an excellent dietary food. You can choose any greens to your taste.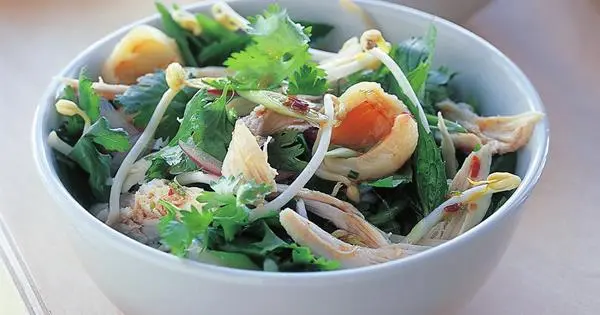 Chicken breasts – 300 gr
Lychee (fresh or canned) – 300 gr
Shallots – 100 gr
Greens: cilantro, iceberg, arugula or watercress – salad – bunch
Ginger – a piece from a nail
Lime juice – from a wedge
Olive oil to taste
Salt, black pepper – to taste
Boil chicken breasts in water. Cool and cut into cubes. Peel the shallots and chop thinly. Chop the herbs coarsely. Grate fresh ginger root on a fine grater. In a salad bowl, combine the chopped ingredients and lychees (freshly cleaned). In a bowl, combine oil, salt, pepper, grated ginger and lime juice. Season the salad.
How to choose lychee
To keep the lychees longer, the fruits are plucked in bunches, usually along with a branch. When choosing a fruit, you should pay attention to the peel. It should be pink or red without white or green patches. The presence of yellowish spots is considered acceptable.
Dry skin is a sign of a poor quality product. It should be firm and slightly pliable. Fresh fruit can be stored for only 3 days at room temperature. In the refrigerator, the fruit can retain its taste for a month.
5 interesting facts about lychee
The inhabitants of China call the lychee the dragon's eye because of the visual resemblance of the fruit to the scales of a magical creature.
Lychee is famous for its high content of niacin, which improves the functioning of the circulatory system.
It has been found that lychee is effective as a cough medicine.
Lychee contains trace elements such as ascorbic acid, potassium and magnesium.
Lychee is used not only as a dessert. The fruit is served with meat and fish, and alcoholic beverages are made from it.
2020-09-24