Cranberries contain a huge amount of vitamin C and can compete with the "winter" fruits – lemon, orange, and grapefruit.
The berry's peculiarity is that it can be kept fresh until the next harvest without losing vitamins. When frozen, the cranberry also does not lose its beneficial properties, which is especially valuable in winter.
Cranberries belong to the group of flowering plants of the Heather family. Evergreen creeping shrubs with red berries grow in swamps and swampy shores of lakes, pine, and mixed forests.
Initially, cranberries were called cranberry ("crane berry") because of the similarity of the plant's open flowers with the neck and head of a crane.
Cranberries: benefits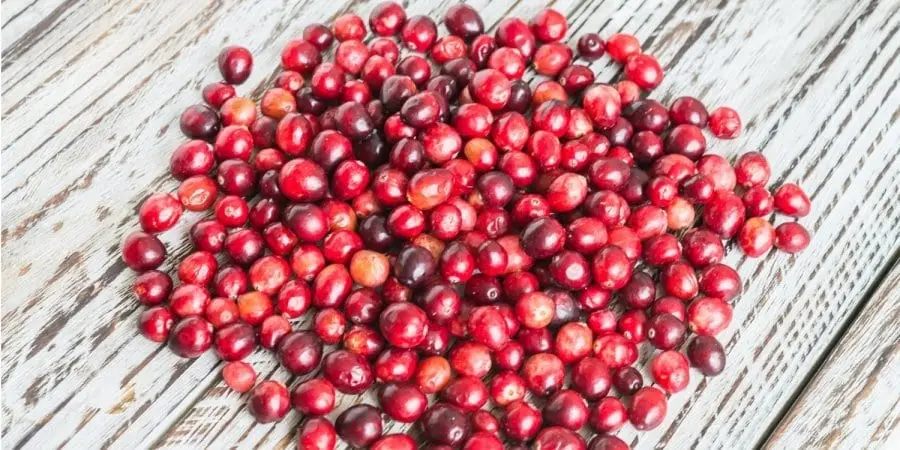 Besides ascorbic acid's high content, cranberries are also rich in vitamins B1, B2, B5, B6, PP, organic acids, and sugars. By the content of vitamin K1 (phylloquinone), the berry is not inferior to cabbage. Berries also contain significant amounts of potassium and iron.
Cranberries are preventing scurvy, can treat colds, and are great for general immunity enhancement.
Due to the content of benzoic and chlorogenic acids in cranberries, the berry has antimicrobial properties, and people use it to treat diseases of the kidneys and urinary tract.
The berry stimulates the secretion of gastric juice. Besides, cranberries contain many antioxidants, which help to neutralize the negative effects of free radicals. Also, the berry lowers cholesterol and prevents the formation of blood clots.
It would be best if you did not eat these berries with gastritis with increased secretory activity, as well as with stomach ulcers.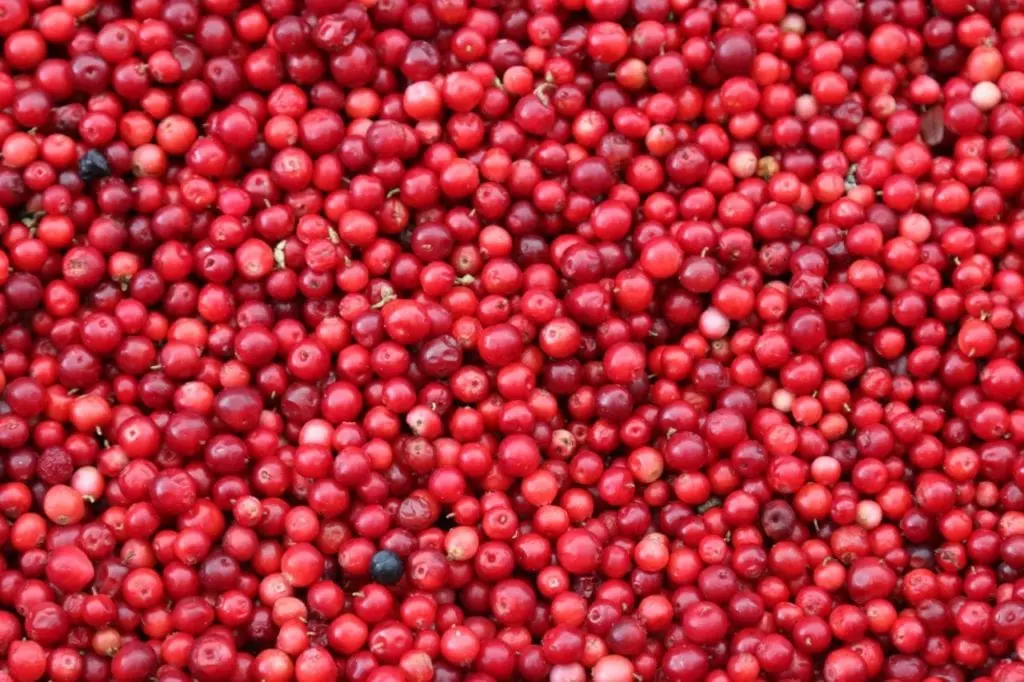 Cranberries in cooking
Cranberries taste quite sour – this property is trendy in cooking and is setting off the main course's taste.
Berries of all types of cranberries are edible, and people use them to prepare many drinks – fruit drinks, juices, jelly, liqueurs, tinctures, alcoholic cocktails. They are great components for making jelly and the famous cranberry sauce, which is served with turkey.
In winter, sweet and sour cranberry jam is especially popular. Berry leaves are great for making tea. They are also added widely to all kinds of muffins, cakes, and pies. People also add the berry to savory dishes, such as soups, meat, fish, and sauerkraut.
Possible harm
Cranberries can also harm people. First of all, pregnant women who are prone to allergies should avoid eating it. Those who suffer from stomach ulcers or enterocolitis are unlikely to expect pleasant minutes after eating these berries. These people should be wary of this healthy berry.
Contradications
Despite such a wide list of useful properties, cranberries also have several contraindications:
Ulcers of the stomach or duodenum
Inflammation of the gastrointestinal tract.
Individual intolerance to the components of the chemical composition.
Acidic gastritis.
With urolithiasis, cranberries can be taken only after receiving medical advice. Important! Cranberries are not recommended for use during breastfeeding, as well as for children under three years old. Cranberries should be used with caution in case of hypotension since the berry reduces blood pressure. And dentists recommend that after each intake of a cranberry remedy, it is imperative to rinse the oral cavity so that the composition's acids do not damage the tooth enamel.
The benefits and harms of cranberries during pregnancy
Moderate consumption of cranberries during pregnancy will help prevent or eliminate many of the health problems that lie in wait for a woman at this time. During childbearing, the expectant mother often encounters diseases of the genitourinary system and kidneys.
Consuming drinks based on cranberry juice blocks the spread of bacteria and has a detrimental effect on many microorganisms' strains. And also resists cystitis, urethritis, and pyelonephritis. The undoubted benefit of cranberries for a woman preparing to become a mother lies in the ability to strengthen the immune system, normalize uterine placental blood circulation, and prevent intrauterine fetal growth.
Also, drinks from this berry improve tissue reactions in the body of a pregnant woman. As a result, women can avoid dropsy and edema.
The benefits of cranberries during pregnancy are also associated with the antioxidants that make them up. These berries have a positive effect on memory and the central nervous system's activity and minimize the risk of postpartum depression. However, you should know that cranberries should not be consumed by women with diseases of the digestive system, as well as expectant mothers taking sulfonic drugs.
How to store?
In fact, you may keep cranberries at home all winter long if you do it right. They can be stored for several months, even in a city apartment – if they are in a dark and well-ventilated place. Also, the berries are good to store in wooden boxes, and in case it's not a very thick plastic.
A simple way of storing cranberries is to put them in jars with water after boiling and chilling them and dry berries.
Can we freeze cranberries?
When frozen quickly, cranberries do not lose all their beneficial qualities. True, this only happens if it is frozen once. If you thaw and frozen cranberries again, their beneficial properties are significantly reduced.
How to cook juice?
The main principle of preparing the most common cranberry dish – juice – is simple: the juice from the berry should not boil. Therefore, squeeze the berries into a separate bowl. You can add a little sugar or honey to it. Everything is simple – bring to a boil, boil for 5 minutes, drain, mix with squeezed juice.
What else can you cook?
Cranberries in sugar (dip the berries in sugar syrup or egg white, then roll in sifted powdered sugar);
Quick cranberry sauce (place 1 cup of berries in a small saucepan, add 0.5 cups of grape or orange juice, and a third cup of sugar, simmer for about 10 minutes, you can add spices to taste).
Cranberry dessert mousse (grate the berries through a sieve, stir with water and sugar, bring to a boil, add semolina – cook until thickened. Cool the mousse, ready to garnish with whipped cream and cranberries).
Ice cream with cranberries (Grate the berries, then add them to any prepared ice cream, and the taste will sparkle in a new way.
Or you can make the balls with the berry flavor. To do this, egg yolks are whipped white with powdered sugar, and a little sweet wine is added to the mixture and cooked on a water bath custard. Separately, about 4 minutes on the fire, "simmer" the berries and a little vodka. In the third container, you need to beat the whites with powdered sugar. Prepare the sugar syrup in a new saucepan. After it begins to thicken – after about 5 minutes – carefully add all the ingredients there, bring all the ingredients to a single consistency, pour them into ice cream molds and send them to the freezer for 3 hours).
More recipes
Cranberry pie (berries are a great filling for any sweet cake, and the more such filling or layer we use, the more "cranberry" the pie will turn out to be. For the filling, grind berries with sugar, beat with butter, eggs, nuts).
Cranberries rubbed with sugar (The simplest and healthiest dessert is berries rubbed with sugar. Cranberries are no exception. Both children and adults will eat it like this with great pleasure).
Sauerkraut (A common sauerkraut recipe will get a bright taste and aroma thanks to the added these berries).
Green salad (mix salad with a handful of toasted walnuts, loose goat or other similar cheese, orange slices, and fresh or dried cranberries. Season with a mix of lemon juice and maple syrup).
Dried cranberries
It is interesting to know that the benefits of dried cranberries are no less than freshly picked ones.
Therefore, this method of harvesting these berries is prevalent and widely applicable. First, you should sort out the berries, rinse them, and then keep them for a few minutes over hot steam.
Then scatter them on a wide surface (made from wood or cover it with linen cloth) and leave to air dry in the shade or an area with good ventilation. You can also use an oven, a special fruit dryer, or a microwave oven for this purpose. After that, berries do not stick together into lumps and stop staining fingers with juice. Then scatter them in cloth bags and store them for up to three years.
Check out the video review of the growing cranberries:
2020-09-16