Description
Exotic carambola fruit – bright yellow or yellow-green berries 5-15 centimeters long, oval with massive ribbed sides. In the cut, they repeat the shape of a five-pointed star, some varieties are eight-pointed, which makes them a favorite fruit among confectioners for decorating cakes and pastries.
The pulp is very juicy, crispy, without fibers, similar in consistency to a ripe apple. Under the dense peel there are 10-12 light seeds in gelatin capsules. Fruit weight – 70-150 grams, glossy skin with a light waxy coating.
What does a carambola look like?
Carambola blooms several times throughout the year, covering during flowering with delicate pink-lavender flowers. 2-2.5 months after flowering, the plant forms juicy crunchy ribbed fruits, inside which there are several flat seeds.
The length of the fruit varies from 5 to 15 cm. The easiest way to imagine the shape of the carambola is by looking at the cross-section of the fruit, which forms almost regular five-pointed stars.
Composition and calorie content
The carambola fruit contains 4-8 mg of calcium, 15-18 mg of phosphorus, about 1 mg of iron, about 2 mg of sodium, 181-192 mg of potassium, as well as a significant amount of oxalic acid.
The fresh pulp of the fruit contains only 30 kcal. Nutritionists recommend including carambola in the diet, if you follow a diet, the low calorie content of the berry will not harm the figure.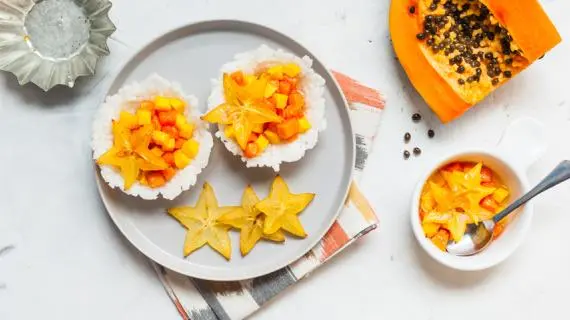 Composition per 100 grams:
30 kcal;
1 g protein;
0 g fat;
7 g carbohydrates;
3 g dietary fiber;
3.5 g sugar;
1 g fiber
0.5 g of ash.
Where does carambola grow
The homeland of carambola is Southeast Asia. Grows in India, Indonesia, Sri Lanka. Especially popular in Thailand, where tourists can buy the freshest fruits at 30 baht per kilogram. The fruit is cultivated in Brazil and Israel – it is here that the main crop is produced for supplies to Europe.
Carambola varieties
In the homeland of carambola, locals prefer sweet and sour fruits, in our supermarkets they sell both sweet and sour.
The most delicious varieties:
Arkin (Florida);
Dah Pon (Taiwan);
Fwang Tung (Thailand);
Maha (Malaysia);
Demak (Indonesia).
Useful properties of carambola
The beneficial properties of carambola have long been known to nutritionists and doctors. The fruit is 90% water and rich in vitamins, perfectly quenches thirst and hunger. In Asia, fruits have been included in the daily diet since childhood, many locals grow trees in their gardens and eat juicy fruits throughout the year to maintain good health.
For everyone
Decoction of flowers and dried carambola root helps to treat acute intestinal infections and prevents dehydration in case of severe diarrhea.
The juicy fruits are rich in potassium, an essential element for heart function and heart muscle health.
The fruit contains enzymes that kill harmful bacteria in the intestines and help eliminate toxins.
The pulp is rich in fiber, useful for weight loss. The fruit eaten in the morning on an empty stomach stimulates a good metabolism and metabolism.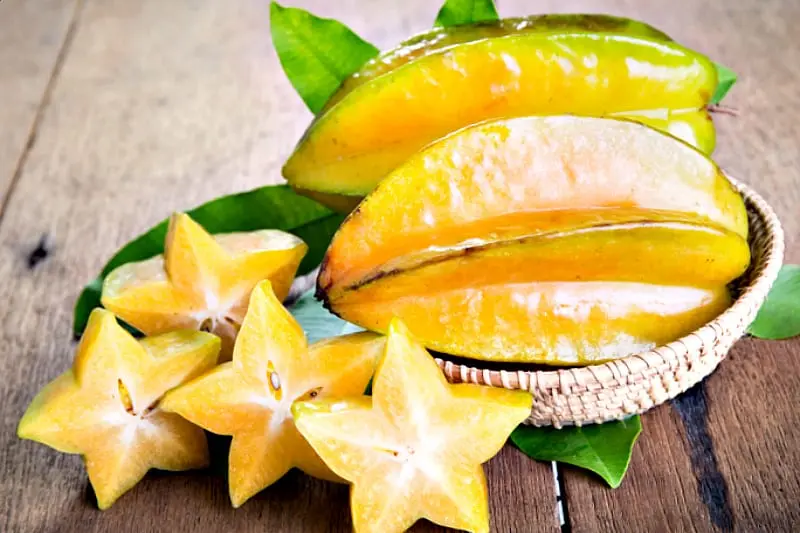 For men
Regular use of carambola increases potency, improves blood circulation and stimulates male strength until old age.
The fruit is recommended to be consumed after visiting the gym, the pulp contains vitamin B2, which breaks down lactic acid and reduces muscle tension after intense physical exertion.
For women
Carambola berries contain an optimal ratio of calcium and magnesium; regular consumption improves the condition of the skin, hair and nails.
The fruit contains folic acid, which is necessary for a pregnant woman for a proper metabolism.
The fruit is important in the diet of a nursing mother, vitamin B1 in the composition contributes to the production of breast milk.
For kids
The fruit is rich in vitamin C, which is necessary in a child's diet to raise immunity, especially in winter as a prevention of acute respiratory infections.
The composition of carambola contains a lot of phosphorus, the most important trace element for the development and strengthening of the nervous system of babies.
Fresh juice quickly lowers the temperature, replacing medications at the first sign of a cold in the child.
Powdered carambola seeds relieve colic in babies.
The peeled fruit, mashed in puree, helps to improve stool in case of constipation, acts as a laxative.
Harm of carambola and contraindications
Like any other fruit, carambola has benefits and harms if you eat too much of the fruit. When trying for the first time, limit yourself to one berry. A new product in the diet can cause an allergic reaction, especially in children under 7 years of age.
Contraindications to use:
kidney pathology;
enterocolitis;
gastritis with high acidity;
ulcers of the stomach and duodenum.
The daily rate of carambola is no more than 100 grams. When overeating, intoxication can begin, which manifests itself in severe vomiting, continuous hiccups and insomnia.
The taste of carambola
There is a lot of controversy over the true taste of star fruit. The difference of opinion is due to the fact that the taste of unripe and moderately ripe fruits is very different. To get on the shelves of Russian supermarkets, the starfruit is removed from the trees in an immature state.
Such fruits have a sour taste and resemble a vegetable rather than a fruit. A moderately ripe fruit contains a greater amount of sugar and surprises with a sweet-sour or sweet taste, which evokes associations with several familiar fruits at the same time.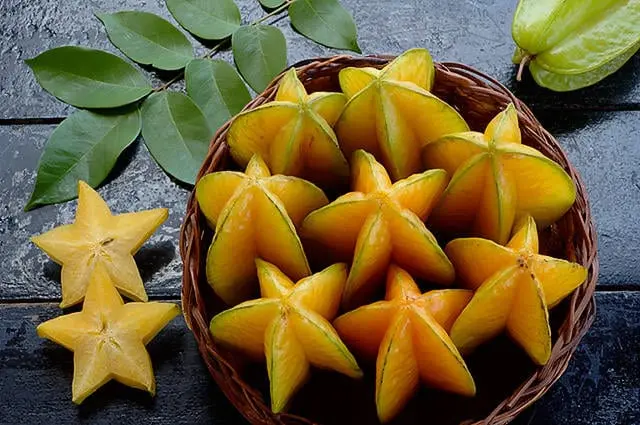 Those who are lucky enough to taste exotic carambola compare it with gooseberries, apples, plums, grapes, oranges and even cucumbers. Several flavor notes are heard in one fruit at once. Sweet and sour fruits contain a lot of liquid and are an excellent thirst quencher.
How to choose the right carambola?
The green starfruit has narrow ribs clearly separated. Sweet, ripe fruits are endowed with fleshy ribs with a dark brown stripe, which indicates the full ripening of carambola on the branch. Moderately ripe fruits contain little acid, which gives a piquancy and refreshing taste, and the smell is vaguely similar to the aroma of jasmine flowers.
When grown for industrial purposes, carambola is removed in an immature state in order to deliver it to customers thousands of kilometers away without losing consumer properties. Unripe fruits are pale green or yellowish. They can be stored for a long time (up to 3 weeks) in the refrigerator. Green carom can ripen at room temperature, but it won't taste as sweet as ripe fruit plucked from a tree.
When buying carambola in usually a supermarket, the buyer does not have much choice, so he has to be content with unripe fruits. A trip to Thailand allows you to enjoy the delicious taste of star apples that are abundant in local markets. The main thing is to find fruits with a dark brown stripe on the ribs, then the wonderful taste of ripe starfruit is guaranteed.
Carambola in cooking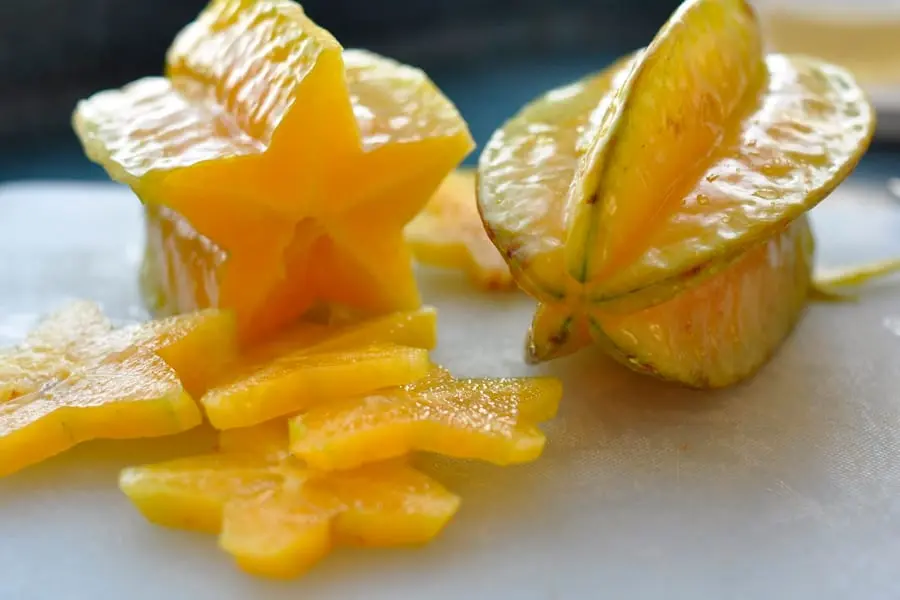 The star apple is used primarily for decorating cocktails, various desserts and salads, since star slices look elegant and give any dish a finished look. However, the use of carambola in cooking is not limited to this.
Asians prepare all kinds of starfruit dishes: Starfruit juice is included in many cocktails, emphasizing the exquisite taste of the drinks. Unripe fruits are often used as vegetables – they can be salted, stewed or pickled. Fresh fruit is eaten raw or as a dessert.
An exquisite dessert is carambola, boiled in syrup to a semi-soft state – the rich aroma will hardly leave anyone indifferent. Sweet carambola is used to make jelly, marmalade, puddings, and preserves. Chinese chefs use Tropical Star Plates in fish and meat dishes. When crushed, carambola can become part of the sauce.
Medical use
In oriental medicine, the carambola plant is used completely. Medicines are prepared from flowers, leaves and fruits.
A decoction of flowers is used as an anthelmintic drug.
An infusion of dried tree root is drunk for food poisoning.
The crushed fruit seeds have a sedative effect and help in the treatment of asthma.
In Brazil, carambola fruits are used in the treatment of eczema, lichen and as a diuretic.
Chopped fresh leaves help treat smallpox and ringworm.
In India, fresh pulp is used as a styptic.
Canned fruits are beneficial in reducing bile levels.
Fruit is useful to eat with reduced immunity.
Chicken roll with carambola and olives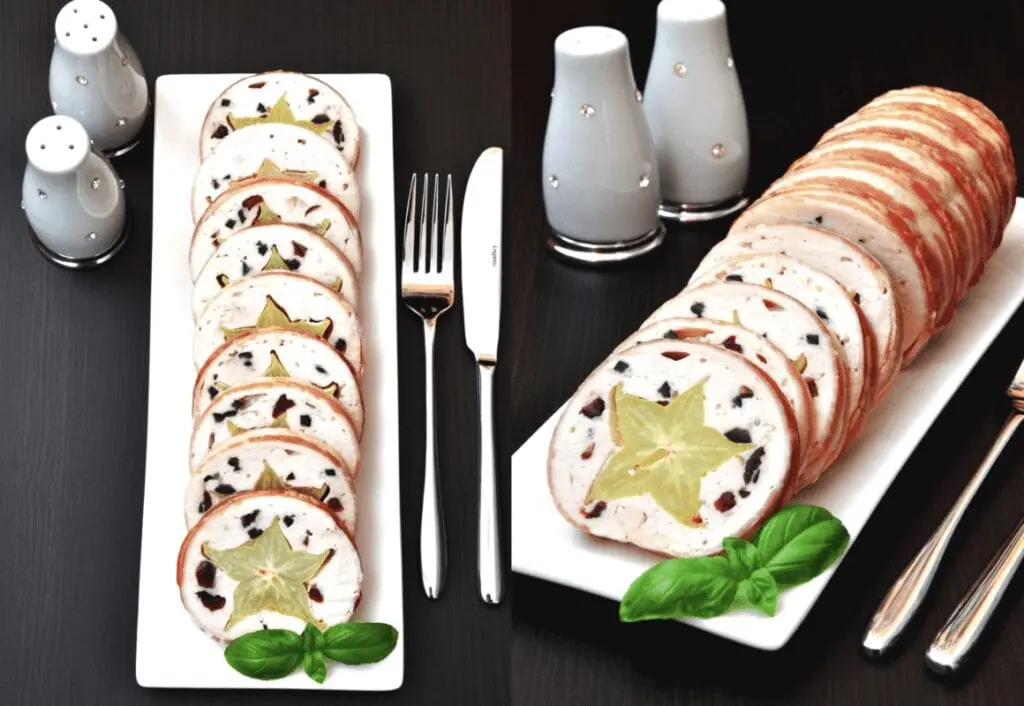 Ingredients
chicken fillet – 2 pcs.
cream 20% – 2 tablespoons
bacon cut into strips – 200 gr.
carambola – 2 pcs.
pitted olives – 10 pcs.
dried cranberries – a handful
brandy – 20 gr.
thyme – a twig
sea ​​salt
ground black pepper
Preparation
Spread the bacon over the foil with a slight overlap.
Peel the outer smooth part of the fillet from films, cut thinly, beat well with a hammer for chops.
Spread the beaten fillet on top of the bacon in a thick layer.
Grind the inside of the fillet into minced meat with a blender.
Add cream, finely chopped olives.
On my own behalf, I added dried cranberries soaked in brandy, it gave flavor and color to the dish.
Mix well.
Season with salt and pepper.
Put the minced meat layer on the fillet layer.
Put two carambolas in the middle.
Using the foil, roll the roll up slightly pressing it so that the minced meat is evenly located on the fruit.
Wrap the foil with a candy roll.
Bake in a preheated oven at 180 * 25 minutes, then carefully cut the foil, increase the temperature to 200 * and let the bacon brown for another 10 minutes.
After cooking, the roll should be transferred to a dish and cooled completely.
Chop cold.
Delicious and beautiful holidays for you!
2020-09-24