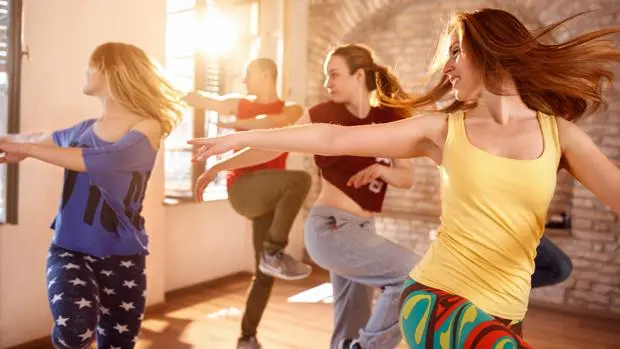 If you want to play sports and you love music and dancing, Zumba is a perfect option. It is a conditioning program created in the mid-90s by Colombian dancer and choreographer Alberto Pérez, known as 'Beto' Pérez. Its name is inspired by the vibration that dance causes in the body when practicing this discipline, hence its creator called it Zumba, creating a trademark that became very popular throughout the world during the first decade of the 2000. In all gyms you could find Zumba although it will not always carry that name.
This discipline, although it does not live its days of maximum splendor, it is still very popular thanks to its versatility and to the good energy that the music gives in the group sessions that are usually Latin American rhythms such as salsa, merengue, cumbia, bachata and, increasingly, reggaeton. The goal is to do a fun and dynamic aerobic class that improves general physical condition as well as flexibility, endurance and coordination.
It is organized in one-hour sessions divided into three parts. A first of about ten minutes of warm-up in which variations of the extremities, chest and back are done with toning exercises. The second and main part takes about 45 minutes with a series of combined steps from different musical genres inspired by Latin dances. Toning movements in a relaxed environment with repetitions in the choruses so that the 'choreography'to increase the intensity. The last five minutes, which usually coincide with the last or the last two musical themes, are used to calm down and static stretching, reducing the heart rate through breathing techniques.
Benefits
Improves the general condition.
Releases endorphins providing a feeling of happiness and reducing stress.
Improves coordination and spatial awareness.
Increase stamina.
Tones the muscles.
It favors socialization.
Increase flexibility.
Contraindications
Risk of injury, especially sprains.
It needs commitment: the result depends on the individual intensity.
Classes can vary quite a bit depending on who is leading them.
Not suitable for those who do not like constant movement or being around people
It is recommended to consult a doctor in cases of obesity before starting this activity.