Today, I offer you a rather particular test: that of the Siméo Nutrijus PJ555 juice extractor. Another extractor you will tell me! Yes, but not just any.
The PJ555 differs in a completely innovative design. So let's see together if its ramage relates to its plumage.
Siméo Nutrijus PJ555 preview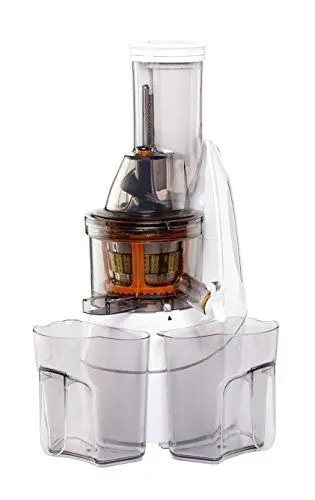 Siméo PJ555 Nutrijus II juice extractor
Juice extractor with press system: fruits and vegetables are …
High quality, robust and efficient magnetic induction motor,…
Slow rotation (60 rpm) which prevents food from overheating for…
Full fruit sorbet accessory, to prepare fruit sorbets …
Slow rotation (60 rpm) which prevents food from overheating for…
Presentation of the Siméo Nutrijus PJ555 juice extractor
SIMEO Nutrijus: respect for the fruit
As usual, let's first take a quick look at how it works. The PJ555 extractor, also called Nutrijus, has a slender silhouette of almost 40cm, almost entirely transparent.
If the latter gives it a particularly singular allure, it is nonetheless impractical for small kitchens. Its weight of 7 kg does not solve this problem of bulk.
But Siméo Nutrijus bases all its arguments on respecting the fruit, and not on aesthetics! This is why its entire pressure cycle responds to this watchword.
To do this, it is equipped with an electromagnetic induction motor, two rotation speeds, a worm press system and a wide chute. Its use is similar to that of any other extractor: simple and without major obstacles.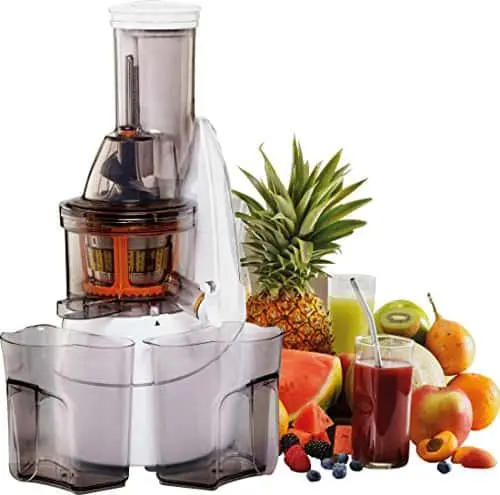 A jewel of technology
An innovative engine
All the specificity of the Siméo Nutrijus PJ555 is based on its extremely sophisticated engine. To date, I have only found few extractors offering such a promising motor system that respects pressed foods.
The electromagnetic induction motor brings many advantages when you compare it to conventional motors:
It does not overheat: fruits and vegetables being temperature sensitive, you do not deteriorate their intake of vitamins and trace elements;
It makes a lot less noise;
The efficiency of the motor is increased tenfold: you consume less energy for the same result.
This type of engine has existed for many years but was previously too expensive to equip small household appliances.
The electromagnetic induction motor is becoming more and more popular, especially on our washing machines and other large household appliance foods.
To read: how to choose the right vertical juice machine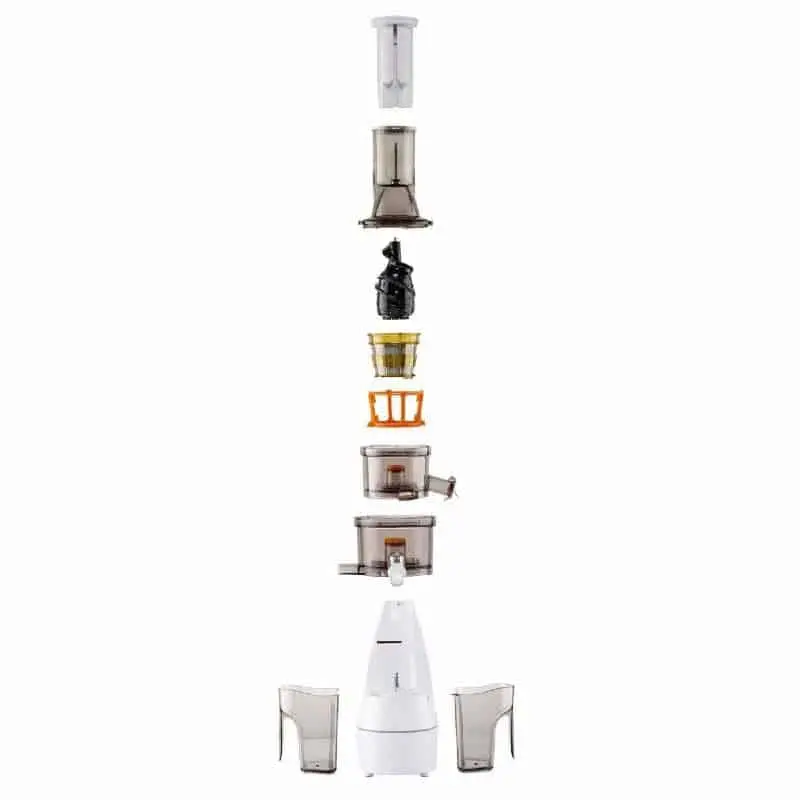 A slowly rotating worm
To the induction motor is added an accessory that is just as respectful of fruits and vegetables: a slowly rotating worm screw. Rotating at a rate of 60 revolutions per minute, it crushes fruits and vegetables slowly to extract a maximum of juice and nutrients.
To read: Juice extractor reviews!
Wide chute and closing flap
The wide chute allows you to bring in your most beautiful fruits without prior cutting. But this principle is now suitable for all extractors and therefore no longer really represents added value over the competition.
The same goes for the closing valve which allows a glass service without splashing. This type of accessory now equips a good number of competing extractors.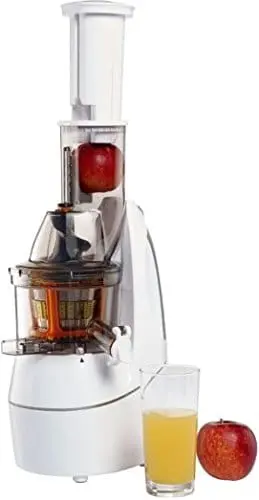 Sorbets and little extras
With summer coming back, here is an argument that will not fail to delight us: Simeo Nutrijus comes with an accessory (sieve) allowing the creation of 100% homemade and 100% natural sorbets.
Your citrus fruits have better watch out if they don't want to end up chilled! The package also includes a book of 23 juice recipes to give you lots of ideas and diversify your drinks.
Advantages and disadvantages
Advantages
An innovative motor system that respects the foods;
A silent extractor;
The possibility of making sorbets;
Translucent and white materials.
The inconvenients
Bulky dimensions: 39,1 x 35 x 31,5 cm;
Excessive weight of 7 kg;
Siméo, a brand that must always prove itself.
User reviews
The feedback from other users is generally good. However, there are very few reviews available. Some also seem absurd to me: how can we advocate a reduced size on an article of 7 kg and 40 cm?
After much research, we have to face the facts: the Siméo brand is too little known to be able to attract crowds. Thus, although the ratings are generally very good, the rating is not representative enough.
Also retains its low price, a real plus
Competitor foods
The market for small household appliances equipped with induction motors is tending to gain momentum. This is why Siméo Nutrijus is no longer the only product in this segment and has to deal with some serious rivals.
L'Optimum 600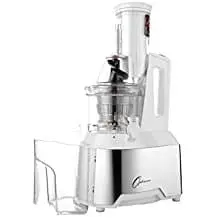 At a much higher price, the Optimum 600 is incredibly durable. Its highly advanced induction motor allows it to squeeze fruits and vegetables continuously for 30 to 45 minutes, depending on the hardness of the food.
A true marathon runner, he is also number one in sales in Australia, a country where the consumption of freshly squeezed fruit juices at home is particularly high. For the rest of its technical characteristics, it remains similar to our Siméo Nutrijus which makes it a real rival.
Son prix: [amazon_link asins='B00O81TBG6′ template='PriceLink' store='bonheursante-21′ marketplace='FR' link_id='93c850b4-328f-11e7-9838-495af6f20a4c']
The Kitchen Chef AJE378LAR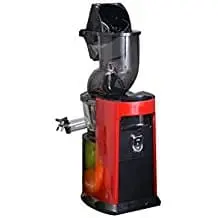 Here is one who knows how to be forgotten! Its induction motor does not emit more than 30 dba when working. Squeezing fruit early in the morning is no longer an auditory ordeal!
However, like Nutrijus, the Kitchen Chef sins by ignoring his brand. Worth around € 200, it is in the same range as our test of the day.
Son prix: [amazon_link asins='B01M2V2FAK' template='PriceLink' store='bonheursante-21′ marketplace='FR' link_id='bdd94d88-328a-11e7-9f25-d7497a0ab8ce']
My conclusion
I end the Siméo Nutrijus PJ555E test by dwelling on its price for a few moments. Plan a budget of around 200 € for this little gem of technology.
In my opinion, it remains a very good juice extractor and has the merit of retaining most of the nutritional value of fruits and vegetables. However, I admit that I do not know the brand well enough to throw myself into such a large expense without having a minimum of perspective.
The reliability of the parts remains to be tested in the long term, despite a guarantee of 10 years for the engine. Moreover, the latter is ultimately the only real strength of the extractor.
Many juicers, which therefore do not offer slow extraction, remain very good foods, while boasting a price of around 100 €.
Coming from the production centers of Philips, Braun or Kitchen Aid, they also offer a real guarantee of robustness, do a very good job and are therefore in my opinion a more judicious choice for the moment.
The fact remains that induction motors are the future of small household appliances and that this type of product will gradually take up space on your worktops! We will then test them together on Bonheur et Santé! 🙂
[amazon_link asins='B019KFHPUS,B01GS4F3FI,B00BS5D6FC,B014NWO0W4,B01F3RORG2,B01M2V2FAK' template='ProductCarousel' store='bonheursante-21′ marketplace='FR' link_id='590441a1-3290-11e7-90e1-7912f2487f78′]
2021-10-27