Golden dung beetle (Coprinellus xanthothrix)
Systematics:
Division: Basidiomycota (Basidiomycetes)
Subdivision: Agaricomycotina (Agaricomycetes)
Class: Agaricomycetes (Agaricomycetes)
Subclass: Agaricomycetidae (Agaricomycetes)
Order: Agaricales (Agaric or Lamellar)
Family: Psathyrellaceae (Psatyrellaceae)
Genus: Coprinellus
Type: Coprinellus xanthothrix (Golden dung beetle)
Coprinus xanthothrix Romagn
Coprinellus xanthotrix (spelling)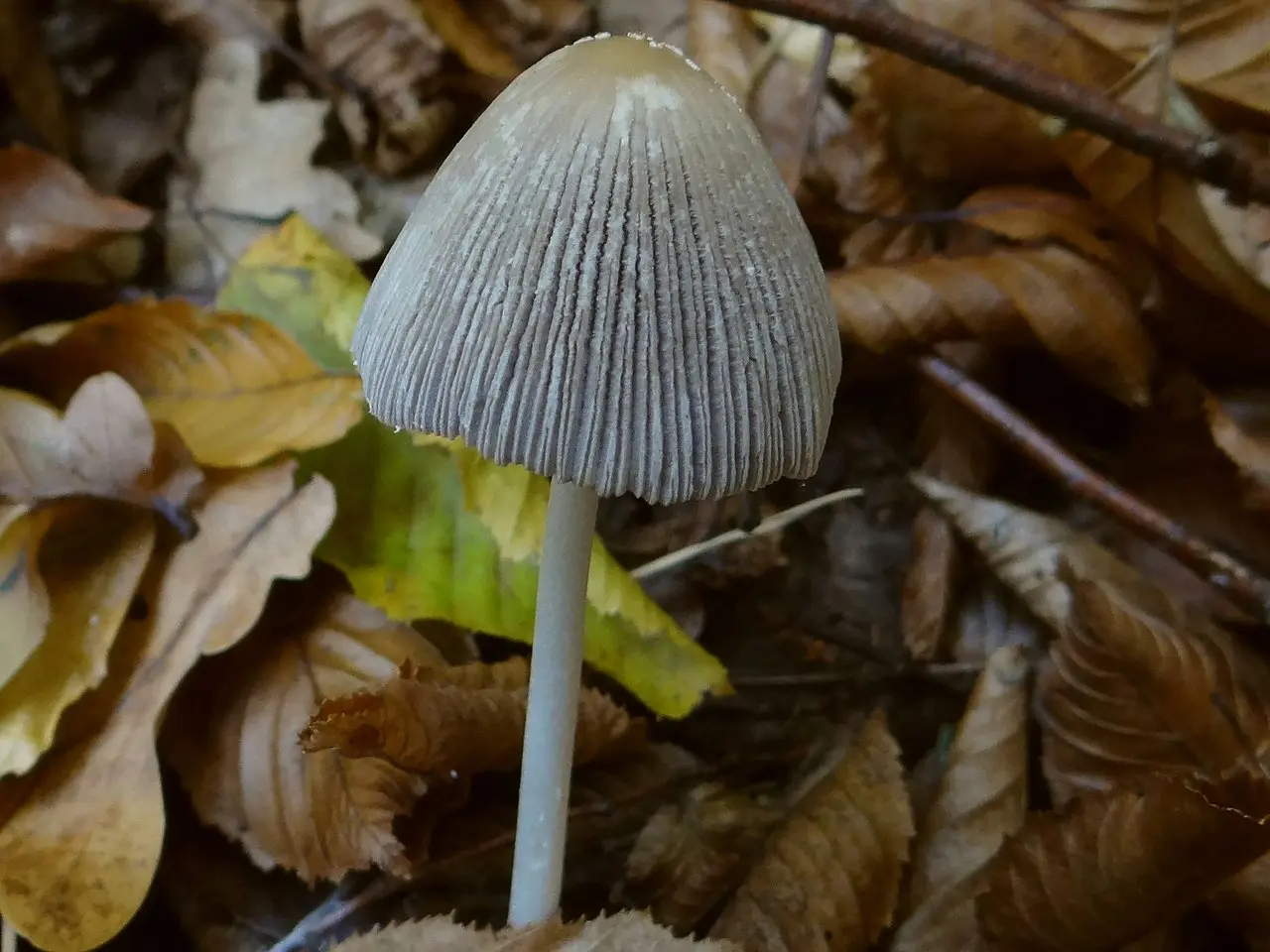 Current name: Coprinellus xanthothrix (Romagn.) Vilgalys, Hopple & Jacq. Johnson, Taxon 50 (1): 235 (2001)
The species was first described in 1941 by Henri Charles Louis Romagnesi under the name Coprinus xanthothrix. As a result of phylogenetic studies conducted at the turn of the 2001th and XNUMXst centuries, mycologists established the polyphyletic nature of the genus Coprinus and divided it into several types. The current name, recognized by Index Fungorum, was given in XNUMX.
head: In young fruit bodies up to 40 x 35 mm, ovoid, elliptical or almost spherical. In the process of maturation, the cap opens and acquires a conical shape and, finally, a convex one with a diameter of up to 70 mm. The surface of the cap is light brown or pale rusty in the center, lighter and shiny towards the edges. Covered with small fluffy remnants of a common bedspread, in the center – brownish, brown, and closer to the edges – cream or ocher.
Layered: free, 3–8 (up to 10) mm wide, the number of complete (reaching to the stem) plates is from 55 to 60, with plates (l = 3–5). At first they are whitish, creamy white, then darken with spores and become gray-brown, finally black.
Leg: 4-10 cm high, 0,4-1 cm in diameter, cylindrical with a club-shaped thickened base, fibrous, hollow. The surface of the stem is white, at the very base with rusty spots.
Ozonium: there is. What is "Ozonium" and how it looks – in the article Homemade dung beetle.
Pulp: thin, fragile, whitish, without much taste and smell.
Spore powder imprint: dark brown, black.
Microscopic Features
Споры 6,7–9,9 x 4,4–6,3 x 4,9–5,1 µm, ovate or ellipsoidal, seen from the side, only some of them are bean-shaped. They are reddish brown and have a rounded base and tip.
Eccentric pores of germ cells 1,3 µm wide.
Bazidi 14–34 x 7–9 µm, 4 spores, surrounded by 3–6 pseudoparaphyses. Pleurocystidia 50-125 x 30-65 µm, nearly spherical, ellipsoidal or nearly cylindrical.
Saprotroph. It grows singly or in small groups on dead, fallen branches of deciduous trees, less often on trunks.
In Europe, Coprinellus xanthothrix is ​​widely distributed and probably quite common, but due to difficulties in identification, it may be mistaken by amateur mushroom pickers for some other, more well-known species of dung beetles.
It bears fruit from spring, even from early spring and up to cold weather.
There is no reliable data, although, most likely, the mushroom is edible at a young age, like all similar dung beetles.
However, at a young age, until the cap begins to unfold, golden dung beetle is very similar to radiant dung beetle – Coprinellus radians, which, according to the article "Rare Fungal Keratitis Caused by Coprinellus Radians" can cause fungal keratitis.
We will carefully place the golden dung beetle in the "Inedible Species" and advise respected mushroom pickers to remember to wash their hands after contact with mushrooms, especially if they suddenly want to scratch their eyes.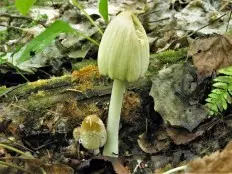 Dung beetle (Coprinellus domesticus)
It differs by somewhat large fruiting bodies and white lamellar scales on the surface of the cap. These dung beetles can only be reliably distinguished by microscopic examination.
For a list of small dung beetles with ozonium, see the article Dung beetle.
2022-09-21