Seafood, in addition to being extremely delicious, is an inexhaustible source of health and vitality. It is also a win-win ingredient for a wide variety of dishes. Today we make a delicious family menu together with the brand"Maguro".
At the peak of taste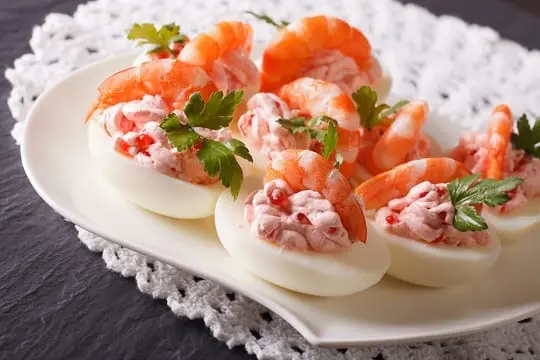 Wild tiger prawns "Maguro" are indispensable for delicious snacks. Pre-boil and peel 12 large shrimps. Cut 6 boiled eggs in half and remove the yolks. Combine them with 4 tbsp. l. cream, 2 tbsp. l. mayonnaise and 1 tsp. Dijon mustard, as a dressing, cottage cheese is also suitable. Season the filling with 2 tbsp lemon juice, a pinch of chili and salt. Fill it with egg halves, decorate with whole shrimps and sprigs of dill. This snack is especially good for family holidays.
Shrimps in ambush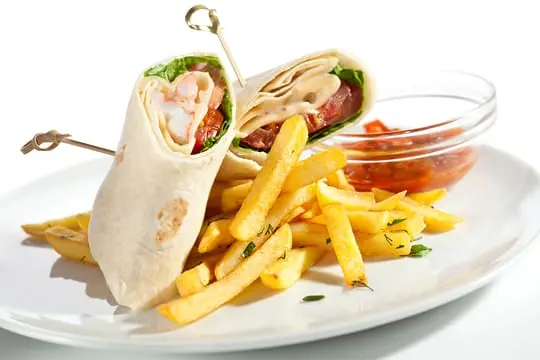 Thin pita bread rolls are a favorite treat for the whole family. With the wild Argentine prawns "Maguro", they will become even better. Mix 200 g of shredded red cabbage, red onion rings, tomato cubes, pour all 2 tbsp. l. yogurt. Fry in olive oil 500 g of peeled shrimp with a pinch of chili. Combine them with vegetables on pita bread, roll up the roll and cut into portions. A light and moderately satisfying snack is ready!
With an open heart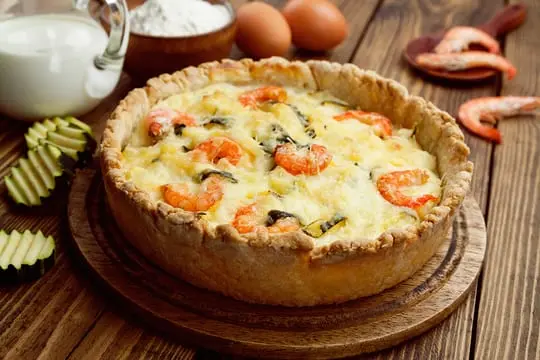 French quiche with shrimp can be baked for dinner. We roll out a layer of ready-made puff pastry and cover it with a round shape with sides. We arrange 12-16 boiled peeled shrimp vannamey "Maguro"in a spiral. Sprinkle them generously with pieces of ricotta and broccoli inflorescences. Fill everything with a mixture of 3 beaten eggs, 250 ml of cream, 150 g of grated cheese and bake for 45 minutes at 180 °C. An open pie with a delicate filling will be loved by all the household.
Light breeze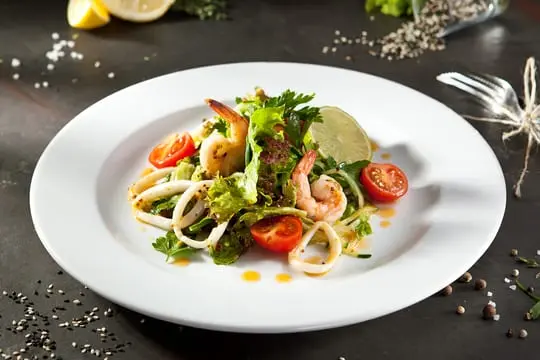 A refreshing salad with squid is exactly what you need in the hot summer. Boil 400 g of Maguro squid fillet in salt water and cut into thin strips. In the same way, we cut 2 peeled cucumbers, 300 g of Peking cabbage, one yellow and one red tomato. Combine the vegetables with the squid, sprinkle with olive oil and lemon juice. Garnish the salad with chopped dill and red currant. This dish will be approved even by adherents of strict diets, and you can also add shrimp to the salad.
Prehensile tentacles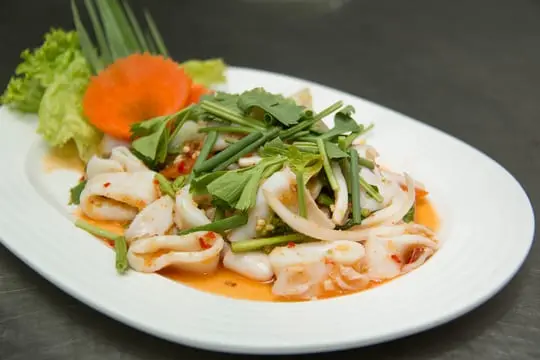 Squid tentacles with vegetables are easy to prepare, delicious and healthy. In boiling water with 2 peas of pepper and a bay leaf, we lower 1 kg of Maguro tentacles for literally 30 seconds. We clean them from the films and cut them into small pieces. Fry the chopped onion, 2 stalks of celery in slices and red sweet pepper strips. At the end, put the tentacles and simmer for no longer than 3 minutes. This dish can be eaten simply or in combination with brown rice.
Octopuses on the Throne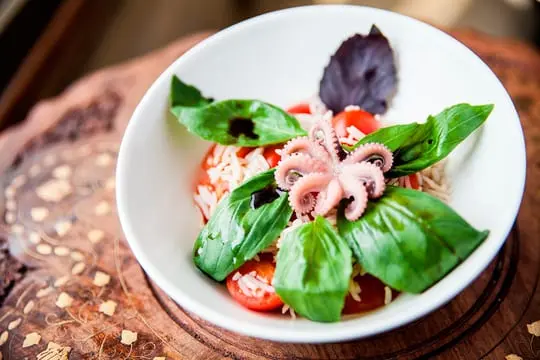 A warm salad with mini octopuses will be a discovery for gourmets. Pour 200 g of rice with boiling water, put a slice of butter and stand for 30 minutes under the lid. Bring to a boil 200 g of small octopuses, remove from heat and leave for 10 minutes. We arrange the rice in salad bowls, sit the octopuses on top, surrounded by slices of avocado and cherry tomatoes. Sprinkle the salad with lemon juice, sprinkle with sesame seeds and treat your family.
Sea Gold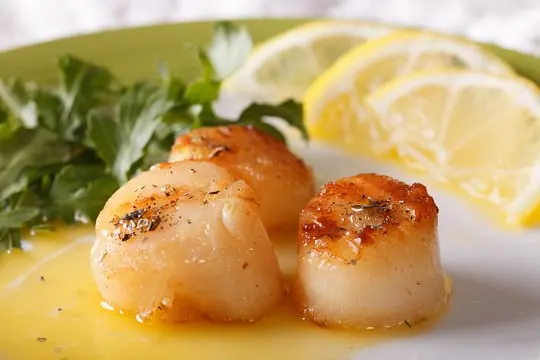 Why go to a restaurant when you can perfectly cook Maguro scallops at home? Brown 2 cloves of crushed garlic in olive oil. Spread 6-8 scallops and fry for a couple of minutes. Pour and evaporate 30 ml of white wine. Add 100 ml of cream, 50 g of grated parmesan, 5-6 chopped sprigs of parsley. Simmer the dish for 3 minutes and keep it under the lid for another 5 minutes. Serve the scallops directly in the cream sauce.
Seashells with a secret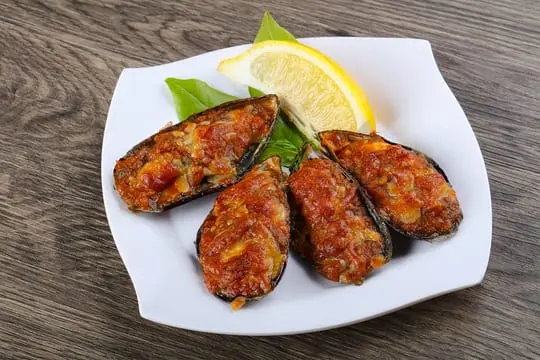 Treat your loved ones to baked mussels in shells. Boil 1 kg of mussels "Maguro" until the flaps open. Grind 2 tbsp chopped parsley with 2 cloves of garlic, ¼ tsp salt, a pinch of ground cloves and pepper. Mix the spicy dressing with 2 chopped tomatoes, 80 g of bread crumbs and 1 tbsp of olive oil. Spread the filling on the halves of the mussels, bake for 10 minutes at 180 °C, and you can enjoy a wonderful delicacy.
The ocean inside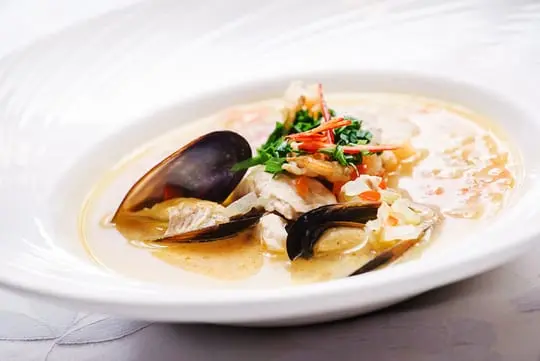 Maguro mussel meat is perfect for a delicious soup. Bring to a boil 500 g of mussels, remove from heat and filter. Passeruem chopped onion in butter until transparent, add 1 tbsp. l. flour and fry for 5 minutes. Pour in 250 ml of warm cream, mussel broth and hot water. Put 2 boiled potatoes in cubes with mussels and cook the soup for another 5 minutes. Garlic crackers and parsley petals will complement it organically, and you can also add other seafood!
Persistent shellfish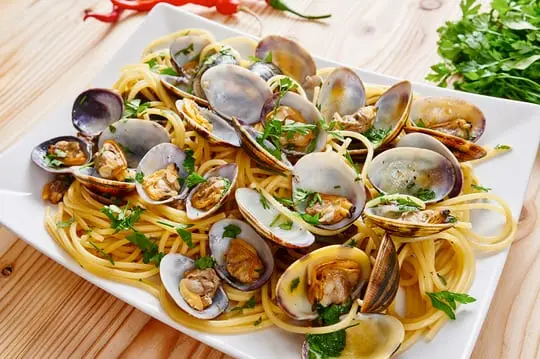 The vongole shells from Maguro blend well with the pasta. Fry the garlic clove halves in olive oil. Put 500 g of tightly closed vongole, stand for about a minute, remove the garlic. Pour 100 ml of boiling water and simmer the vongole until the flaps open. Pour out 2 chopped tomatoes without skin, a handful of chopped parsley and simmer for a couple of minutes. At the end, add 300 g of al dente spaghetti. Enthusiastic praise for this dish is guaranteed.
Coming up with a family menu with seafood from the company "Maguro" is a real pleasure. After all, it never ceases to amaze with a generous assortment of sea gifts for every taste, thanks to which we can delight our relatives with delicious culinary creations.