Champagne, wine and stronger drinks — something without which it is impossible to imagine a New Year's feast. Do you want to fill it with a real firework of colors and a rainbow of flavors? Prepare an original bar menu. This will help you with a festive selection of cocktail recipes from "Eat at Home".
Mimosa in the snow
"Mimosa" – a classic New Year's alcoholic cocktail, time-tested. Pour 50 ml of orange juice into a glass and top up with champagne. Be sure to cool both drinks in advance. If there are fans of hot cocktails among the guests, add a little citrus liqueur. Serve the "Mimosa", garnishing the glasses with slices of orange.
Strawberry charm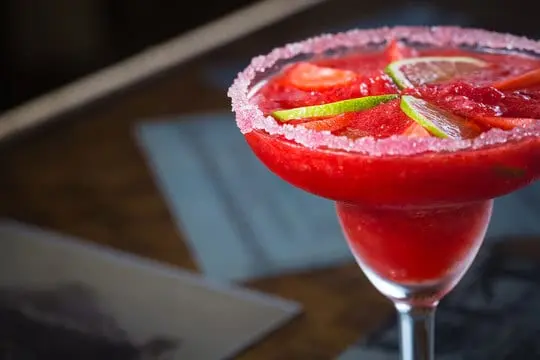 Strawberry daiquiri is a great mix for the New Year. How to make a cocktail at home? Combine 5-6 thawed strawberries, 30 ml of lime juice and 20 ml of strawberry syrup in a blender bowl. Whisk the ingredients into a homogeneous mass, add 60 ml of light rum, crushed ice and mix everything. Pour the drink into a martini glass, decorate with whole strawberries and a mint leaf. This elegant cocktail will captivate guests with a refined taste.
Garnet explosion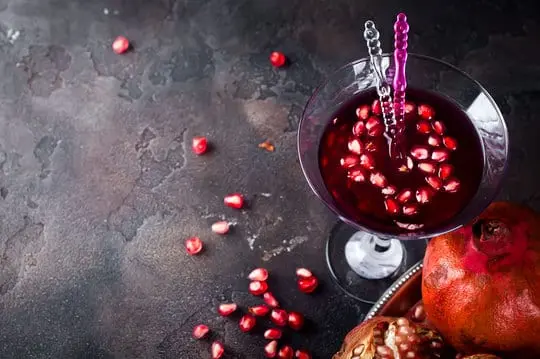 The fastest way to make cocktails is with a shaker. If it is not found, take a plastic bottle with a wide neck. It will serve as a "tool" for creating a garnet fizz. Pour 200 ml of carbonated lemonade, 60 ml of pomegranate juice and vodka into a shaker, shake well. Fill the glasses with a cocktail, decorate with pomegranate seeds. This drink in fiery colors will perfectly fit into the bar menu.
Sunny Punch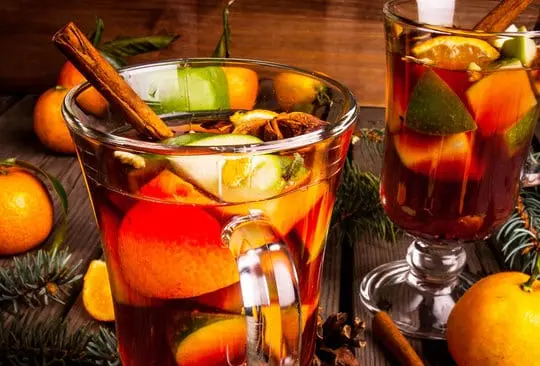 How to surprise your guests on New Year's Eve? Of course, tangerine punch, for which we will need a liqueur "Benedictine" with soft spicy notes. Dissolve 500 g of honey in 300 ml of hot water. Just do not bring the mixture to a boil. Add 500 g of punctured mandarin slices, juice of 2 lemons and 750 ml of liqueur. The third lemon is cut into circles and together with 5 sprigs of thyme add to the punch. We let it stand for a couple of hours in the cold and serve it in a large transparent bowl or immediately pour it into glasses.
Orange Velvet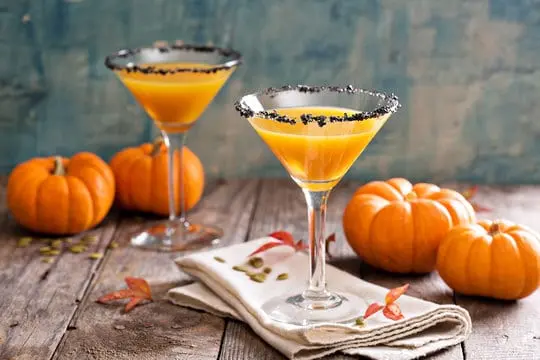 Surely there are guests who prefer non-alcoholic Christmas cocktails. Especially for them, there is an interesting variation. Simmer in water 600 g of pumpkin pulp, drain the water and puree with a blender. Pour in the juice of grapefruit, orange and lemon. Put 0.5 tsp ground cinnamon, liquid honey to taste and mix. We pour the cocktail into tall glasses. This wonderful mix will enchant guests with orange comfort.
Fruit fun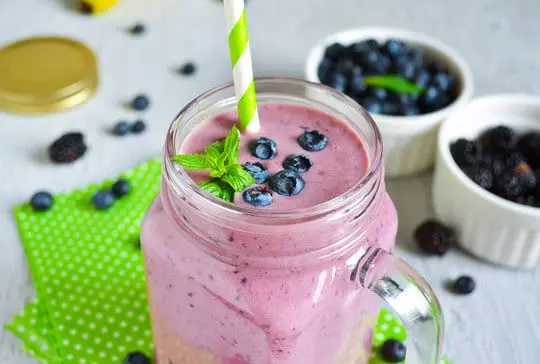 And here is another fantasy on the theme of soft drinks for the New Year, which will especially appeal to children. Cut the banana and 2 kiwis into cubes, combine with 200 g of thawed blueberries and whisk with a blender into a homogeneous mass. Pour in 250 ml of coconut milk and maple syrup to taste. Fill the containers with a cocktail, decorate with blueberries, mint leaves and a colored tube.
Tea nostalgia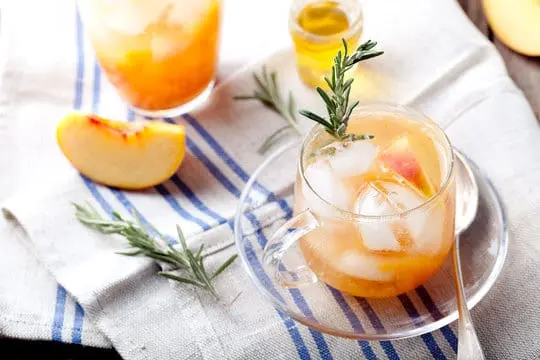 For those who do not mind "combining" tea with strong alcohol, offer a special cocktail for adults. Beat the peach pulp into a juicy puree. Pour 100 ml of cold strong black tea, 50 ml of vodka, 20 ml of lemon juice and fruit puree into the shaker. Shake the mixture, pass it through a sieve, pour it into a glass, add ice and decorate with a slice of peach. For a more original serving, you can pour the cocktail into a faceted glass with a metal cup holder.
Fairy tale in chocolate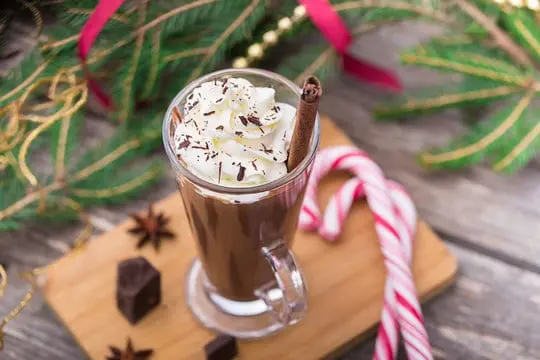 Do not forget about chocolate alcoholic drinks for the New Year. Combine in a saucepan 2 tbsp. l. cocoa powder and sugar, ¼ tsp. cinnamon and nutmeg on the tip of a knife. Add 500 ml of melted milk and, stirring frequently, cook the mixture for 3 minutes. At the end, we introduce 50 ml of coffee liqueur. Pour hot chocolate into mugs, decorate with whipped cream. This cocktail will cheer you up and give you strength for fun.
Sky-high distances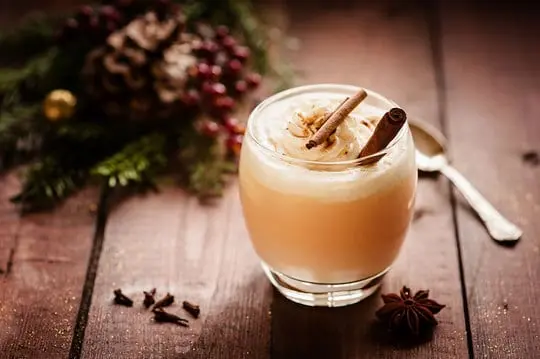 The festive eggnog will be a special treat. Mix 500 ml of cream, 150 g of sugar, 5 clove buds, 1 tsp of cinnamon and a pinch of vanilla, almost bring to a boil. Enter 12 egg yolks, ground with 100 g of sugar, simmer until the state of custard. In any case, do not let the mass boil. Remove the cloves, cool the cocktail, add 450 ml of rum and a pinch of nutmeg. Serve eggnog, garnished with whipped cream and a cinnamon stick.
Creamy tenderness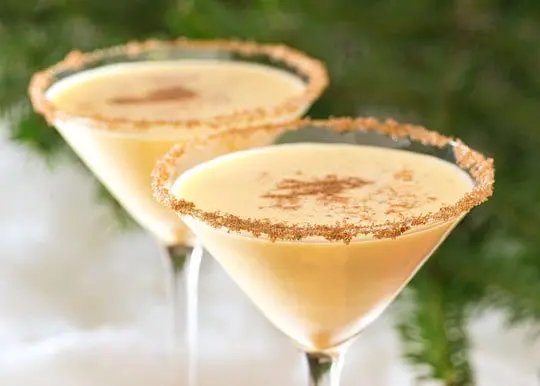 Silky creamy variations will appeal to sophisticated natures. Pour a handful of crushed ice into the shaker. Pour in 200 ml of almond milk, 100 ml of cream liqueur, 50 ml of nut liqueur and put a pinch of vanilla. For strength, you can add 50-70 ml of vodka. Shake the cocktail properly and fill the martini glasses. Decorate their edges with brown sugar and cinnamon, and guests will definitely not be able to resist.
The rich bar menu will make New Year's Eve fun and unforgettable, especially if you have a friendly company at home. Find even more ideas for holiday drinks in the recipes section "Eating at Home". And don't forget to tell us about your favorite cocktails in the comments.