How to cook Chinese noodles
Chinese cuisine has long ceased to be exotic. And although some dishes from the Middle Kingdom are dishes for an amateur, Chinese noodles are loved by gourmets all over the world. Today we will talk about traditional Chinese recipes and how to cook noodles.
Tricks with the test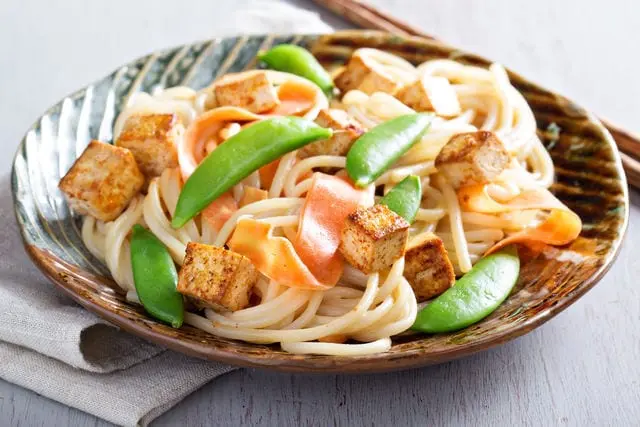 By the way, the Chinese themselves can not live a day without noodles. And since they love rice no less, they make noodles out of it. Sometimes the flour is made from soy and green beans. Chinese noodles with your own hands is a laborious process that requires manual dexterity in every sense. To begin with, knead a steep dough of 250 g of flour and 100 ml of water, cool it well and roll it into a thin bundle. Then it is stretched to the sides, tossing up and down. When the tourniquet reaches its maximum length, it is folded in half, but so that it does not tangle, and continue to stretch. Such manipulations are repeated until the thinnest threads are obtained.
Vegetable mosaic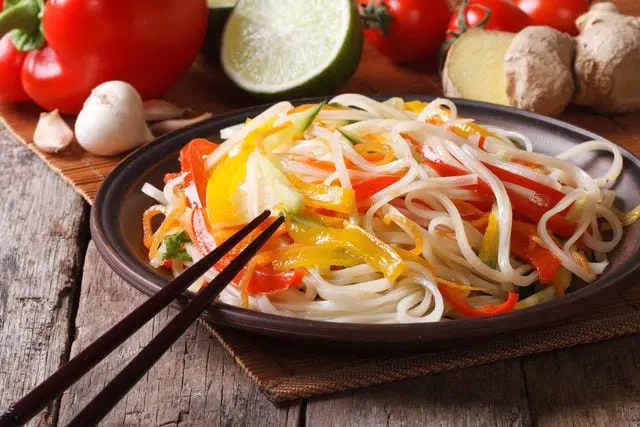 Since not everyone is able to master the preparation of Chinese noodles at home, you can limit yourself to rice noodles from the store. The easiest and fastest way to cook it with vegetables. Fry the chopped onion, 4 cloves of garlic and 1 tbsp.l. ginger root in vegetable oil. We spread them with sliced zucchini, carrots and sweet peppers. Constantly stirring, simmer the vegetables for 7 minutes. Meanwhile, pour boiling water over 200 g of noodles and steam for 5 minutes. Then we throw it into a colander, combine it with vegetables and simmer for another 3 minutes. Cover the dish with a lid and let it brew for 10 minutes. This dish will successfully diversify your summer menu.
Chicken with fire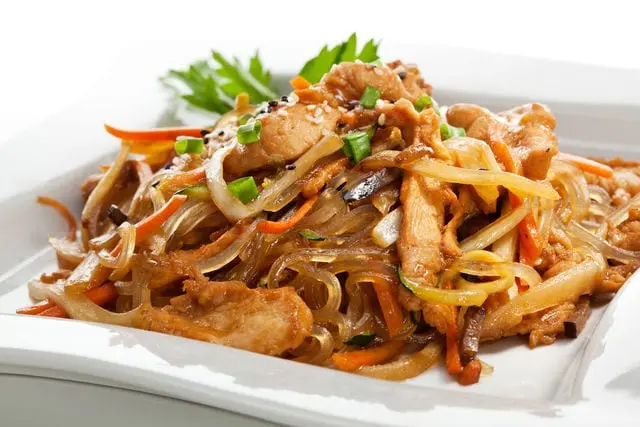 A more satisfying variation is a recipe for Chinese noodles with chicken and vegetables. Cut 2 chicken breasts into cubes and marinate them for 20 minutes in a mixture of 3 tbsp soy sauce and 3 crushed garlic cloves. Soak 200 g of rice noodles in boiling salted water for 5 minutes, throw them in a colander and rinse them under cold water. In a hot frying pan with oil, fry the chicken. As soon as it turns white, pour out the chili pepper cut into thin rings and 1 small onion, cut into half rings. After a couple of minutes, add the noodles and fry for 5 minutes. At the end, pour in 1 tablespoon of apple cider vinegar and 2 tablespoons of soy sauce. We simmer the noodles for another minute and call the household to the table. The chicken in such an unusual performance will surely appeal to them.
Meat delight
If rice noodles were not found, it is quite successfully replaced by egg or wheat. How to cook Chinese noodles at home in this case? Mix 4 tbsp light soy sauce, ½ tsp salt, 1 tsp cornstarch and 1 tbsp water. Cut 450 g of pork neck into thin slices, fill them with marinade and put them in the refrigerator for 30 minutes. Fry the pork in a deep frying pan in a large amount of oil until golden brown. We transfer it to a paper towel to drain all the fat. In a clean frying pan, pour ½ cup of water, 4 tablespoons of dark soy sauce and 3 tablespoons of hoisin sauce. We spread the pieces of pork here, bring the mixture to a boil and immediately remove it from the stove. Boil 400 g of noodles, put it on plates and add pork.
Sea holidays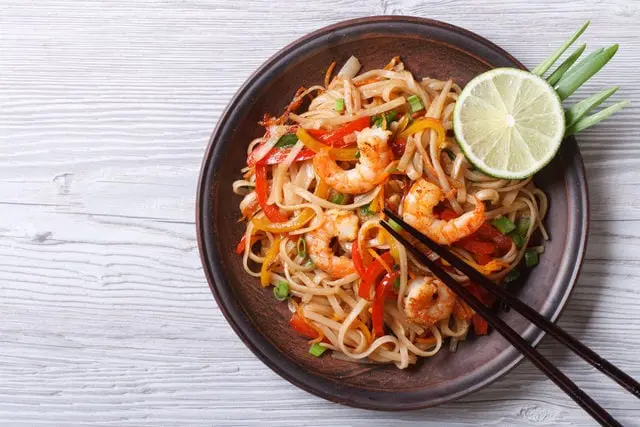 Fish gourmets will enjoy the recipe of Chinese noodles with seafood. For a richer taste, you can take assorted dishes, but you can limit yourself to shrimp-150 g. Pour them with a mixture of 2 tbsp soy sauce and 2 tbsp lemon juice and marinate for 20 minutes. Soak 200 g of rice noodles in boiling water and, as soon as it swells, throw them into a colander. Fry the onion head in vegetable oil until transparent, add one carrot and bell pepper, cut into strips. When the vegetables are softened, spread the shrimp and noodles to them and, stirring constantly, simmer for no longer than 2 minutes. This dish will decorate your table on weekdays and holidays.
Mushroom basket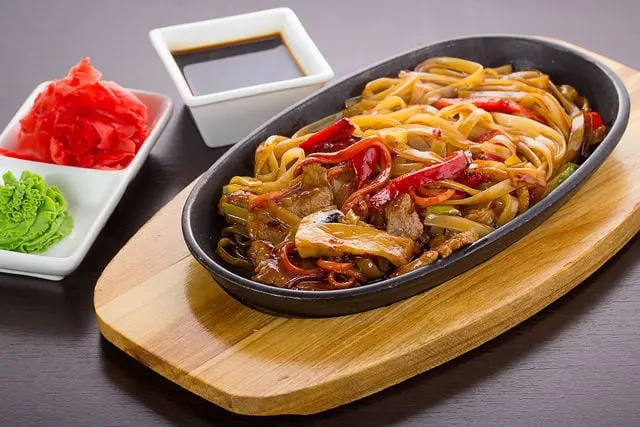 Chinese noodles are organically combined with many products, and mushrooms are no exception. We start, as usual, with the fact that we fry the chopped onion head in vegetable oil. Add 150 g of Peking cabbage, carrots and sweet peppers, cut into thin long strips. Last of all, put 200 g of coarsely chopped mushrooms. Boil 300 g of wheat noodles in salted water and transfer it to the vegetables. Mix 5 tablespoons of soy sauce, 70 ml of dry white wine, 1 tablespoon of corn starch, 1 tablespoon of honey in a bowl and whisk vigorously so that there are no lumps. Pour the dressing over the vegetables and mushrooms and simmer for a couple of minutes over medium heat. Before serving, sprinkle the dish with sesame oil.
Chinese noodles at home — a universal dish for the whole family. The main thing is to choose the ingredients that everyone will like. Successful culinary experiments and bon appetit!
2021-05-23