Cauliflower is an affordable, delicious, and extremely healthy vegetable. And if raw cauliflower is not to everyone's taste, then few can refuse cauliflower soup or baked cauliflower with cheddar. As well as from cauliflower cutlets. Delicious!
Why is cauliflower useful?
Cauliflower contains very few calories (only 30 calories per 100 g of product), while its content of nutrients is superior to all other types of cabbage.
Cauliflower contains vitamin C, vitamin A, B vitamins and vitamin PP. Of the microelements, cauliflower contains calcium useful for bones, magnesium, phosphorus, iron, sodium, potassium and others necessary for a good mood. In addition, cauliflower contains fiber, protein, and healthy carbohydrates.
Cauliflower: beneficial properties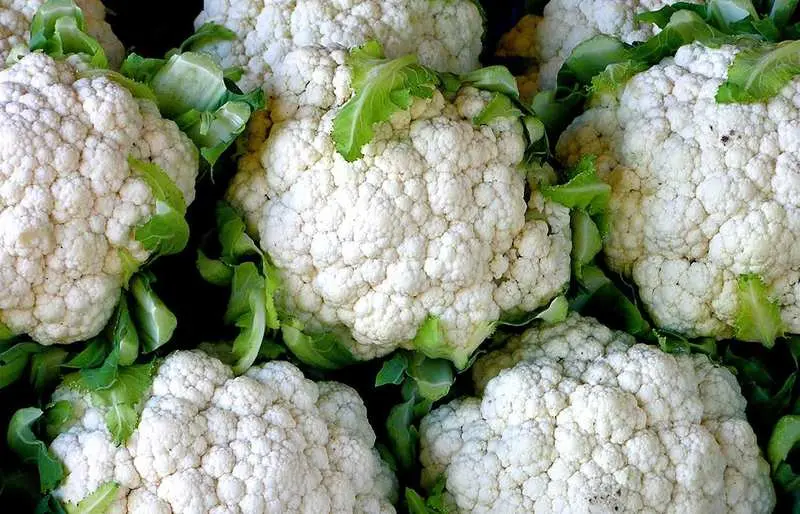 This vegetable is an excellent source of a number of nutrients, minerals and vitamins. So, for example, it contains 1.5-2 times more proteins and 2-3 times more vitamin C than white cabbage. In addition, cauliflower contains vitamins B6, B1, A, PP, and the inflorescences contain magnesium, sodium, potassium, phosphorus, calcium and iron necessary for the body. Curiously, cauliflower, for example, contains twice as much iron as green peas, lettuce, or peppers.
Nutritionists also note that this vegetable also contains a large amount of tartronic acid, as well as citric and malic acid and pectin. In addition, 100 grams of cauliflower contains only 30 kcal, and tartan acid does not allow the formation of fatty deposits – therefore, nutritionists advise including it in their diet for people who are trying to lose weight.
The benefits of cauliflower
strengthens the walls of blood vessels
removes cholesterol from the body
improves digestion
reduces the risk of developing birth defects
has anti-inflammatory properties
essential to improve heart function
serves for the prevention of cancer
The harm of cauliflower
Despite all the beneficial properties of cauliflower, there are a number of contraindications. So, for example, doctors do not recommend the use of cauliflower for people with high acidity of the stomach, as well as suffering from ulcers, intestinal spasms or acute enterocolitis. Also, people who have recently undergone surgery in the abdominal cavity or chest should refrain from using this vegetable.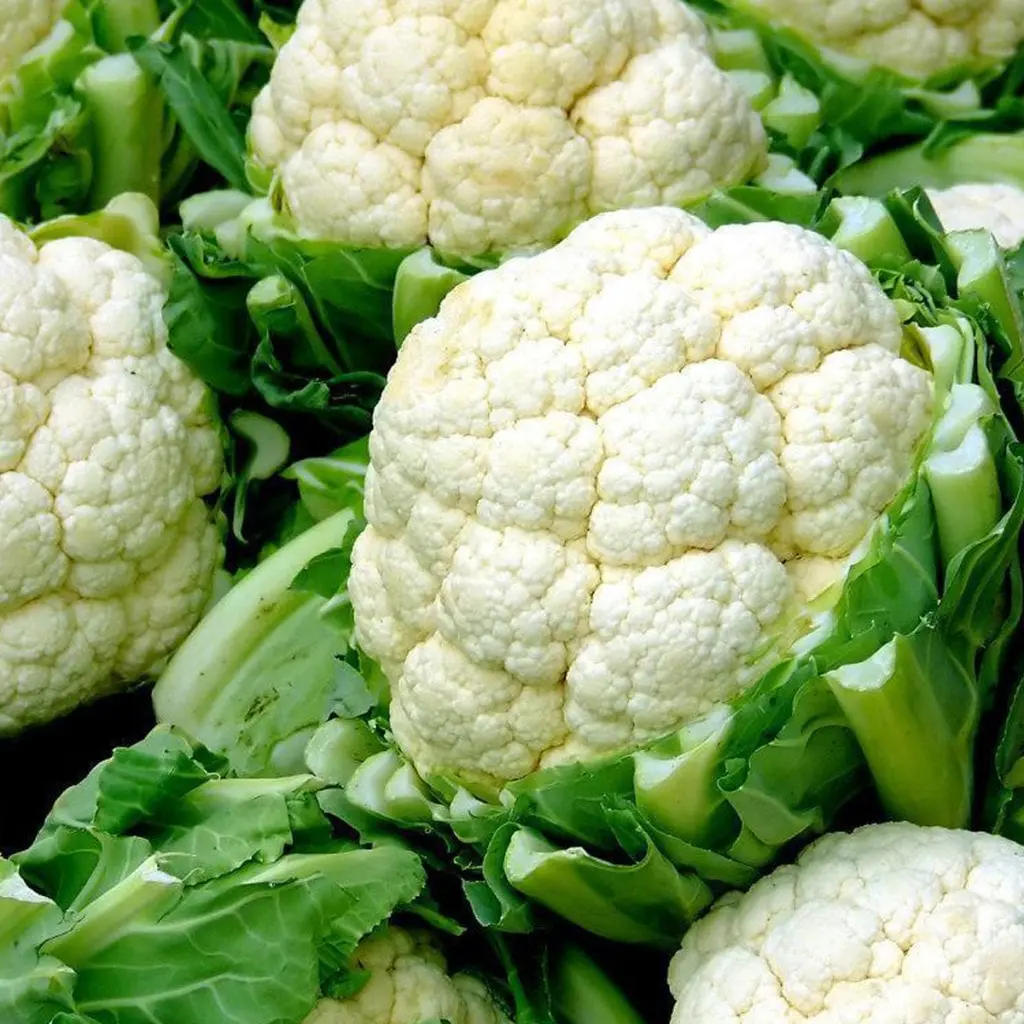 In addition, doctors advise with caution to introduce cauliflower into the diet for people with kidney disease, high blood pressure and gout, as well as those who are allergic to this vegetable.
By the way, doctors also recorded the fact of the negative impact of cauliflower on the thyroid gland. All vegetables that belong to the broccoli family can cause goiter.
How to cook cauliflower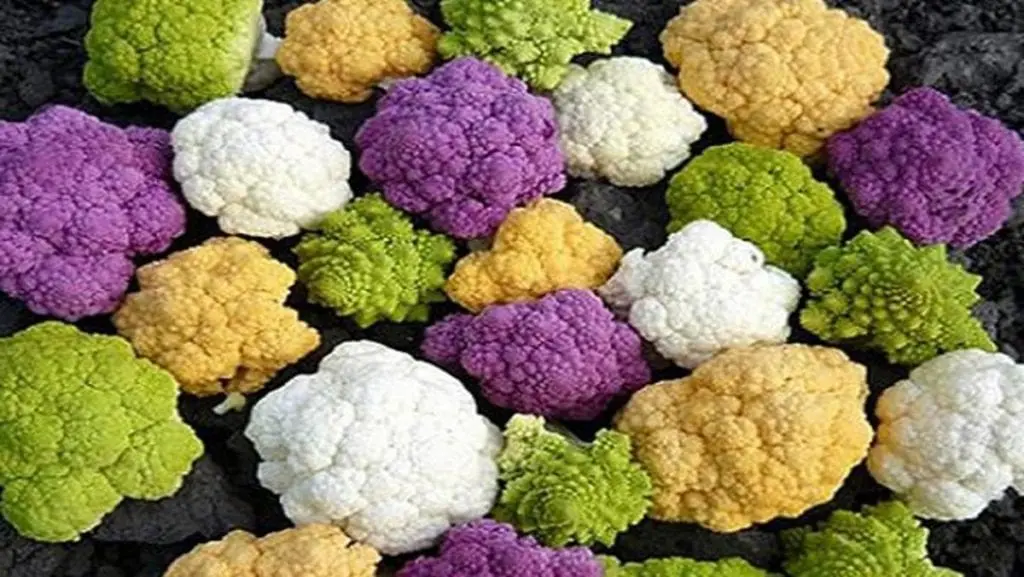 There are many ways to cook cauliflower, but remember that, for example, to preserve more nutrients, it should be baked.
If you add one tablespoon of lemon juice to the water where the cauliflower will be stewed or boiled, the cabbage inflorescences remain white.
Doctors do not advise cooking cauliflower in aluminum or iron dishes – it has been proven that when heated, metal reacts with chemical compounds that are contained in the vegetable.
In general, cauliflower has many nutrients that our body needs, especially in the cold season.
Cauliflower fried in batter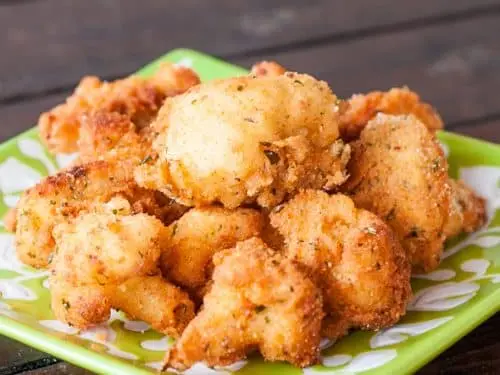 A simple and delicious way to prepare cauliflower.
Food (for 3 servings)
Cauliflower – 1 head of cabbage (300-500 g)
Eggs – 3-5 pcs.
Flour – 2-4 tbsp. spoons
Salt – 1-1.5 tsp
Ground black pepper – 0.25-0.5 tsp
Vegetable oil – 100-150 ml
or butter – 100-150 g
Cauliflower with eggs and herbs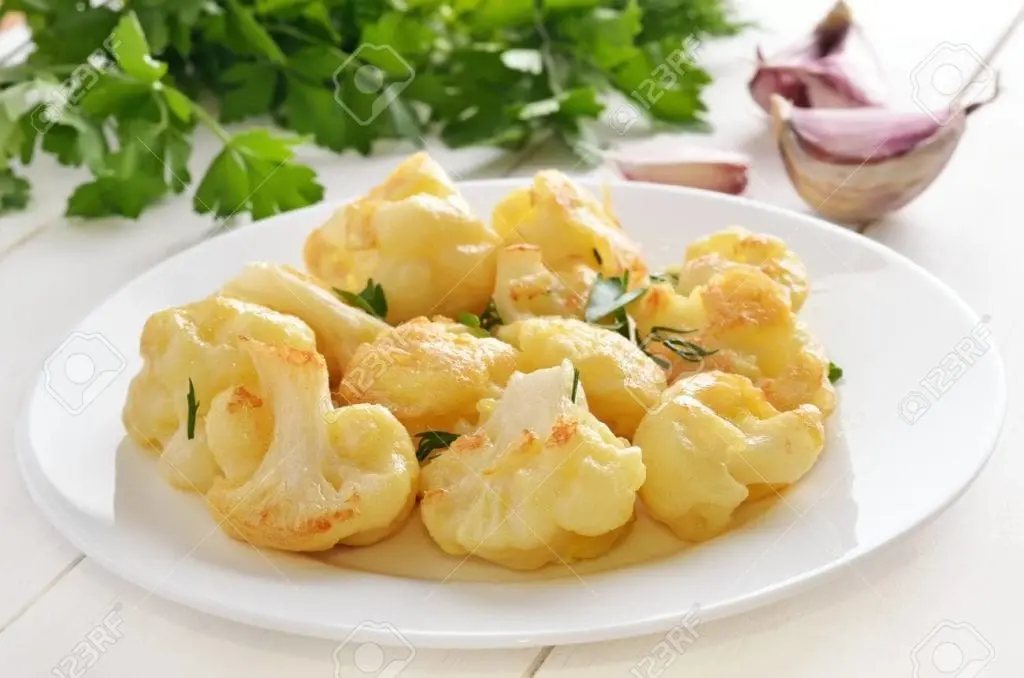 Cauliflower can be used to make many varied and delicious appetizers, salads and side dishes. We would like to offer you a recipe for cauliflower with butter, eggs, onions and herbs.
Products
Cauliflower – 1 kg
Butter – 150 g
Chicken eggs – 5-6 pcs.
Cilantro greens – 1 bunch
Parsley greens – 1 bunch
Dill greens – 1 bunch
Bulb onions – 2 pcs.
Lemon (for cooking cabbage) – 1 circle
Cauliflower baked with cream and cheese
With just a few basic ingredients, you can quickly and easily prepare a delicious lunch or dinner for the whole family. Cauliflower baked in a mixture of cream and cheese turns out to be delicious and very tender.
Food (for 3 servings)
Cauliflower – 500 g
Cream (30-33% fat) – 200 ml
Hard cheese – 150 g
Salt to taste
Ground black pepper – to taste
Vegetable oil (for lubricating the mold) – 1 tbsp. the spoon
2020-09-17