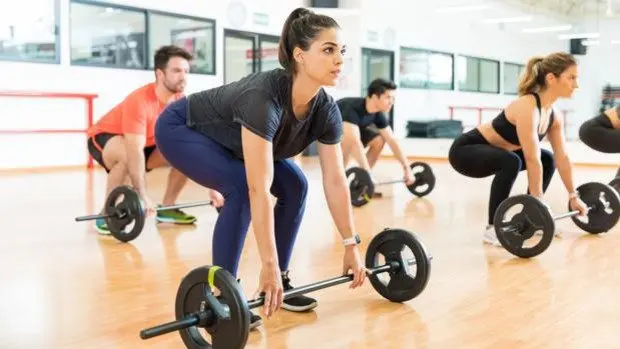 For years women have lived with a series of myths related to sports in gyms. Among the main ones, that weight training is not made for them or that they must work many repetitions with little weight. But men were also affected by this type of limiting beliefs since very few approached the collective classes, with exceptions such as spinning. The boy pump arrived years ago and broke all those myths, incorporating weights into group classes, allowing women to get heavy weight dumbbells and men to participate in group classes to the rhythm of music.
The body pump is a clase choreografiada in which a series of movements are repeated for about 55 minutes with music selected for this purpose. It always maintains the same structure, but the pace and type of work vary in the different sessions. You work with free weights, using bars and discs and train all the muscle groups of the body. Normally it is done through ten music songs and the class is divided into three large blocks: warm-up, muscle work and stretching. With this method strength-resistance is worked, but also orientation, balance, rhythm and coordination.
Short and intense sessions can also be organized that last between half an hour and 45 minutes in which, likewise, the chest, legs, back, arms and abdomen are worked. The movements are generally simple and are repeated, which makes it easy to learn. The body pump works the muscles in large groups and uses traditional basic movements such as the squat, the deadlift or the bench press.
Benefits
It favors the increase of muscle mass.
Helps with fat loss.
Strengthens the back and improves posture.
Helps with joint health.
Increases bone density.
Risks
The risks of this practice have to do with an inappropriate choice of load or with not respecting the progressions. It is very important to be able to do the exercise with good technique and it is preferable to use less weight and do it well than to catch too much and not be able to execute it correctly since an inadequate movement increases the risk of injury.
In general, the guidelines to start with the body pump are to start with less weight to acquire movement routines, compete with yourself, not with classmates to improve and, of course, enjoy the music. The most common is to do between two and three sessions a week.
2021-08-21